He's been called a "dangerous troll," a "conservative mouthpiece" and an "alt-right activist."
Lucian Wintrich can now add another name to his long list of descriptors: White House correspondent.
Best known as the creator of Twinks4Trump — a salacious photo project featuring portraits of scantily clad young men in "Make America Great Again" hats — the openly gay artist and writer now occupies one of the coveted spots in the White House press briefing room.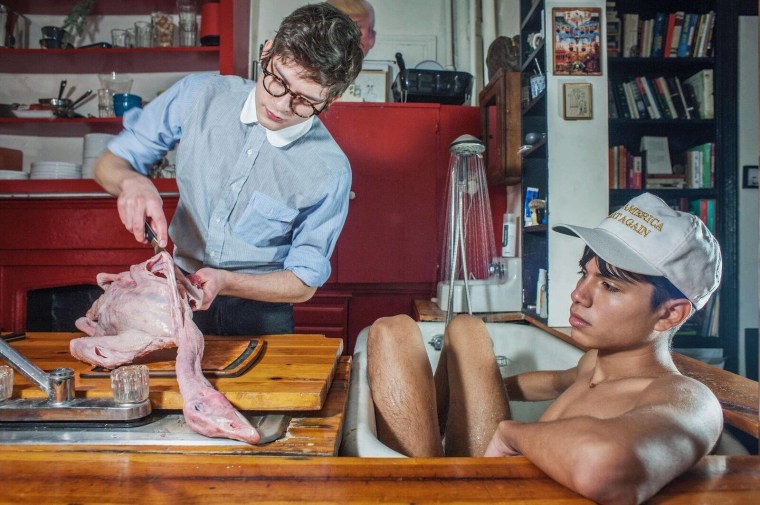 Wintrich's inroads into Washington were nontraditional, to say the least. In fact, the 28-year-old's career as a journalist only started two months ago.
Following a political art show he curated in December, which included "uncensored versions" of his Twinks4Trump photo series, Wintrich said he was approached by Jim Hoft, the founder of the conservative blog Gateway Pundit. It was that encounter that put Wintrich on the fast track to D.C.
"After the art show, Jim contacted me and tested me out on a couple of projects that went over really well, and in December we started talking about me being a full-time reporter in Washington," Wintrich told NBC Out. "It's definitely the only thing that would possibly get me to leave New York, which is a city that I absolutely love."
He was offered the job in December, his role was announced publicly at the "DeploraBall" inauguration party in January and he started at the White House in February.
'The New Kids in School'
Wintrich just completed his first week as part of the White House press pool, and he gave the experience mixed reviews.
"It does feel a little bit like I'm the new kid in school. Very unfortunately, nobody has written a Buzzfeed-style list like '10 Things You Need to Know Joining the White House Press Corps,'" he joked.
"It was sort of interesting to see some of the reactions that some of the other reporters had during my first couple of days," he added. "One fellow came up to me and said, 'I'm Joe,' or whatever, I don't actually remember his name, and I said, 'Oh, hi, I'm Lucian,' and I extended my hand for a handshake, and he said 'I know exactly who you are,' and just stormed off."
While his new associates may not have taken to him right away, Wintrich is hopeful "the vast majority of them will love me once you get to know me."
And despite his limited experience as a journalist, he is confident in his ability to report from one of the most prestigious perches.
"I'm coming at this from a background in political policy and political philosophy, as opposed to coming at it from a background from pure journalism, where you're just reporting on it," the 2012 Bard graduate told NBC Out. "So I do think in some ways I'm a little bit more qualified than a lot of the journalists."
Wintrich's new role has received criticism from the left and right alike. Media Matters, a progressive media watchdog group, called him "the internet's most hapless blogger" and "a dangerous troll" with "little reporting experience." Conservative blogger Erick Ericsson called Gateway Pundit a "cesspool of fake news" and said the White House is doing "the American people a great disservice" by inviting Wintrich to press briefings.
Media: The 'Opposition Party'
So, now that he's part of "the media," how does he feel about the Trump administration referring to the group as the "opposition party"?
"Throughout the entire election cycle, the media was absolutely the opposition party. They were putting out these libelous articles, these absurd articles, meanwhile applauding Hillary and ignoring any negative news that could potentially impact her winning. It was so, so transparent. They even lost the guise of being unbiased," he said. "They're not helping our country when they set out as a primary mission to undermine the legitimacy of the president."
'A Conservative Counterbalance'
The rocky relationship between the Trump administration and the "liberal media" has created a wide opening for conservative outlets like Gateway Pundit, according to Wintrich.
"With the barrage of leftist media right now, you absolutely do need a conservative counterbalance and counterweight to that. The liberal media has largely been unchecked, and so it's been able to grow crazier and crazier and more blatantly biased," Wintrich said.
Gateway Pundit, founded in 2004, has been called an "alt-right" site, but Wintrich takes issue with that descriptor.
"It's a breaking news, conservative-leaning website," he said. "We're definitely not alt-right as it currently stands."
Wintrich said "alt-right"' used to be more of an all encompassing term for conservatives, but Richard Spencer, the white nationalist, "screwed up that term for the rest of us."
LGBTQ Concerns
While Trump has sent mixed messages to the lesbian, gay, bisexual, transgender and queer community, many LGBTQ advocates have expressed concerns regarding his policies, his cabinet and his advisers.
Wintrich does not share their concerns.
"With Betsy DeVos and with Sessions, I haven't seen them propose any anti-gay policies, I haven't seen them do anything within the administration to hamper LGBTQ rights, so I think these are completely unfounded worries," he explained.
When asked, for example, if he was concerned about the First Amendment Defense Act — legislation supported by Sessions and Trump that would prohibit the federal government from taking "discriminatory action" against any business or person that discriminates against LGBTQ people based on their beliefs — he said "not even remotely."
"I have a lot of faith in the free market," he said. "If you want to be a bigoted a--hole, that's fine, but just wait to see what the market does. Obviously, it's not a good way of running a business."
Wintrich also noted first daughter Ivanka Trump, who has been a very visible part of Team Trump, is a behind-the-scenes supporter of the community:
"I was on an email chain with Ivanka Trump, and when some of these articles would come out and say 'Oh gay people need to worry about the Trump administration,' she'd actually ping all of us and say, 'Oh, this is fake news. It's not going to happen. Don't worry.' And of course none of it happened."
Wintrich said the fact that he and his boss are both openly gay conservatives should be a sense of comfort to the community, as it will provide "a much-needed platform for other gay people."
"When I'm attacked for being gay and a Republican, I feel like a lot of these people are neglecting the notion that if an actually anti-gay policy came out … I would obviously speak out against it, and I'd be speaking out against it as a conservative, not a gay liberal who bitches about every single appointment and every single thing with very little founded knowledge."
Wintrich lamented the "terrible contention between gay people and conservatives," which he believes "really shouldn't exist."
A Trump 'Fanboy'
Wintrich has only been a White House correspondent for a week, but he has high hopes for what he can accomplish in his new role.
"I think a lot of relevant issues are being ignored by the media right now, who instead are concentrating on how they can draw blood from the administration and what sort of scandals they can come up with," he said.
"Our readers don't want me to sit around thinking about how to undermine the administration. They have actual questions. We're going to keep the public informed and ask questions they want to hear, and to that end, we're actually going to be crowdsourcing many of our questions from readers of the Gateway Pundit."
Wintrich has not yet had the opportunity to meet President Trump or ask him a question. When asked whether he has a burning question in mind for the commander in chief, he stopped to think for a moment.
"I don't know how to answer that without coming off as too much of a fanboy," he said.