Alex Fishman and Anthony Shirk had their wedding all planned out. After saying their vows, the couple would celebrate with their friends and family in upstate New York, with Beacon Falls the scenic waterfall backdrop of all of their photos. Then they would hop on a plane to San Juan, Puerto Rico, for a blissful honeymoon.
"The coronavirus outbreak is definitely a test of all relationships: how you turn to each other during stressful times and rely on each other to get you through."
Brian Brown
Yet as the coronavirus spreads across the United States, and in particular their home in New York City, the couple realized they would have to adjust their expectations for the wedding they had spent the last year planning — especially since their family is scattered around the country and would have to fly to attend the ceremony.
"It's not about your guests in the end or whether the table linens are the right color. We stopped caring about those details," Fishman, 29, told NBC News. "It's about your union with your partner."
Fishman and Shirk, both 29, proposed to each other in 2018 after meeting through the dating app Hinge four years earlier. They got married on Saturday in their apartment, with only the officiant and a couple of close friends present. Their relatives were able to join in via a Zoom video call.
"We didn't exchange vows; we're going to wait to do that when we're with friends and family, but it was a legal wedding," Fishman said. "With everything going on right now with the pandemic, we felt it was vital for us to get married for an extra level of safety and comfort, and it provided some joy for what have been some really difficult days."
Fishman and Shirk are among a number of gay couples in New York City who haven't let the coronavirus stop them from tying the knot.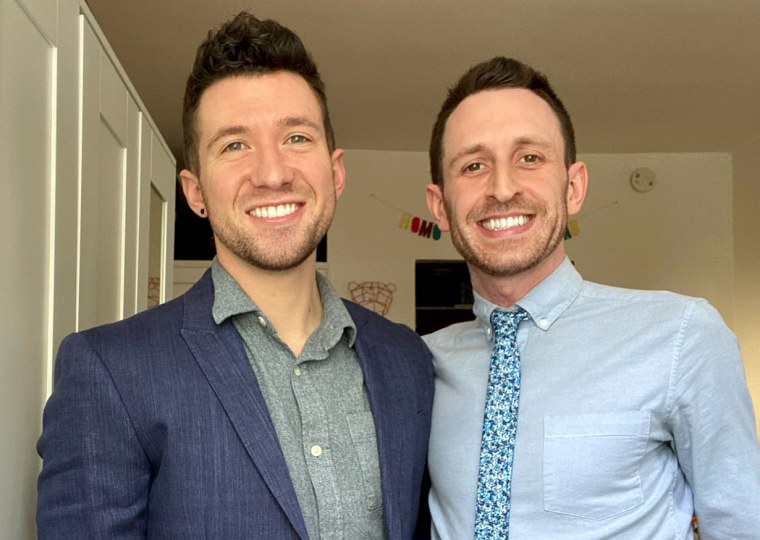 Brian Brown and Mitch Case, who met as college students, have been dating for more than 10 years and got engaged last July. Unlike Fishman and Shirk, however, they did not have a date to get married. They were waiting until Brown finished graduate school in spring 2022.
Instead — motivated by the uncertainty sparked by the COVID-19 pandemic — they were married by a co-worker in their studio apartment on the Upper East Side on Saturday and took a walk outside together as newlyweds for their honeymoon.
"It wasn't how we envisioned, but it still felt special," Case, 30, told NBC News. "It was still our day to celebrate us being together and our partnership."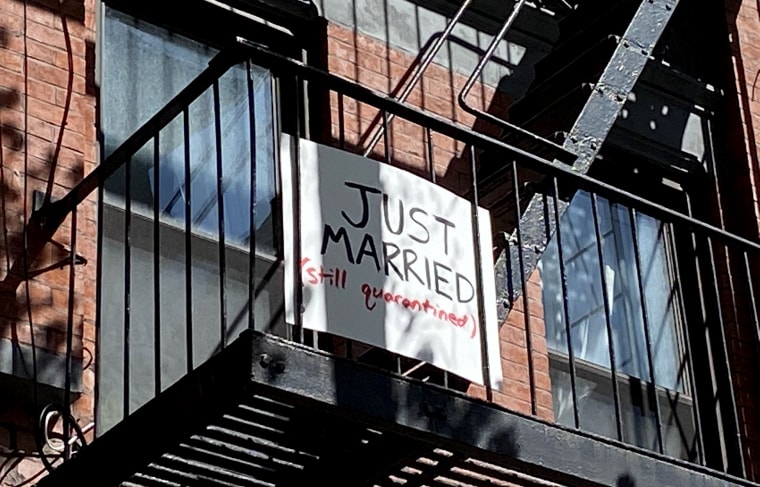 Why the rush to move their wedding date up several years in advance? Case, who works at an arts nonprofit, said they partly came to the decision to ensure that he would have health insurance during the coronavirus outbreak should he lose his job.
"Like everyone, we're concerned about the economy and long-term job stability," Case said. "As a graduate student, Brian has health insurance that would cover me as his spouse. Of course, it's not the only reason, but getting married gives us a layer of protection."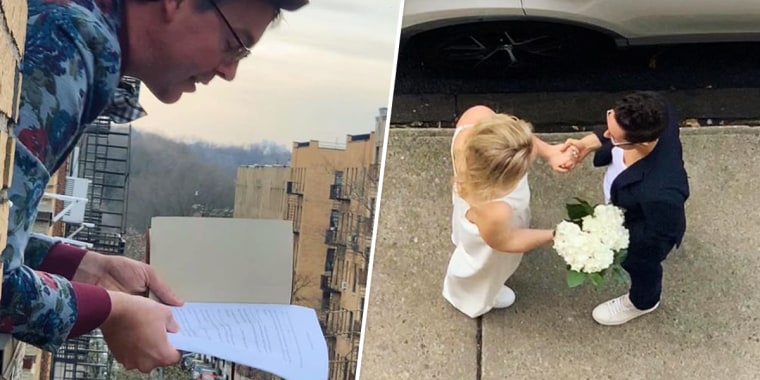 Reilly Jennings, 28, and Amanda Wheeler, 38, are another queer couple that got married recently. They had planned to have their ceremony in October, but instead tied the knot last Friday as their friend officiated from his fourth-floor apartment window in the Manhattan neighborhood of Washington Heights. The ceremony wasn't exactly what they had expected either, mainly because thousands of people across the world celebrated with them when a video of their ceremony became popular online.
"The coronavirus outbreak is definitely a test of all relationships: how you turn to each other during stressful times and rely on each other to get you through," Brown said. "But it has the potential to make us stronger partners and reprioritize and remember how much we care about each other. We're in this together."
While these couples were able to have their special day, they may be the last ones to get married for a while: The New York City Marriage Bureau is now closed until further notice to "take necessary measures to prevent the spread of COVID-19."