When Philadelphia couple Allison Harris and Raquel Salas Rivera launched a campaign to help LGBTQ hurricane survivors in Puerto Rico, they had no idea it would garner $10,000 in less than a week.
Harris, 38, said they launched the Emergency Relief Fund for LGBTQ Boricuas on October 1. They hoped to raise at least $5,000, but the donations skyrocketed to twice that in just a few days, she said.
"It makes me feel very grateful, and it makes me feel like there's solidarity out there," Harris told NBC News.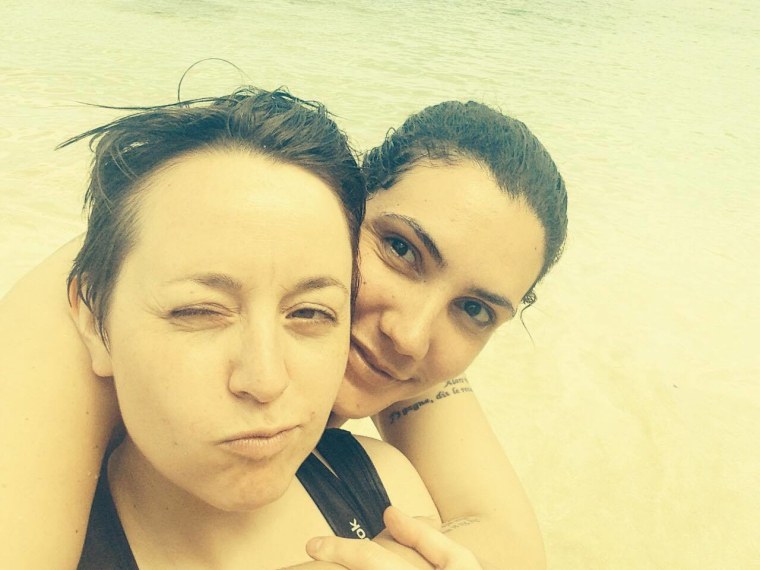 Hurricane Maria ripped through the island in September. As of October 10, officials said the category 5 storm has led to 43 deaths and has left 84 percent of the population without electricity and 63 percent without drinking water. President Donald Trump's administration has been criticized for its response to the crisis, which some have likened to the aftermath of Hurricane Katrina.
Harris and Salas Rivera said survivors who identify as LGBTQ face discrimination and other unique challenges that can impact their ability to survive. The couple said they are using the money they raise to bring evacuees to the U.S. mainland and to fund hormone therapy and new IDs for transgender survivors who lost their belongings in the flooding.
Salas Rivera, 31, said people living with HIV — many of whom are LGBTQ — are in grave danger.
"They are unable to access their medications," Salas Rivera said. "There's an exposure to contaminants and a lack of access to clean water and food. There's an increased spread of illnesses right now because of all the flooding."
"It's like a nightmare," Salas Rivera added.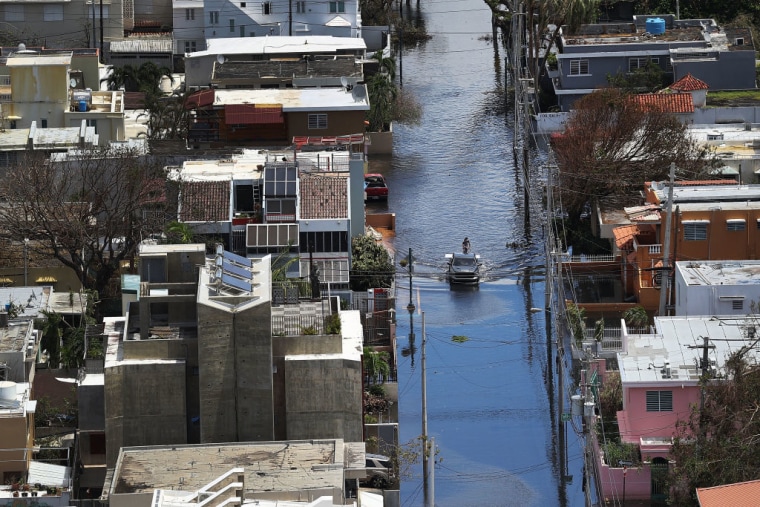 Identifying LGBTQ evacuees is a complicated process since phone and internet services are down all over the island, the couple explained. They said they are relying on volunteers from the Puerto Rican Transgender Taskforce, who are going from town to town, shelter to shelter, to find and identify LGBTQ survivors.
The couple said they will pick up their fist evacuee from the airport on Monday. The survivor, who is transgender, will be placed with a Spanish-speaking social worker who is offering a room in her home, they said. The evacuee lost all her belongings in the flooding and has been dealing with discrimination in the shelter where she is staying, according to Salas Rivera.
"That's only a fraction of what this person has been through," Salas Rivera continued.
The couple is busy coordinating efforts to bring more LGBTQ survivors to the U.S. in coming weeks. They said friends and colleagues are offering rooms in their homes. The Mazzoni Center, Philadelphia's LGBTQ center, has volunteered to provide services for evacuees, according to the couple.
"We're going to help them get connected with services, case management and stuff like that, so they have some outside support to help them do the basic life stuff like getting a job and finding an apartment," Harris said.
Salas Rivera and Harris said they will also coordinate help for LGBTQ survivors who wish to stay in Puerto Rico.
Salas Rivera, a Puerto Rico native who is attending graduate school in Philadelphia, has family and friends who are struggling to survive on the storm-ravaged island. Salas Rivera said helping survivors has been a way to cope.
"I will say that I haven't been able to sleep much since this started," Salas Rivera said. "I didn't know if my family was alive or dead for the first week. So, you know, I was just kind of up all night with insomnia, crying and drinking. So, this is better."
Salas Rivera, who speaks fluent Spanish, is building relationships and coordinating efforts with volunteers who are working with survivors in Puerto Rico. It's been difficult, Salas Rivera explained, because cell phone service is limited. But the advocate is determined to get survivors the help they need.
"It is my people," Salas Rivera said. "I can't even begin to imagine a life without Puerto Rico."
Harris, a long-time social worker and LGBTQ therapist, said she is using her skills to coordinate the campaign's evacuee support system in Philadelphia.
"I feel powerless, I feel like I'm watching a horror movie," Harris said, "but I have this one tiny skill set that never really has any use except for this one tiny place, and it might actually be of use here."
Harris said she believes "change happens from the ground up and not the top down," and that their campaign is proof ordinary people can make a difference.
"For anyone out there who is feeling disempowered by political state in this country or what they're seeing globally, they are absolutely capable of making change themselves when they feel like it," Harris concluded.