A federal appeals court on Tuesday revived a damages lawsuit against Kim Davis, the Kentucky county clerk who in 2015 refused to grant marriage licenses to same-sex couples because it conflicted with her Christian beliefs.
The 6th U.S. Circuit Court of Appeals in Cincinnati said a lower court judge erred in finding that damages claims by David Ermold and David Moore became moot, after a new state law last July excused clerks like Davis, from Rowan County, from having to sign marriage license forms.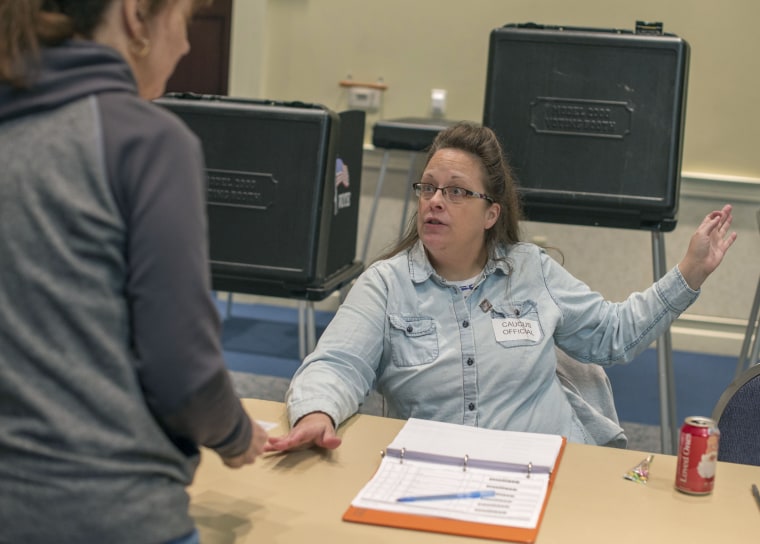 While the couple eventually did get a license, a three-judge appeals court panel said they could sue over Davis' initial refusal to grant one, after the U.S. Supreme Court in June 2015 said the Constitution guaranteed a right to same-sex marriage.
"The district court's characterization of this case as simply contesting the 'no marriage licenses' policy is inaccurate because Ermold and Moore did not seek an injunction-they sought only damages," Circuit Judge Karen Nelson Moore wrote. "The record does not support an argument that (their) damages claims are insubstantial or otherwise foreclosed."
Ermold's and Moore's case was sent back to U.S. District Judge David Bunning in Covington, Kentucky.
"The ruling keeps the case alive for a little while but it is not a victory for the plaintiffs," Mat Staver, founder of Liberty Counsel, a Christian advocacy group representing Davis, said in a statement. "We are confident we will prevail."
Related: Funeral Home Slams Gay Widower's Lawsuit as 'Frivolous'
Michael Gartland, a lawyer for Ermold and Moore, called the decision a "no-brainer," saying damages claims based on past harm often survive mootness challenges. His clients are seeking compensatory and punitive damages.
"Do I think it's a million dollar case? Probably not," Gartland said in an interview. "The next step will be to go to discovery and go to trial, where I am confident we will obtain a judgment against Davis."
The refusal of Davis to issue licenses made her a national symbol for opposition to Obergefell v Hodges, the Supreme Court decision that legalized same-sex marriage nationwide.
The case is Ermold et al v. Davis, 6th U.S. Circuit Court of Appeals, No. 16-6412.