HAVANA — Salsa music blasted through the streets of Havana's Vedado neighborhood on Saturday as hundreds of people danced and waved rainbow flags during a march to mark the 11th annual Cuban Campaign against homophobia.
"We are working together with the state, with the party, with civil society, to educate the Cuban people, to change mindsets and to advance our rights," Mariela Castro, a Cuban lawmaker and daughter of Communist Party chief Raul Castro, said.
On Satruday, Castro was joined by Chilean transgender actress Daniela Vega, who starred in the Oscar-winning film "A Fantastic Woman," and Mike Jackson, a prominent LGBTQ activist, during the march to end homophobia and transphobia.
Castro, a longtime advocate for LGBTQ rights in Cuba, announced on Monday she would push for same-sex marriage to be included in a constitutional reform process expected to begin in July.
The march, known as a Cuban conga — the island's version of an LGBTQ pride parade — is part of a growing push in Cuba to allow the country's once fiercely persecuted LGBTQ population to experience greater visibility.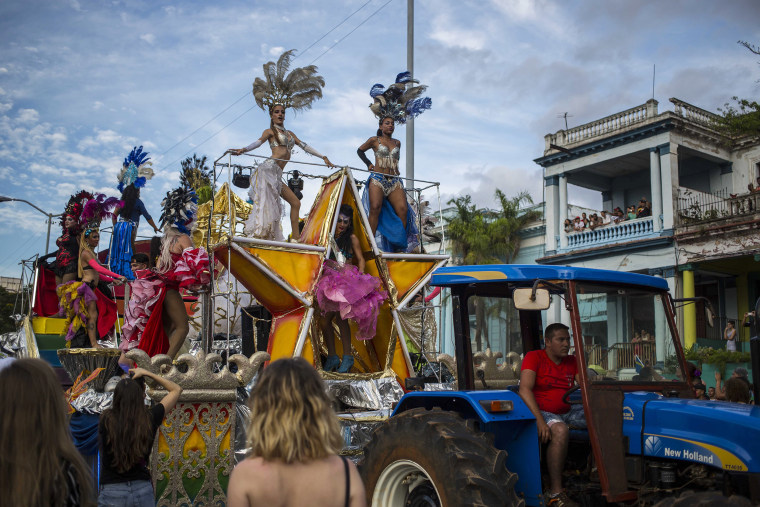 Although Cuba has ended most of its anti-gay policies and now forbids workplace discrimination based on sexual orientation, LGBTQ people in the country still face social stigma. However, experts say that Cuba is relatively progressive compared to the rest of the Caribbean in terms of LGBTQ acceptance.
As the march moved through Havana's streets, some danced in feathered headdresses and extravagant costumes aboard floats, while others waved small rainbow flags while dancing in the street.
"Down with homophobia!" one marcher yelled.
Classic convertibles adorned with rainbow flags slowly drove through the neighborhood as dozens of revelers walked together carrying massive rainbow and Cuban flags.
Cuban President Miguel Díaz-Canel's children Miguel Díaz-Canel Villanueva and Jenny Díaz-Canel Villanueva, part of the band "De Cuba," marked the end of the parade by performing at a celebration in Vedado.
President Díaz-Canel, who took office last month, has given many in the country — including Castro — hope that more inclusive rights for LGBTQ people are around the corner.
Orlando Matos and Roberto Leon reported from Cuba. Kalhan Rosenblatt reported from New York.