"Taking our country back is going to require all of us to step up and take action -- including more women, people of color, queer people, and first-generation Americans running for office," actress Cynthia Nixon tweeted in late January. It now appears the liberal activist and "Sex and the City" alumna may be heeding her own advice.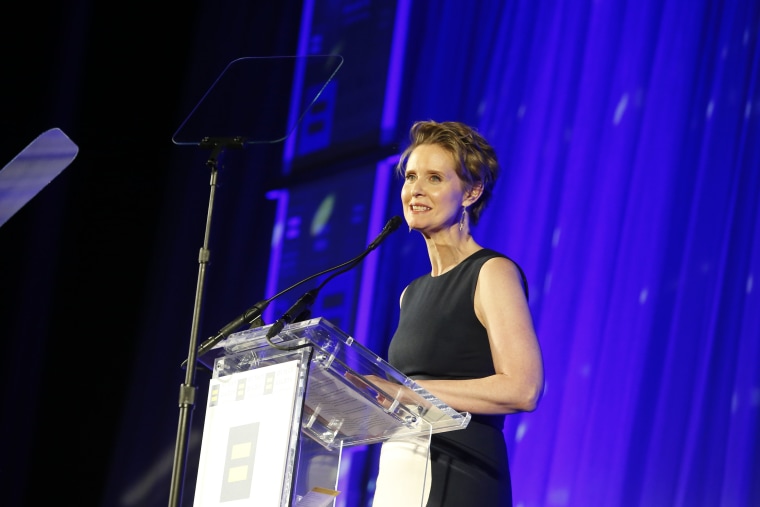 Nixon is reportedly considering a run for governor of New York, challenging incumbent Andrew Cuomo in the Democratic primary, NY1 television said on Tuesday, citing unidentified sources.
The actress has begun assembling staff, including two veterans of New York City Mayor Bill de Blasio's election team, NY1 said. Cuomo and de Blasio, both Democrats, have been politically estranged for years.
"Many concerned New Yorkers have been encouraging Cynthia to run for office, and as she has said previously, she will continue to explore it," Nixon's publicist, Rebecca Capellan, said in a statement shared with NBC News. "If and when such a decision is made, Cynthia will be sure to make her plans public."
The primary is Sept. 13 and the general election Nov. 6.
Cuomo, 60, the son of late New York Governor Mario Cuomo, is seeking his third term this year. In his 2014 re-election, a primary challenger with little name recognition, Zephyr Teachout, won roughly 34 percent of the vote to Cuomo's 62 percent, leading to speculation that Cuomo, a moderate, might be vulnerable to a challenge from a well-funded progressive.
Asked on Tuesday about a possible challenge from Nixon, Cuomo told reporters on a conference call, "On people who may or may not run for governor on both sides of the aisle, that's up to them and we'll deal with it as the campaign progresses."
"Our country needs more women — and especially LGBTQ women — in positions of power," Annise Parker, president and CEO of the Victory Fund, an organization dedicated to electing LGBTQ political leaders, told NBC News. "Cynthia Nixon is an intelligent, capable woman and a committed voice for our community — and we certainly welcome anyone with her credentials to seek public office."
If Nixon were to run and be elected, she would be the country's second openly bisexual governor, joining Kate Brown of Oregon.