When the Trump administration announced its decision to rescind the program known as DACA this week, nearly 800,000 undocumented immigrants were left in the dark.
One of them was Catalina Velasquez.
Velasquez's family, from Cali, Colombia, fled the civil war there and sought refuge in the United States, where they were denied asylum. Though her family was deported, Catalina remained, and she has since built a life for herself in Washington.
In 2008, she became the first undocumented transgender person to attend Georgetown, and in 2013, she became the first transgender immigrant Latina appointed as commissioner for the D.C. Office of Latino Affairs.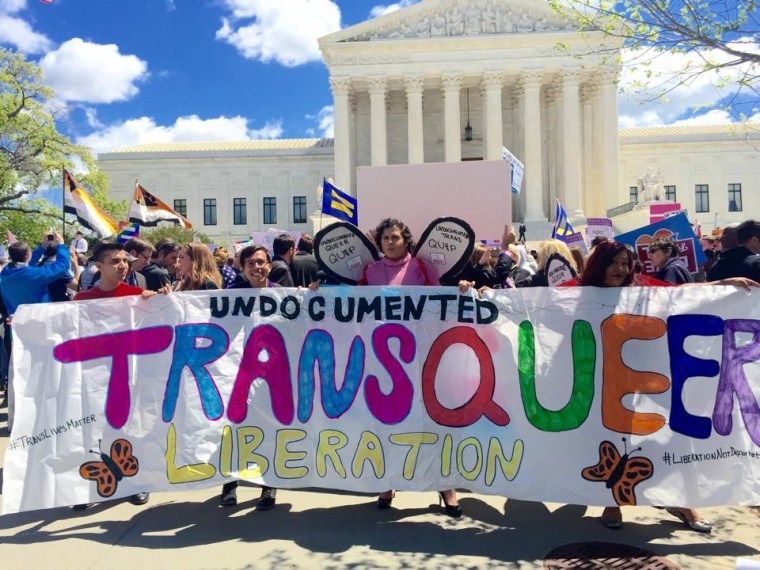 Today, she is the president of Consult Catalina, a strategic policy and communications firm. She also works closely with Casa Ruby, a nonprofit that provides housing for homeless LGBTQ people, most of whom are people of color. But now, the life she has become accustomed to is under threat.
In a phone interview with NBC News, Velasquez described the immediate aftermath of Trump's announcement to kill DACA, which stands for Deferred Action for Child Arrivals and allowed young people who were brought to the United States illegally as children to remain in the country.
"My mom's first reaction was to ask me how I could reverse my transition," Velasquez said. "My father hasn't seen me in years. If he were to see me with breasts, violence wouldn't be out of the question."
The DACA program, started by President Obama in 2012, allowed undocumented immigrants who entered the United States as minors before 2007 to live and work legally in the country for renewable two-year periods, provided they had no criminal history.
In announcing the end of the program, Attorney General Jeff Sessions on Tuesday characterized President Obama's action as an overreach of executive authority and claimed that undocumented immigrants cost American citizens jobs.
Related: Central American LGBTQ Refugees Form Caravan While Seeking Asylum in U.S.
The Trump administration also released a statement on the decision referring to the possibility that immigrants from Central America were joining gangs.
"Before we ask what is fair to illegal immigrants, we must also ask what is fair to American families, students, taxpayers and jobseekers," the statement said.
President Donald Trump has left it to Congress to save DACA, though no new applicants will be processed in the interim. Trump also tweeted on the subject, referring to the six-month window for Congress to act before he says he will revisit the issue and telling DACA recipients that they have "nothing to worry about."
But for recipients like Ricardo Aca, who has been living and working in the United States for 12 years, the administration's decision to put his fate in the hands of Congress is cause for concern.
"It's going to be a long six-month battle," Aca told NBC News. "Congress has to act, but it's going to be something we are constantly thinking about. It's a ticking bomb."
Aca came to the United States from Puebla, Mexico, with his mother and sister when he was 14. He left behind a younger brother, who couldn't make the perilous journey through the desert. Once in the U.S., Aca started studying and, as a DACA recipient, was able to start working legally.
His first job? At a Trump Hotel in New York, at a Japanese fusion restaurant called Koi SoHo, which closed down shortly after Trump decided to run for president.
"I don't think many of us can picture a life for ourselves outside of this country," Aca said. "I don't see myself going back to Mexico."
Aca, who is gay, talked about growing up in the conservative, deeply religious state of Puebla, where he says he was bullied for his mannerisms and was afraid to come out. Through a work permit obtained within the DACA program, Aca was finally able to visit his hometown and reconnect with his younger brother who he hadn't seen in 11 years. He said the trip, while important to him, reminded him why he didn't want to return to Puebla.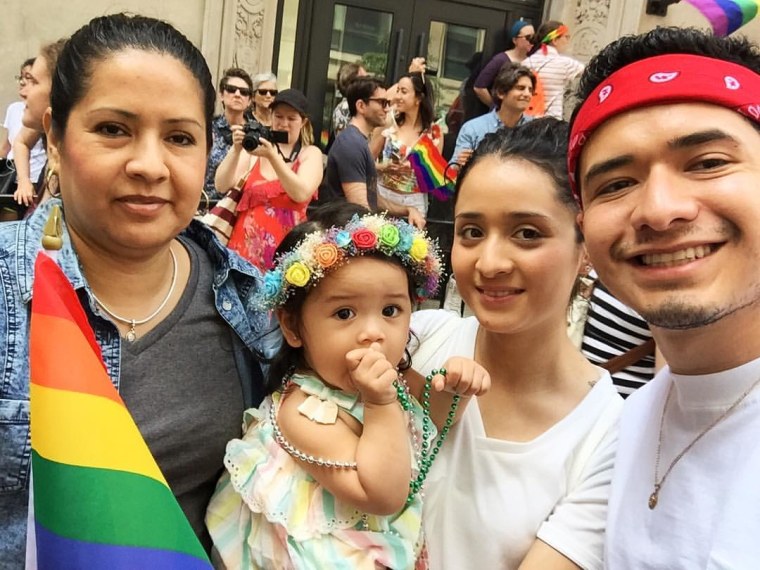 "It would mean going back to a city where I'm not welcomed by society and where I won't be able to celebrate every year that I am proud to be a part of the LGBTQ community," he said. "It would mean being forced to go back to a place where I won't be able to celebrate who I am."
The Human Rights Campaign, an LGBTQ civil rights group, said in a statement that ending DACA is "yet another hateful decision by the Trump-Pence administration."
"As many as 75,000 Dreamers who benefited from DACA are LGTQ," the statement said. "For them, the prospect of deportation contains additional element of uncertainty, since they may be sent to countries that have poor LGBTQ human rights records."
As an example, the statement listed El Salvador, a Central American country where transgender women have faced an upsurge in violence and where the United Nations has called for an investigation.
Related: ICE Arrest Transgender Woman Seeking Help for Domestic Violence
Velasquez echoed that fear when discussing her situation and that of many other LGBTQ DACA recipients, particularly transgender women.
"It's a death sentence," she said. "You can't send a trans or queer person back to Iran or Honduras and expect them to survive, much less thrive."
"We don't want to demonize other cultures," she cautioned. "There are trans movements in all parts of the world. But there's a world out there that refuses to respect our identities."
For Velasquez, LGBTQ DACA recipients are a vulnerable population within a vulnerable population who face additional challenges. She mentioned concerns over the detention of undocumented transgender women in facilities where they are more likely to experience sexual assault and where they could be made to discontinue their transition process, which could have lasting effects on mental health.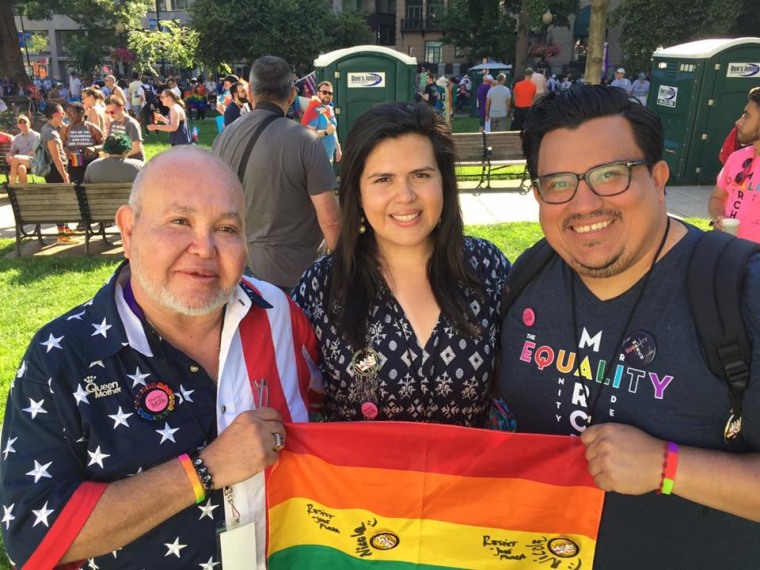 "There are black and trans and queer DACA recipients, Asian and Pacific Islander DACA recipients. There are many HIV positive DACA recipients," she said. "They must be centered. Some of my sisters at Casa Ruby and other places are in panic about being forced to go somewhere else where the government doesn't facilitate their medications or where those medications are point-blank not accessible. It's a healthcare crisis as well."
Aca said he hopes those who support him and other DACA recipients will call their representatives in Congress and voice their support for the program. He also said that the coming months will be taxing on the mental health of undocumented immigrants, and he hopes that allies to the cause check in on them and support them in continuing their education and work, despite the looming threat.
"We potentially win," he said, "or we potentially lose everything."