Scout Schultz, a 21-year-old engineering student at Georgia Tech, was shot and killed by campus police Saturday night. Schultz's family attorney said Schultz, who identified as nonbinary and intersex and preferred they/them pronouns, was experiencing a "mental breakdown" during their fatal encounter with police.
In a witness video, Schultz can be seen in front of a campus parking garage and yelling "shoot me!" at officers who had their guns drawn. Schultz continued to step toward the police, who warned Schultz to drop the object.
Following Schultz's shooting death, the Georgia Bureau of Investigation revealed that Schultz made the 911 call to Georgia Tech Police alerting them to a suspicious person on campus and left three suicide notes in their dorm room.
The death of Scout Schultz, who had been president of Georgia Tech's Pride Alliance, spawned violent student protests Monday following a memorial vigil on campus. It also, according to some advocates and health professionals, highlights the need for better mental health resources for LGBTQ college students.
"The fact is students aren't getting the services they need, and some of it is not being aware that these services exist," Lisa Sontag, a behavioral social scientist at the RAND Corporation and an author of a study on LGBTQ students and mental health told NBC News.
Sontag's study found that while LGBTQ students — who she said suffer disproportionately from psychological stress — were more likely to seek out mental health services, they were also more likely to seek them off-campus.
"LGBTQ students report at higher rates than other students that they're embarrassed to seek services and are concerned about confidentiality," Sontag said. "Concerns about confidentiality and embarrassment in seeking services are probably among the biggest barriers that LGBTQ students face in being motivated to get connected to services on campus."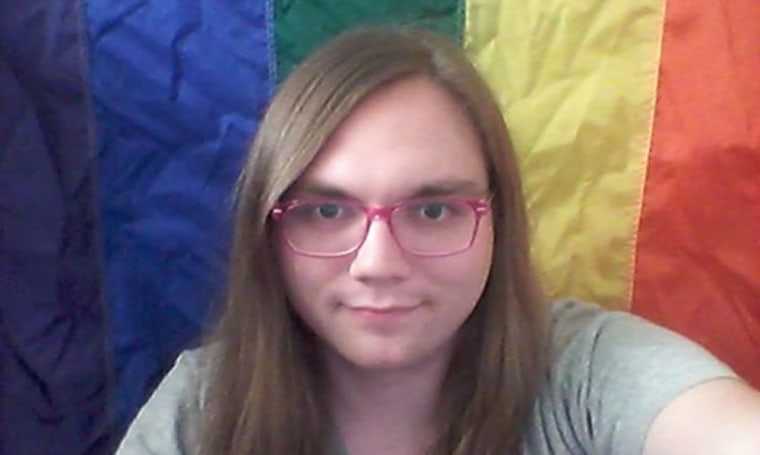 Nonbinary and transgender students are also more likely to enter college without having received adequate mental health services in adolescence, according to Dr. Jack Turban, psychiatrist and pediatric gender identity researcher at Harvard Medical School.
"According to the National Transgender Discrimination Survey, 19 percent of transgender individuals report being refused medical care due to being transgender," Turban said. "Twenty-eight percent have postponed treatment when sick due to fear of discrimination by their clinicians, and 50 percent report needing to educate their doctors on how to provide appropriate medical treatment for transgender patients."
Turban also noted that nonbinary and transgender youth are more likely to suffer from a mental illness and are more likely to have attempted suicide.
"Transgender and gender-nonbinary youth have high rates of anxiety, depression and suicide attempts," he said. "The biggest risk factor for these problems is non-acceptance from peers and family. Unfortunately, up to 80 percent of transgender youth report being bullied by their peers, and over 50 percent report significant family rejection."
Related: Harvard Medical School Takes Leading Role in LGBTQ Health Care
Amit Paley is the CEO of The Trevor Project, the nation's largest suicide prevention and crisis intervention organization for LGBTQ young people. He said it's important that authority figures, including emergency service personnel and police, be educated on transgender and nonbinary people.
"The first thing people should know about suicide and mental health and trans or gender-nonconforming people is that they are at much higher risk of suicide," Paley said. "At Trevor, we provide trained counselors who are affirming of all young people regardless of their gender ID."
Paley emphasized the importance of having available professionals who affirm transgender and gender-nonconforming young people by using their pronouns and not making assumptions about their sexual orientation or gender identity.
"If they are in the process of transitioning, we ask what name they prefer to go by. In many cases, they will say they haven't told anyone yet and ask us to call them a name they have never said before," Paley said. "It's so powerful to have young people on the other end of the phone and to tell them that we hear them, and we understand who they are."
In the wake of Schultz's death, Georgia Tech has made counselors available and shared the number for the Georgia Crisis and Access Line, which has social workers and counselors on call 24 hours per day.
"In the face of tragedy with what happened with Scout, I think colleges need to take a step back and figure out why a situation like this happened," Sontag said. "They need to see whether there are opportunities to move forward, to provide training — not just for police on campuses on how to respond to the most distressed students — but also for the faculty and staff be able to recognize students who may be in distress and providing resources to them to help them get connected to services on campus."
The Schultz family said they hope a civil suit and an investigation will give them answers to the questions they have surrounding Scout's death. They also noted that Georgia Tech's campus police currently don't carry tasers, and they said they hope their child's death might bring about policy change on campus.
The Trevor Project runs a confidential 24/7 helpline and online chat for young people. The helpline can be reached at 1-866-488-7386.