When Democrats gained a trifecta by winning control of both houses of the Virginia Legislature in the 2019 election, the state became more like than unlike the others: Trifectas, where one party controls both chambers and the governorship, are more common than they are not, according to Ballotopedia.
And like other states dominated by one party, the Old Dominion has veered legislatively in one direction: left.
For Del. Danica Roem, a Democrat and Virginia's first openly transgender state lawmaker, the difference a Democratic trifecta has made can be best seen in the state's recent record on LGBTQ legislation.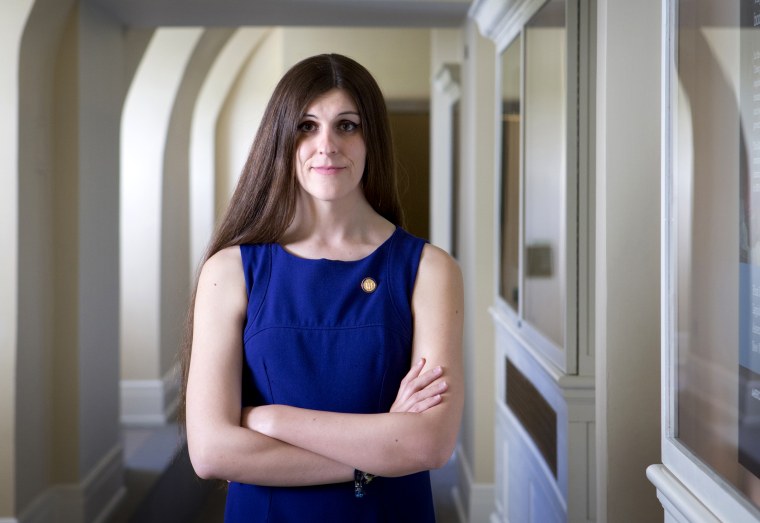 "We could get barely anything done that was positive and helpful under a Republican majority, and we were constantly on defense prior to the 2017 elections," Roem said. "In 2016 alone, Republican legislators filed nine anti-LGBTQ bills, and in 2017, the year of my election, my predecessor alone just himself filed four anti-LGBTQ pieces of legislation."
The tale of Jacob's Law, a gender-neutral surrogacy bill passed by the Republican majority just before it lost control, Roem said, is illustrative about what could get done before and what can get done now.
"The only reason we could get that was because one of the two dads requesting it happened to be former Republican Gov. George Allen's chief of staff," Roem said. "The guy's been in Republican politics for decades, and it's only because of him that we were able to have enough Republican delegates on board."
Even so, she continued, "We did not get Jacob's Law out without a fight — it was very hard to get that bill out."
Alexander Hertel-Fernandez, a political economy professor at Columbia University, said a divided federal government and gridlock in Washington, D.C., are reasons why state governments are playing a "much bigger role in setting policy in a number of different areas with concrete implications for people's everyday lives."
"One of those areas is LGBT rights," he said. "GOP opposition in Congress has scuttled efforts to extend anti-discrimination protections to LGBT individuals. That has redirected decisions on these protections to the Supreme Court and to the states … That in turn has meant that there is a pretty striking division in how LGBT individuals are treated across the country, depending on whether Democrats control state government and can pass such laws."
Since Democrats gained a trifecta, they have passed a broad nondiscrimination bill modeled after the federal Equality Act, banned "gay conversion therapy" for minors, repealed the archaic same-sex marriage ban still in Virginia's law books after the Supreme Court invalidated it in 2015, and cleaned up the Virginia penal code to remove references to "husband" and "wife," replacing them instead with "spouse."
The state also passed HB 696, which allows local municipalities to pass their own nondiscrimination ordinances, and HB 1429, which de-genders health care coverage decisions, so that trans men can get necessary pap smear tests and trans women can get a prostate exam, for instance.
In addition, Roem passed a resolution declaring that Nov. 20, 2020, "and every year thereafter" will be Transgender Day of Remembrance.
"With Democrats controlling the House, Senate and governorship, we had more pro-LGBTQ bills passed in the General Assembly this year than in the 400 years history of the Virginia General Assembly combined," Roem said.
"Really, really take a moment to think about that sentence — 400 years from 1619 to 2019 did not produce as many pro-LGBTQ equality bills," she emphasized.
Several of the pro-LGBTQ equality bills passed did so with bipartisan support, and Roem said that, too, can be chalked up to the political space created by the Democratic trifecta: "More members are now free to vote their conscience without being punished for it," she observed.
Stephen Farnsworth, a professor of politics at the University of Mary Washington, said the change the Democratic trifecta has made is dramatic.
"During the decades of Republican control of at least some of the levers of power, progressive legislation routinely died in committee hearings with little if any debate," Farnsworth said.
"The 2020 session had a whole series of issues that represent a progressive agenda, in addition to additional protections for LGBT people, you also saw an increase in the minimum wage and significant gun control legislation," he continued.
Farnsworth also noted that voting registration is easier, voting is easier and marijuana has been decriminalized, too — and local cities and towns have been given the green light to make their own decision about what to do with Virginia's controversial monuments to the Confederacy.
After the next census, he said, Virginia Democrats are likely to see even greater gains in areas where they have recently performed well in elections.
"The next election will be under new district lines [based on the 2020 census], because Virginia votes in odd number years and the election is 2021, so we in Virginia get earlier census data," Farnsworth said.
By passing an LGBTQ equality agenda, he said, Virginia Democrats have done something that will be quite hard to undo, both for political and demographic reasons.
"To undo these changes would require unified Republican control of government, and that does not seem likely in the foreseeable future in Virginia," Farnsworth said.
"The areas that Republicans are strongest are rural areas, which are seeing flat population trends," he continued. "Population gains have been in suburban areas, where Democrats are seeing their greatest electoral gains."
Hertel-Fernandez largely agrees with Farnsworth, noting that these new LGBTQ measures are "unlikely to be rolled back directly should Republicans regain control of the Legislature or governorship.
"Republicans can drag their feet on passing new protections for LGBT individuals," he said, but "undoing existing rights seems much more challenging given very strong public support and the politics of taking away benefits people currently receive."
As for Roem, she said she has "lost count" of the pro-LGBTQ output in the Virginia Legislature this session.
"It's the best problem you could have," she said.
CORRECTION (March 10, 2020, 2:30 p.m. ET): An earlier version of this article misidentified the university where Stephen Farnsworth is a professor. He teaches at the University of Mary Washington, not the College of William and Mary.