President Donald Trump released a presidential memorandum on Friday giving new guidance to his previously tweeted ban on transgender individuals serving in the U.S. military. Trump has advanced his plan despite opposition from LGBTQ advocates, lawmakers (including many in his own party) and even military leaders themselves. The majority of Americans, according to a recent poll, also oppose a ban on transgender service members.
"The previous Administration failed to identify a sufficient basis to conclude that terminating the Department's longstanding policy and practice would not hinder military effectiveness and lethality, disrupt unit cohesion, or tax military resources, and there remain meaningful concerns that further study is needed to ensure that continued implementation of last year's policy change would not have those negative effects," Trump's memo, dated August 25, states.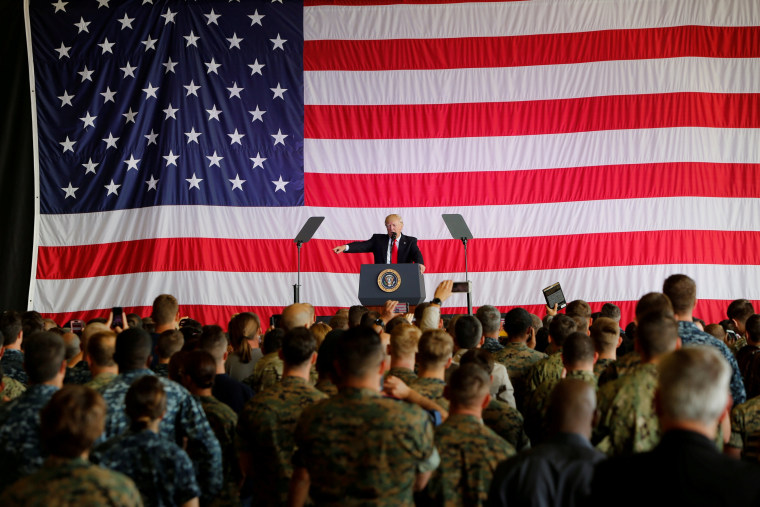 "I am directing the Secretary of Defense, and the Secretary of Homeland Security with respect to the U.S. Coast Guard, to return to the longstanding policy and practice on military service by transgender individuals that was in place prior to June 2016 until such time as a sufficient basis exists upon which to conclude that terminating that policy and practice would not have the negative effects discussed above," the memo continues.
According to the memo, which was addressed to the Secretaries of Defense and Homeland Security, these new guidelines will prevent the enlistment of new transgender service members and will stop funding for gender-reassignment treatment for currently serving trans people. The memo also states that Defense Secretary James Mattis has until February 21 to "determine how to address transgender individuals currently serving in the United States military."
The Pentagon, it should be noted, already conducted a study of the consequences of allowing transgender troops to serve openly as part of policy review that began in 2015 by former Defense Secretary Ashton Carter. A commissioned report by the Rand Corporation found that transgender members of the armed forces would not compromise military readiness, ability to deploy or require a significant increase in health care costs. It was after considering the results of this study that Carter announced that transgender service members "can no longer be discharged or otherwise separated from the military just for being transgender," and that the military would provide transition-related health care coverage.
"This Presidential order is a cravenly opportunistic act of discrimination against men and women who volunteer to defend the United States," Adam Smith, Democrat of Washington and a ranking member of the House Armed Services Committee, said in a statement.
"President Trump has no credible information suggesting that transgender service undermines military readiness," Smith added. "I oppose this decision in extremely strong terms, and we will fight for its reversal."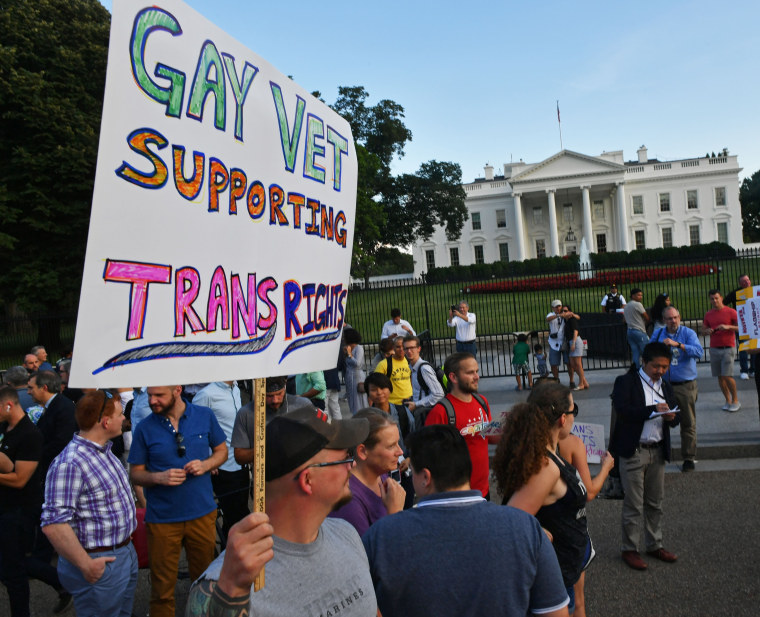 Democratic National Committee Chairman Tom Perez pulled no punches in his statement regarding the ban, calling the order a "moral abomination, a threat to our national security, and an outright betrayal of all those who wear our nation's uniform."
"Transgender Americans already bravely serve in our armed forces and risk their lives every day to protect the American people, but yet, our president turns a blind eye," Perez said. "Democrats will fight this enormous step backwards and won't stop until LGBTQ people have full equality in America and all capable people can serve our country openly."
The Congressional LGBT Equality Caucus, which includes the six openly LGBTQ members of the U.S. House of Representatives, reacted immediately to news of the official guidance.
"President Trump is spitting in the face of brave men and women who want nothing more than to serve their country with honor," LGBT Equality Caucus Executive Director Roddy Flynn said. "The President's decision runs counter to facts, medical research, and even the Pentagon's own internal deliberation. This is a sad day for our nation and the LGBT Equality Caucus will be fighting every day to ensure this tragic policy is reversed."
LGBTQ advocates are already mounting a legal challenge to President Trump's transgender military ban. GLBTQ Legal Advocates and Defenders (GLAD) and the National Center for Lesbian Rights (NCLR) have filed suit against the Trump administration on behalf of five transgender members of the armed forces.
Matt Thorn, interim executive director of OutServe-SLDN, an LGBTQ military advocacy organization, is joining Lambda Legal in filing another suit in federal court on Monday. Thorn said he is "disgusted" by the memo and added that any ban is "unconstitutional on its face."
"Obviously we condemn this," he said. "This is an overreach on [Trump's] part. It is very rare that presidents take actions like this. It is very rare that the White House handles military policy — it's usually the other way around. There was no push for this inside [the Department of Defense] building."
The lawsuit — Karnoski v. Trump — focuses on the trans enlistment ban, which, according to Thorn "directly and currently harms transgender individuals who wish to serve."
Thorn said the Secretary of Defense had given every indication that the Department of Defense (DoD) was going to lift the ban on accession, or enlistment, in the near future. Though current policy does not permit openly transgender troops to enlist, Thorn explained that the suit focuses on this aspect because "if you are going to enlist individuals, you are going to have to have a retentions policy."
"You can't bring them into the military and then deny them health care and discriminate against them on the basis of their gender identity. You're going to get sued over that," he explained.
Regarding health care, Trump's memo calls for the halt of "all use of [Department of Defense] or [Department of Homeland Security] resources to fund sex reassignment surgical procedures for military personnel" as of March 23, 2018. Thorn said this constitutes a "massive disruption" to the lives of transgender service members.
Further, Thorn cited a study by the Palm Center that estimates a price tag of $960 million if currently serving transgender personnel were expelled.
"The administrative costs of separating individuals will be more expensive than the costs of health care transgender service members are receiving," Thorn explained.
Related: ACLU Sues Trump Over Transgender Military Ban
The American Civil Liberties Union of Maryland on Monday filed a federal lawsuit in Baltimore on behalf of six transgender individuals currently serving in the Army, Navy, Air Force, National Guard and Naval Reserve.
"President Trump's actions immediately caused the individual plaintiffs and other transgender service members to fear for their careers, the well-being of their family members and dependents, their health care and, in some cases, their safety," the ACLU lawsuit states.
Because the memo is ambiguous about the power Secretary Mattis has to interpret and execute the directives in the memo, OutServe has also sent a letter to Mattis' office asking for his interpretation of Trump's memo and clarification on what the memo means for the military as a whole.
"For a president that says he listens to his generals and is so concerned with military readiness and deployability, this is throwing a massive grenade into the service," Thorn said, adding that currently serving transgender troops contribute to unit cohesion and readiness and their removal "is going to be disruptive to the entire force."