Thirty-five amicus briefs were submitted to the U.S. Supreme Court on Monday in support of a Colorado couple denied services because of their sexual orientation.
The couple, David Mullins and Charlie Craig, asked baker Jack Phillips back in 2012 to make them a wedding cake. Phillips, citing his Christian beliefs, refused. Mullins and Craig filed a complaint, and lower courts sided with them, stating Phillips' refusal violated Colorado's non-discrimination law.
Phillips appealed these rulings to the Supreme Court on the grounds that he should not be compelled to make an artistic or "expressive" product for a ceremony that contravenes his religious beliefs.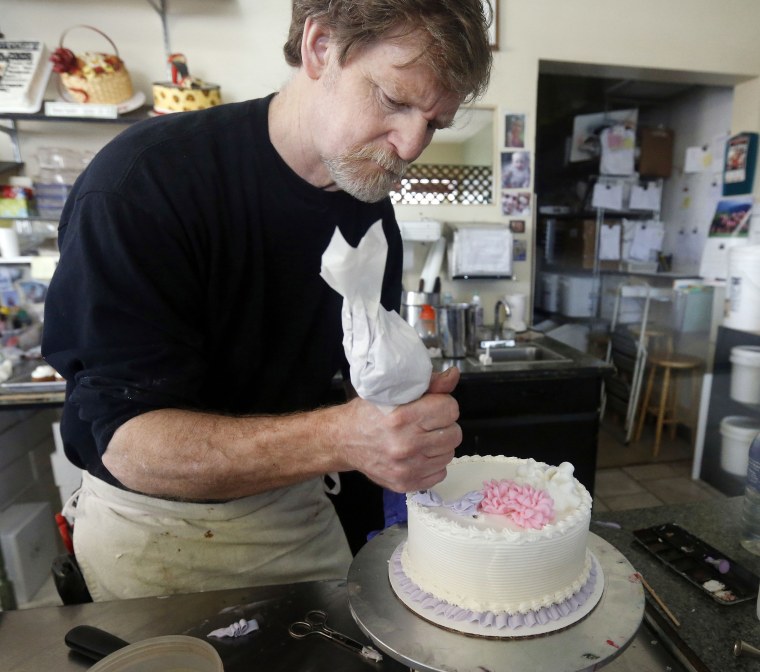 The case, Masterpiece Cakeshop v. Colorado Civil Rights Commission, thus pits anti-discrimination law against claims for free speech and religious freedom.
The Department of Justice submitted an amicus brief in support of the baker, Phillips, in September.
One of the dozens of briefs filed Monday in support of the couple was submitted on behalf of 211 Democratic members of Congress, among them Senate Minority Leader Charles Schumer and House Minority Leader Nancy Pelosi.
The brief states that legal exemptions such as the one Phillips wishes to carve out for himself and his bakery "are exceedingly difficult to both define and limit" and would "would do serious damage to [the Colorado Anti-Discrimination Act], and likewise undermine federal statutory schemes like the Civil Rights Act and the [Americans with Disabilities Act]."
"This Court should not establish a precedent inviting discrimination against historically marginalized communities, including but not limited to the lesbian, gay, bisexual, transgender and queer (LGBTQ) community," the brief urges.
Rep. John Lewis, Democrat of Georgia, was one of the members of Congress named in the brief. He said he was "proud" to join his colleagues and help "move forwards, not backwards" on civil rights protections. "No American should have to endure the humiliation that David Mullins and Charlie Craig experienced," he said. Recalling discrimination against black Americans during the height of the civil rights era, he underscored the importance that the "laws of the land protect and serve all those in our nation."
Tobias Barrington Wolff, a professor at University of Pennsylvania Law School, addressed the legal basis for Phillips' case on a call with reporters Monday.
"Anti-discrimination laws applied to businesses … have never been found to violate or even implicate the First Amendment," he said. "When they sell their skills to paying customers they are not engaging in individual expressive acts but providing a service," he said. This means, he added, businesses in artistic or creative industries are "subject to the same rules that every other business is subject to."
Regarding the applicability of the claim that Phillips' First Amendment rights would be violated were he to make the cake, Wolff said, "The Supreme Court has repeatedly said the state cannot regulate your thoughts … but when you sell [products] you are engaged in commercial conduct and that conduct is allowed to be regulated by the state."
Wolff predicted the Supreme Court will once again uphold principles of non-discrimination law.
Lambda Legal and 11 other LGBTQ advocacy organizations submitted a separate brief that focuses on the prevalence of anti-LGBTQ discrimination in the United States and its impact on LGBTQ individuals.
Lambda Legal CEO Rachel B. Tiven insisted "this is not about a cake." LGBTQ people, she said, are "shunned and denied service … literally from birth to death." Tiven enumerated examples of discrimination that include difficulty checking into a hotel, refusal of service by tax preparers or post office employees, and denial of access to homeless shelters, doctors offices and daycare centers. "This discrimination is pervasive, in red states and blue states, in big cities and small towns," Tiven added.
Shelbi Day, senior policy counsel at the Family Equality Council, one of the advocacy groups that signed on to the amicus brief along with Lambda Legal, said "LGBT parents and their children suffer real harm due to discrimination every day."
"Through the voices of LGBT individuals and their loved ones, this brief demonstrates the real-life harm that results from discrimination and the danger of allowing any exception to non-discrimination protections," Day said in a statement shared with NBC News.
Representatives of the business community have also filed briefs, arguing that the kind of religious exemptions Phillips is seeking are also bad for businesses. Amanda Ballantyne, national director of Main Street Alliance, stressed that creating exemptions in public accommodations law is "terrible for the economy and bad for small businesses." Ballantyne pointed to the "significant impact" that religious exemption law and bathroom bills have had on the economies of Indiana and North Carolina.
The Supreme Court will hear oral arguments in the case on December 5.