The Denver mother whose 9-year-old son killed himself last week, allegedly after being bullied because he came out as gay, called for an end to the type of torment she said her son faced.
"Those bullies are the reason my son's not with me," Pierce said in an interview with NBC News on Tuesday. "My daughter told me, he came home and told her, kids at school were telling him to kill himself," she said.
Pierce said her son, Jamel Myles, was "the kindest, most gentlest soul I've ever met." She said when Jamel told her he was gay, she told him she still loved him.
"We have to stop bullying and teach people it's OK to love each other," Pierce said. "... We have to stop hating each other for differences, differences that make us equal and unique."
Pierce found the body of Jamel, a fourth-grade student at the Joe Shoemaker Elementary School in Denver, on Thursday, and she could not revive him. He was pronounced dead at the Swedish Medical Center, according to a report from the Denver Office of the Medical Examiner. The manner of death, according to the report, was suicide and did not involve a firearm.
A day after Jamel's death, Christine Fleming, the school principal, sent a letter to parents expressing "extreme sadness" over this "unexpected loss for our school community."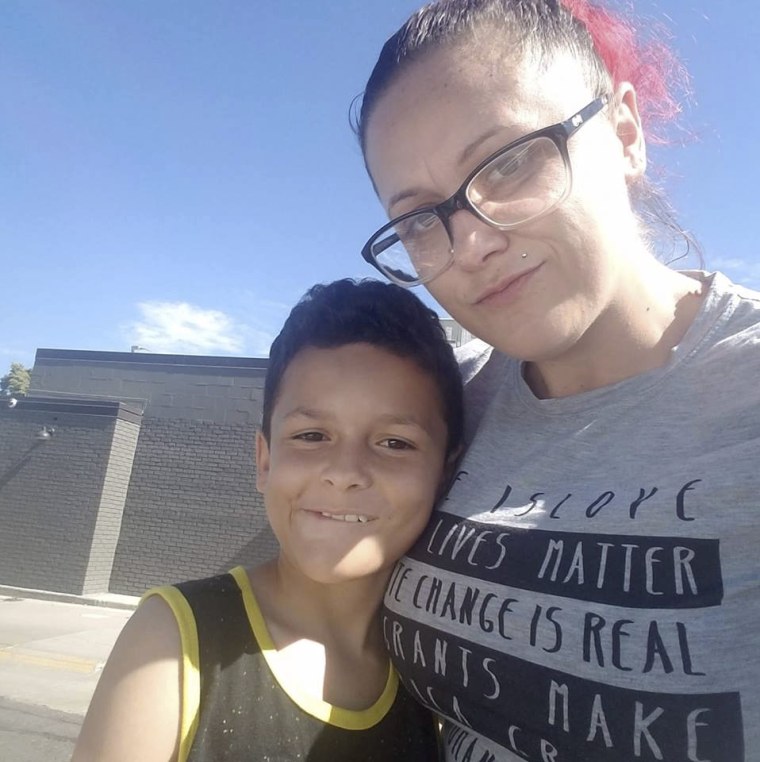 Then on Monday, the district sent out a statement saying it is "deeply committed to ensuring that all members of the school community are treated with dignity and respect, regardless of sexual orientation, gender identity, or transgender status."
Pierce said Jamel attended Joe Shoemaker Elementary last year, but before that he attended a different school. She said her son told her he was gay this summer during a car ride to Pierce's mother's house.
"My kids are just in the back seat playing around, and all of a sudden my son goes, 'I'm gay,'" Pierce recalled. "Everyone went quiet, you know, they thought he was playing."
"I looked back at him, and I was like, 'What?' And he goes, 'I'm gay,' and I was like, 'I still love you.' And he smiled, and he said he loved me too, and we just kept going," she said.
Denver police said Tuesday that the department "is continuing to investigate the circumstances, which appear to be non-criminal at this time."
Among those expressing sadness and outrage over Jamel's death was actress Laverne Cox, who is transgender. She tweeted Tuesday: "This has to stop happening. It just must stop. Our bullying culture is killing children."
Amit Paley, CEO of The Trevor Project, a suicide prevention and crisis intervention organization for LGBTQ youth, said if people see someone being bullied or suspect it is happening, they should step in and make sure the person being bullied feels supported.
"We know that just one person in an LGBTQ young person's life can make a huge difference," Paley said. "They can reduce their risk of suicide by 30 percent, and so we would encourage everyone to be that person."
Lesbian, gay and bisexual youth are more likely than their straight peers to report being bullied at school and online, according to the Centers for Disease Control and Prevention, and the center estimates they are four times more likely to report having attempted suicide.
Pierce said she wants justice for her son and tougher consequences for students caught bullying others.
"I want justice for every child who's ever been hurt like this," she said. "Every child deserves justice."
"Everyone wants to talk about suicide right now, because my son passed away, but no one wants to talk about the actions that caused him to do that, which was bullying," she added.
Pierce said she supported her son after he told her he was gay, and wished that everyone felt the same way.
"I didn't care. He could be whatever he wants to be. I'm still going to love him," she said. "I wish everyone else could have loved him."
The Trevor Project offers multiple resources for LGBTQ youth in crisis, including the TrevorLifeline, a nationwide, 24/7 crisis and suicide lifeline: 1.866.488.7386.