Rep. Katherine M. Clark, Democrat of Massachusetts, grilled Education Secretary Betsy DeVos on Wednesday at a House Appropriations subcommittee meeting about the possibility of federal funds going to schools that discriminate.
While questioning DeVos on Wednesday about the Trump administration's 2018 education budget proposal, Clark used much of her time to focus on the issue of discrimination in schools, and she said she's still "appall[ed]" by DeVos' unwillingness to point to an instance of discrimination that would prevent private schools from receiving federal funds under a proposed program in the budget.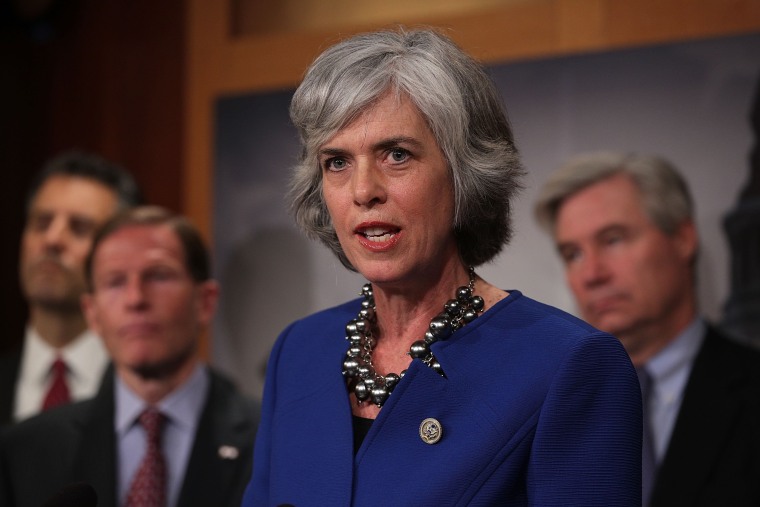 "The Secretary of Education, in her budget that has over $9 billion in cuts overall, proposed a new voucher program for private schools funded to the tune of $250 million," Clark said. "I thought, as she was making that request, she owed the American people and our students an explanation of how she would protect students from discrimination."
In her exchange with DeVos, Clark referenced Lighthouse Christian Academy, an Indiana school that receives hundreds of thousands of dollars in state voucher funds, despite denying access to students who are from households where there is "homosexual or bisexual activity" or have family members who practice "alternate gender identity."
"She was touting [Indiana's] voucher program, which Lighthouse Academy participates in, and receives $650,000 in state funding for students attending the school," Clark said. "I was hoping she would say there would be protections, and we wouldn't be using our scarce federal dollars for schools that are not open to all students."
When asked how likely it would be that DeVos' voucher program would become reality, Clark said she's skeptical.
"I think that school choice is going to be part of an ongoing debate about how we best accommodate all of our public schools and all of our students, so that we are offering great education opportunities to everyone," she said. "But a budget that makes such devastating cuts is one I think will be met with great skepticism in the House."
Related: DeVos Dodges Questions About Giving Funds to Schools that Discriminate
At the hearing, Clark said she was "shocked" by DeVos' answers to her questions.
"Maybe I shouldn't have been [shocked], given what we know about this administration. One of the first things they did was repeal protections for transgender students. But it is still shocking to me that the Secretary's gut instinct wasn't to say, 'Of course I will not allow any discrimination, whether it's by race, sexual orientation or the special needs of a child,'" Clark said.
"[DeVos'] inability to draw that bright line, whatever other policy disagreements we may have, continues to shock and frankly appall me," Clark added.
Related: Trump's Budget Would Hit These States Hardest
In a statement to NBC Out, Education Department Press Secretary Liz Hill responded to Clark's questioning on Wednesday, and pushed back against claims that DeVos does not intend to protect students from discrimination.
"As Secretary DeVos has made clear time and time again, protecting students' civil rights under federal law is one of the Department's core missions," Hill said. "The line of questioning during yesterday's hearing was about a theoretical voucher program the Department has not proposed and included topics that aren't covered under current Federal law."
But Clark said she would continue to challenge DeVos and the Trump administration on their education budget and on discrimination.
"Sadly, in 2017, we still see discrimination playing too large a role in our kids' lives," she said. "Anything I can do to prevent and highlight that there are some dangers for kids in being able to access educational opportunities, anything I can do to level the playing field for LGBTQ kids, is something I'm committing to doing."