LGBTQ advocacy groups are sounding the alarm over Education Secretary Betsy DeVos' comments before a U.S. House Appropriations subcommittee hearing on Wednesday, where she defended the Trump administration's education budget proposal for the 2018 fiscal year.
In an exchange with Democratic Representative Katherine M. Clark of Massachusetts over the proposed budget, which includes $250 million in public funds to send students to private schools, DeVos did not rule out giving federal funds to private schools that discriminate.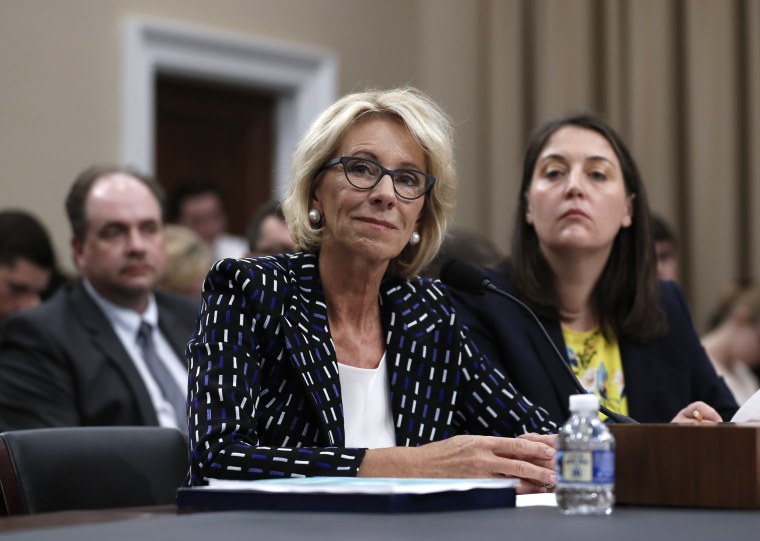 While questioning DeVos, Clark referenced Lighthouse Christian Academy, an Indiana school that receives more than $600,000 in state voucher funds, despite denying access to students who are from households where there is "homosexual or bisexual activity" or have family members who practice "alternate gender identity."
Clark asked DeVos if Indiana, for example, applies for federal funding for school vouchers, could she guarantee that schools like Lighthouse Christian Academy would not be able to discriminate on the basis of "sexual orientation, race [or] special needs."
"For states who have programs that allow for parents to make choices, they set up rules around that," DeVos responded.
"So that's a no," Clark followed up.
DeVos similarly eschewed a question from Clark about a hypothetical situation of a school denying students based on their race.
After an additional back and forth, Clark said she was "shocked" that DeVos could not come up with "one example of discrimination" that would considered unacceptable enough to warrant a private school being denied federal dollars.
The Human Rights Campaign (HRC) was among the LGBTQ advocacy groups to condemn DeVos' statements in front of the House subcommittee.
"Taxpayer funds should never be used to discriminate against LGBTQ students, and it is shocking and disappointing that Secretary DeVos won't make this basic commitment," HRC Government Affairs Director David Stacy said in a statement. "Secretary DeVos has failed again to stand up for all students and ensure every child is able to receive an education free from harassment and discrimination."
Related: Transgender Student Breaks Down National 'Bathroom Debate'
The Gay, Lesbian and Straight Education Network (GLSEN) pointed to the discrimination LGBTQ students currently face in schools in its response to DeVos' comments.
"More than half of LGBTQ students have experienced discrimination at school," GLSEN Executive Director Eliza Byard said. "Last year, more than 16,000 families turned to the Department of Education for help when their children were hurt by discrimination of all kinds. Is Secretary DeVos truly prepared to turn away from addressing instances of discrimination, in violation of the law?"
Related: Trump's Budget Would Hit These States Hardest
In a statement provided to NBC Out, Education Department Press Secretary Liz Hill pushed back against claims that DeVos does not intend to protect students from discrimination.
"As Secretary DeVos has made clear time and time again, protecting students' civil rights under federal law is one of the Department's core missions," Hill said. "The line of questioning during yesterday's hearing was about a theoretical voucher program the Department has not proposed and included topics that aren't covered under current Federal law."
Hill went on to say that the response to DeVos' comments seemed to stem from a "fundamental misunderstanding about the federal and state roles in education," and she added that "the Department of Education can and will intervene when federal law is broken."
The Trump administration's proposed budget cuts roughly $9 billion of the Education Department's funding, or approximately 13 percent. While hundreds of millions will be added to bolster school choice programs, more than 30 programs will be eliminated or reduced, including the Special Olympics and after-school programs for low-income students.