A quick Google search of the words "Africa" and "homophobia" will return headlines like "Why Africa is a hotbed of homophobia" and "Why Africa is turning anti-gay." Last Friday, the Other Foundation released preliminary findings from the first nationally representative survey of South African attitudes toward homosexuality and gender non-conformity. The results challenge these stereotypes of Africans' feelings toward LGBTQ people.
The survey was conducted in eight languages, allowing researchers to collect in-depth information about what is informing South African attitudes and behaviors. "We need to understand what ordinary Africans and ordinary South Africans think about homosexuality," Dr. Carla Sutherland told NBC OUT. Sutherland is the project director for the Other Foundation and is currently a senior adviser at the Vaid Group in New York City.
Sutherland saw the need for such a survey while working for the Ford Foundation in East Africa, when the Ugandan LGBTQ movement was beginning in the early 2000s. She saw the influence of international organizations on young activists, not only in terms of access to funding for their activism, but "framing the issue, speaking about the issue and how little it resonated with the political reality on the ground."
RELATED: South Africa Bars American Pastor Over Alleged Hate Speech
International organizations pushed for the decriminalization of homosexuality and supported the kind of elite political lobbying it required. While "incredibly important," according to Sutherland, it meant "demonstrating how awful the homophobia was." The effect of this was to reinforce the stereotype that Africans are homophobic, often violently so. When international LGBTQ organizations and Western media address homophobic violence, it often occurs through a "hugely racist discourse that is grounded in a complete lack of understanding of a nuanced and sophisticated debate that is happening on the continent," she added.
Sutherland stressed that international organizations often have the best intentions but often assume a model of social change based on European and North American histories, cultures and styles of government. The approach is to say that "gay people have been excluded and that gay people need to be included in a system that is working," she said. However, in the case of Uganda—which made global headlines for the passage of the "Anti-Homosexuality Act"—repressive measures restrict the freedom of the majority of citizens, not just sexual minorities. Employing an "identity-based platform without the connection to transforming the whole society" is unlikely to be a successful strategy. While support from international LGBTQ organizations is important, in order to see substantive change, according to Sutherland, African activists must be allowed to "build something on the continent" that connects to a broader social justice agenda.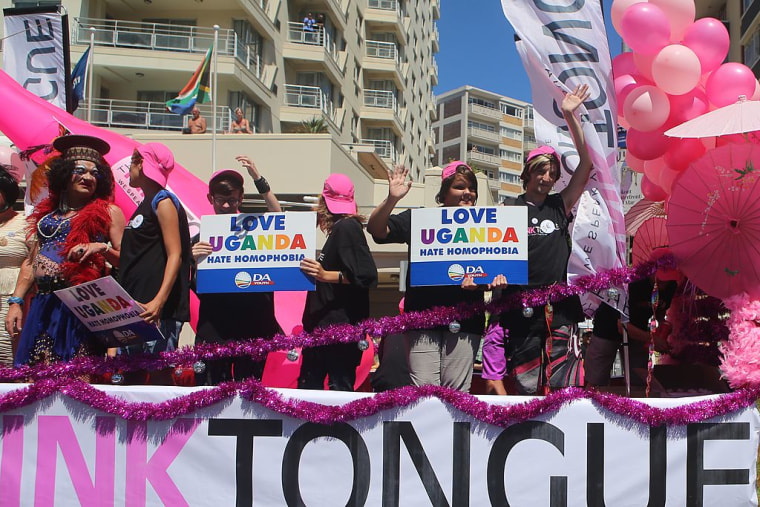 Homosexuality is African
While "gay," "lesbian" and "transgender" are English words, same-sex practices and a variety of gender expressions have a long history on the continent. The Other Foundation's survey confirmed this: "In South Africa, over half a million adult women and men, across all population groups, living in both rural and urban areas, and across all age groups identified themselves as homosexual, bisexual, or gender non-conforming – consistent with similar population ratios in many different parts of the world."
The research helps to dispel the myth that Black Africans and African culture are inherently homophobic. Black South Africans are no more homophobic than their white compatriots. "People think that white South Africans are more tolerant [than black South Africans], but that is not true," Sutherland said. "There is a much stronger correlation between education and income [than race]."
South Africans are also increasingly accepting of LGBTQ people. While the United States just achieved marriage equality, same-sex marriage has been legal in South Africa for a decade. According to recent research, "Between 2012 and 2015, there has been a tenfold increase in the number of South Africans who 'strongly agree' with allowing same-sex marriage." And over half said they would accept a gay family member.
Commitment to the Constitution
Unlike the United States, the South African constitution has a clause that protects citizens from discrimination on the basis of sexual orientation. The Other Foundation study found broad support for maintaining this legal protection for LGBTQ people.
"It is true that the majority of respondents do think that homosexuality is morally wrong and are offended by gender non-conforming [behavior]," Sutherland said. "They still want the constitution to protect people on the basis of sexual orientation and are profoundly opposed violence [against LGBTQ people]. They still see people who they morally disagree with as part of their own tradition and culture [and believe] that they should absolutely have the same human rights as everybody else."
Even when South Africans disagree on issues, they still respect each other's rights as human beings, Sutherland noted. "When I look at the current presidential debate in the U.S., this is not apparent as part of the public discourse," she remarked. Indeed, not only has Trump made racist and xenophobic comments that dehumanize Muslims and Mexicans, Clinton's recent "basket of deplorables" comment collapses any distinction between racist and misogynistic attitudes and the people who hold them.
The Next Step: Building Intersectional Coalitions
International organizations and Western media often focus narrowly on the issue of homophobia, removing it from its social context. But this strategy will not work to "shift the moveable middle," those South Africans that may not support homosexuality but do believe in protecting everyone's rights. According to Sutherland, the research reveals a good strategy is "looking to different groups to do advocacy with." One avenue is to join with advocacy groups that seek to protect the constitution and ensure democratic process. For example, "We should see LGBT activists visibly engaged to ensure that [South African President] Jacob Zuma is held to account."
One example of this working is in Mozambique, where sodomy laws were repealed through a legislative process. This requires a broader form of mobilization than overturning them in a judicial process, as occurred in the United States. It was "so important for gay activists to be talking about women's rights [and participating in] spaces where people [defend] the rights of prisoners. When it came time to repeal sodomy laws, [they said] 'we have seen you in all those spaces.'"
This kind of activism may not only improve attitudes toward LGBTQ people but help build a better country for all South Africans.
Julie Moreau is a Post Doctoral Research Fellow in the Department of Women's, Gender and Sexuality Studies at Washington University in St. Louis. She tweets at @JEMoreau.