While most political candidates can count on the unwavering support of their family members, two of the three children of Missouri Republican Steve West have a message for voters in the state's 15th House District: Don't vote for our dad.
"I can't imagine him being in any level of government," Steve West's daughter Emily told The Kansas City Star. "He's made multiple comments that are racist and homophobic and how he doesn't like the Jews."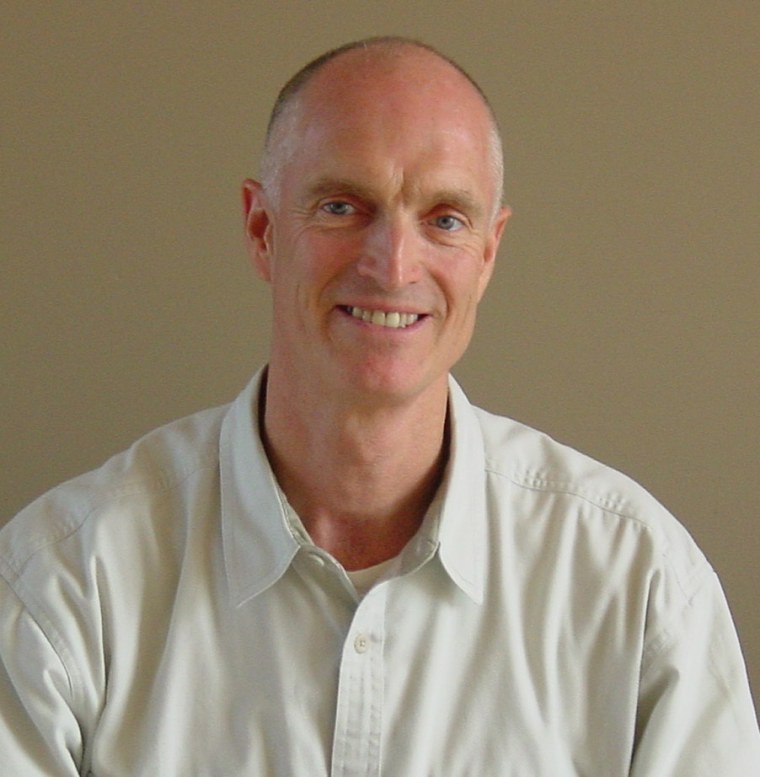 Steve West's son, Andy, contacted the paper on Tuesday with a similar message about his "fanatic" father.
"He must be stopped," Andy West said. "His ideology is pure hatred."
In a 30-minute phone conversation with NBC News on Wednesday evening, Steve West rebutted the claims made by his children.
"I'm not anti-Semitic," he said. "I have no racism at all, and I'm not a homophobic."
West blamed his fraught relationship with his children on his ex-wife, who he said "poisoned" them during an "extremely toxic divorce."
Despite his assertions that he's not a bigot, however, West has not been shy about voicing his extreme views. After West's landslide victory in August's GOP primary, The Star compiled a long list of offensive comments he made on his radio show, YouTube channel and website.
Regarding the LGBTQ community, West has said homosexuality and pedophilia are "absolutely linked," and he called women's athletics a "haven and breeding ground for lesbianism."
When asked about these comments by NBC News, West doubled down on his claims, recalling a story about a heterosexual young woman who abandoned her college scholarship after being outnumbered by lesbians in the women's locker room. He also claimed that homosexuality and pedophilia indeed "go hand in hand."
"The homosexual world, they are by much greater percent predators — especially when it comes to boys," he said. When asked for evidence to back these claims, he said to look up the work of Milo Yiannopoulos, a conservative gay provocateur who was fired from Breitbart after video was uncovered of him making sympathetic comments about child-adult sexual relationships.
Among his comments targeting Jews, West claimed that St. Jude Children's Research Hospital in New York is getting kids "sick through vaccines" and "torturing them" with anti-cancer drugs "all for a little PR for the Jewish Cabal," according to The Star. He also claimed Republican Jews are "grooming America, just as a pedophile grooms his victim."
When asked about his comments about Jews, West turned the conversation toward Israel, saying, "Israel is a racist state" that seeks to "divide everybody by race."
In response to claims that he's racist, West said he firmly believes "all men are created equal."
Rep. Jon Carpenter, the Democratic incumbent, said many people supporting West may not know about his views.
"I'm deeply disturbed by his candidacy," he said. "It's my hope that the voters of the 15th District overwhelmingly reject that kind of bigotry on Election Day."
After West won in August, the Missouri Republican Party issued a statement "wholeheartedly" condemning his "abhorrent rhetoric", which is said had "absolutely no place in the Missouri Republican Party or anywhere."
The West family feud follows a string of familial denunciations of political figures, including Trump adviser Stephen Miller, the architect of the president's immigration crackdown.
Miller's uncle, David S. Glosser, denounced his nephew's efforts to end "chain migration," which Glosser said is the policy that allowed his and Miller's family to come to America.
"I shudder at the thought of what would have become of the Glossers had the same policies Stephen so coolly espouses — the travel ban, the radical decrease in refugees, the separation of children from their parents, and even talk of limiting citizenship for legal immigrants — been in effect when Wolf-Leib made his desperate bid for freedom," Glosser wrote in an op-ed published in August.
Adam Laxalt, the Republican candidate for Nevada governor, was denounced by 12 family members last week in an op-ed published in The Reno Gazette-Journal.
"As this Election Day nears, we feel compelled to speak publicly about why we believe that Adam Laxalt is the wrong choice for Nevada's governorship," the family wrote. They claimed Laxalt was not really a Nevadan and moved to the state just "to satisfy his enormous political ambitions."
The Laxalt campaign noted that after the first op-ed was published, 22 other family members responded in another op-ed affirming their support for the Republican's candidacy.
Last month, six siblings of U.S. Rep. Paul Gosar, R-Ariz., participated in an ad campaign against their brother's re-election bid, endorsing his Democratic opponent.
This year's political family feuds don't just involve Republicans. Democrat Randy Bryce, who is running to replace Paul Ryan in Wisconsin's 1st Congressional District, was attacked by his brother, James Bryce, a police officer, in a pro-police advertisement that highlighted the candidate's arrest record and "cop-hating rhetoric."
The Bryce campaign then brought in another family member — their mother, Nancy Bryce, who denounced the whole business in an open letter Wednesday.
"My family deserves better than this," she wrote, according to The Wisconsin State Journal.