Like most high school students, Aerin Geary does not typically pay attention to state legislation. However, the South Dakota teenager has been closely following House Bill 1057, a Republican proposal that would make it a felony for medical professionals to provide transgender health care to minors.
"This bill makes me feel scared, since this is something that affects me deeply," Geary, 15, who identifies as nonbinary and uses they/them pronouns, told NBC News. "Transitioning is something that I've been hoping to get and been yearning for for years.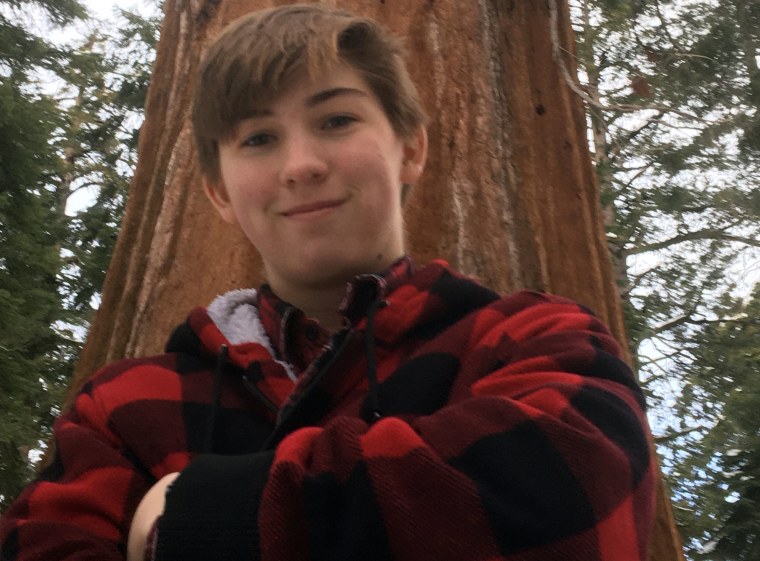 The high school sophomore is afraid that if the legislation passes, plans to take puberty-suppressing medication will be delayed indefinitely.
"I recently managed to convince my family to allow me to start transitioning, and I'm so close to getting there," Geary said. "To take it away from me when I'm so close would be a huge blow to my hope."
HB 1057, which successfully passed out of committee on Wednesday, would make providing certain forms of gender-affirming medical care to minors — including the prescription of puberty blockers — a Class Four felony, which in South Dakota carries a penalty of up to 10 years in prison. Proponents say the bill is needed to protect children from rushing into a "life-changing" decision, while critics say it interferes with the doctor-patient relationship and could cause physical and psychological harm to trans youth.
South Dakota's trans health care bill is not the only state legislation that has lesbian, gay, bisexual, transgender and queer advocates sounding the alarm. In fact, they say it's just one of at least 25 anti-LGBTQ bills that have been proposed so far in 2020.
Many of the bills, like South Dakota's, focus on transgender youth, but a number of others deal with nondiscrimination protections and religious exemptions. Chase Strangio, deputy director of the ACLU's LGBT and HIV Project, called this legislative session "one of the most hostile" for LGBTQ people in recent years.
Trans youth and health care
Bills seeking to limit transgender health care for minors have been introduced in at least seven states this month — all by Republican lawmakers.
Like South Dakota, Florida and Colorado have introduced bills that carry criminal penalties. The "Vulnerable Child Protection Act," one of four bills proposed in Florida last week that have been opposed by LGBTQ advocates, would make providing certain medical care or treatments to transgender minors — including nonsurgical care, like hormone therapy — a second-degree felony. Medical practitioners could face up to 15 years in prison and a $10,000 fine.
Bills introduced in Illinois, Oklahoma and South Carolina would impose professional penalties — including the loss of a medical license — on those who provide trans health care to minors. In Missouri, proposed legislation combines professional penalties for medical care providers with penalties for parents or guardians of transgender minors, including a requirement that they be reported to child services. A proposal introduced in New Hampshire last year, which is still being considered, would add "sexual reassignment" to the definition of child abuse in the state's Child Protection Act.
A sudden interruption in health care, according to transgender advocates and health experts, could precipitate physical and mental health crises among trans youth.
"Gender-affirming medical care for transgender and gender-diverse minors is life-saving," said Dr. Alex Keuroghlian, director of both the Fenway Institute's National LGBT Health Education Center and Massachusetts General Hospital's Psychiatry Gender Identity Program.
Keuroghlian, a physician, said comprehensive gender-affirming medical care has been the accepted best practice for the American Academy of Pediatrics since 2018.
There is a 40 percent lifetime suicide-attempt prevalence among transgender adults, but most of those attempts occur before the age of 25, Keuroghlian said. In fact, a study Keuroghlian co-wrote that appears in this month's issue of the journal "Pediatrics" found that transgender adults who had access to puberty-suppressing medication during their adolescence had lower odds of experiencing suicidal thoughts than those who wanted treatment but could not access it.
Geary, who hopes to start taking puberty blockers soon, said they are disappointed in state lawmakers, like those in South Dakota, who are seeking to limit access to this type of treatment.
"I think they have our best interests at heart, but don't understand the issue," Geary said. "Transitioning saves our lives. Hope saves our lives. Taking that hope away is the detriment to our health."
"This is a devastating bill," they added. "My hope now is that it dies before it kills."
Transgender youth and sports
Bills introduced by Republicans in Alabama, Georgia, Indiana, Missouri, New Hampshire, Tennessee and Washington propose prohibiting transgender student athletes from participating in gender-segregated sports in a way that's consistent with their gender identity. These bills would override state athletic association policies, which generally govern athletic participation.
In Alabama, for example, Rep. Chris Pringle, whose district includes parts of Mobile, introduced the Gender Is Real Legislative (GIRL) Act, which would ban K-12 public schools from participating in athletic events where "athletes are allowed to participate in competition against athletes who are of a different biological gender, unless the event specifically includes both biological genders." A similar bill has been introduced in Tennessee.
New Hampshire's House Bill 1251 imposes restrictions only on girls' sports, requiring that primary and secondary schools limit girls' sports teams to students "of the female sex."
Strangio of the ACLU said in addition to the "serious harm" — both psychological and physical — caused by these athletic proposals, bills like New Hampshire's involve an unreasonable invasion of privacy. HB 1251, for example, specifies that in the event of a dispute over an athlete's eligibility, she could "prove that she is of the female sex by presenting a signed physician's statement" with information about her "internal and external reproductive anatomy," her "naturally occurring level of testosterone" and an "analysis" of her "chromosomes."
In Kentucky, legislators have proposed a bill that would allow students to sue their school if bathroom and locker room access is not restricted to sex assigned at birth. Strangio said different versions of this bill have been introduced in various states since 2016.
On the likelihood of these sports-related bills becoming law, Strangio said, "We don't know what's going to move and where." However, he added, "Just the fact that they have been introduced and the extent of the rhetoric is itself a harm."
In addition to sports, advocates are also watching bills that would affect transgender students in other ways. Lawmakers in Arizona are considering House Bill 2082, a proposal that would require public school teachers to use the pronoun associated with the sex listed on a child's birth certificate. Another bill, House Bill 2361, would require sex education to "emphasize biological sex and not gender identities."
Religious exemptions
Lawmakers in several states have introduced legislation that would provide religious exemptions to publicly funded adoption agencies and health care providers, allowing them to deny services to LGBTQ patients and prospective parents.
In Kentucky, for example, Senate Bill 90 would allow all nonemergency health care providers to decline to perform procedures that violate their "religious, moral, ethical or philosophical beliefs." In neighboring Missouri, Republican legislators introduced House Bill 2043, or the Adoption Protection Act, this month. The proposal would allow child placement agencies that receive taxpayer dollars to refuse to place children in a home if the household "violates such agency's sincerely held religious beliefs."
In Tennessee, the state's Republican governor, Bill Lee, said last week that he would sign a recently passed bill that would permit adoption agencies to refuse to work with families if doing so would "violate the agency's written religious or moral convictions or policies." This means that agencies could potentially turn away same-sex parents looking to adopt or foster a child.
Ten states now permit state-licensed welfare agencies to refuse to place children with LGBTQ individuals and same-sex couples if doing so conflicts with the agency's religious or moral beliefs. While North Dakota's law goes back to 2003 and Virginia's to 2012, eight of these states have passed such laws since the legalization of same-sex marriage in 2015. These states include Michigan, Mississippi, South Dakota, Alabama, Texas, Oklahoma, Kansas and South Carolina.
Nondiscrimination protections
After last year's House passage of the Equality Act — a measure that would modify existing federal civil rights law to add protections against discrimination on the basis of sexual orientation and gender identity — at least two states introduced bills taking aim at existing local nondiscrimination protections. These bills would prohibit cities and municipalities from developing their own nondiscrimination policies.
In Florida, House Bill 305 would repeal municipal and county ordinances protecting LGBTQ workers. If passed, the legislation would, for example, nullify Miami's LGBTQ employment protections.
In West Virginia, lawmakers have introduced a broad pre-emption bill to prevent local ordinances from extending nondiscrimination protections, including to LGBTQ people.
Pro-LGBTQ state legislation
While this month has seen an onslaught of state bills at odds with policies supported by LGBTQ advocates, there have been a number of pro-LGBTQ measures introduced at the state level.
The Virginia Values Act, for example, would add LGBTQ people to existing nondiscrimination laws in Virginia in public employment and housing. The act would also expand nondiscrimination protections to all protected classes, including LGBTQ people, in private employment and public accommodations. The incoming House speaker, Democrat Eileen Filler-Corn, has promised to pass the legislation.
Earlier this week, New Jersey became the ninth state to ban the so-called gay and transgender panic defenses, joining joining Hawaii, California, Nevada, Illinois, New York, Connecticut, Maine and Rhode Island in barring the controversial legal strategy. New Jersey, along with Illinois, is also rolling out an LGBTQ-inclusive curriculum in public schools this year.
Utah on Tuesday became the 19th state to ban gay conversion therapy, a discredited practice that seeks to change a person's sexual orientation. Advocates expect this trend to continue in 2020, with legislation introduced in Kentucky this month.