With a sparkling gown, fake eyelashes and a snow-white wig, drag performer Lactatia saunters down the runway like a natural. But onlookers immediately notice something different about this charismatic queen: Underneath the thick makeup and glamorous ensemble, Lactatia is a 10-year-old boy.
"I just stumbled into it," Lactatia, whose real name is Nemis Golden, said of drag. "After watching 'RuPaul's Drag Race,' I tried it with my mom, and we went to a drag show."
While in the audience at that first show in his hometown of Montreal, Golden said the entertainer — who happened to be "Drag Race" season six winner Bianca Del Rio — summoned him to the stage and asked him to perform.
"She loved it," he said of Bianca Del Rio's reaction to his performance. "That is when I knew that this was my calling."
Video of that first performance, when he was just 8 years old, was posted online and went viral overnight. Soon after, Nemis Golden became Lactacia — a so-called drag kid.
THE "DRAG RACE" EFFECT
Drag has historically been part of a nightlife subculture relegated to gay bars and nightclubs. But with the popularity of VH1's reality competition show, "RuPaul's Drag Race" — which has garnered nine Emmys since its 2009 debut and has over a million weekly viewers — the art form has moved beyond big-city gay bars and into living rooms across the U.S.
Nothing is more evident of this shift to the mainstream than the phenomenon of drag kids: children, typically boys, who dress up in over-the-top outfits and perform in drag.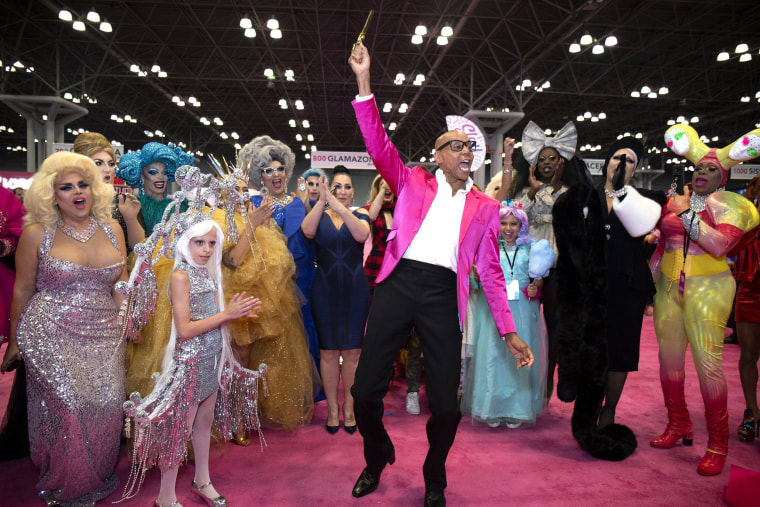 "Children naturally love color, and joy, and fantasy; but so often they are taught to ignore their natural curiosity and provided with rules and restrictions that crush their imagination," Randy Barbato and Fenton Bailey, the producers of "RuPaul's Drag Race," told NBC News in a joint statement.
While there are no solid figures on how many kids participate in drag, Barbato and Bailey said the increasing popularity of drag with youth is less about "drag reaching children" and more about the art form "providing a natural environment for kids to explore who they are."
"HE HAS BEEN DRESSING UP FOREVER"
Since Golden's drag debut in Montreal, he has performed 12 times in Canada and the U.S. and has amassed a sizable following on Instagram.
"Drag was popular before drag kids, but with anything, anytime youth get involved with something, there's a lot more room for it to grow," Golden confidently explained. "Now, there are already a lot of drag kids, but there deserves to be way many more in the world."
Golden's mom, Jessica, recently joined him at RuPaul's DragCon in New York, a drag convention that draws tens of thousands. She told NBC News that for her son, drag "has been an evolution from birth." But, she added, "Nemis came out pretty fancy already."
"He has been dressing up forever, but then he saw the medium of drag and realized that's what he was already doing," she explained. "With all of the drag kids, if you look through their histories or photos of them when they were little, they were all doing the same thing: putting on their mom's clothes or big sister's shoes, just being fancy."
Like Nemis Golden, 13-year-old Esai — who has been performing in drag for the past four years as E! The Dragnificent — started dressing up well before officially embracing drag.
"He definitely enjoys tapping into that feminine side of himself and just loves to perform, so that comes naturally," said Esai's mother, Andrea, who asked that her family's surname not be published because they've received threats due to their son's participation in drag.
"He has always been exposed to lots of different types of performers, including drag performers," Andrea added, "so he gravitated towards it at a very young age."
Like Jessica Golden, Andrea is very supportive of her child's love for drag. She even started a drag kids showcase four years ago in her family's hometown of Pittsburgh.
"It's a great artistic outlet for them," she said of the annual event. "The makeup, the costuming, the talent, that's nothing to sneeze at."
While Esai identifies as "gender fluid," Nemis Golden identifies as male. Jessica Golden said there are many misconceptions about drag kids — gender identity being among the most common.
"Obviously there are some kids in his class that don't fully understand what it means to be a drag kid," she said. "They think he wants to be a girl or is trans, so that's a constant conversation he has to have. He's not trans, he likes being a boy, but he has this character he dresses up as that just so happens to be a girl."
"BE YOURSELF, ALWAYS"
Perhaps the most famous drag kid is 10-year-old Desmond Is Amazing, whose real name is Desmond Napoles. With his nearly 100,000 Instagram followers, his motto of "Be yourself, always," has inspired many other children to embrace who they are and defy real-life and online bullies.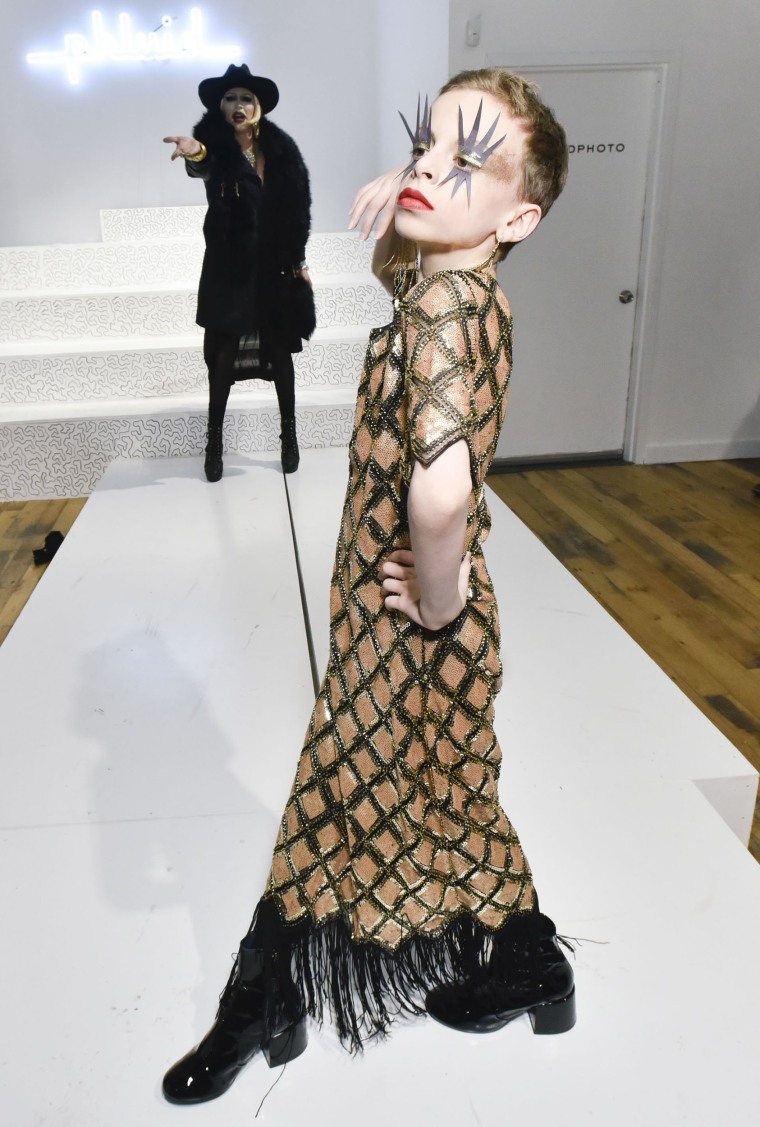 "When I do drag, I become Desmond Is Amazing, which isn't very different from who I am out of drag — just a little more fabulous," he told NBC News at DragCon last month while donning a sparkling chandelier-like headpiece and a 1920s-inspired flapper dress.
To other kids who may be interested in drag, Napoles has the following advice: "Start with one small thing that makes you feel beautiful, like a necklace or a lipstick, and then add from there whatever is comfortable for you."
He also advised drag kids and those who would like to be to "pay the haters no mind."
"They will never be as fierce as you and I," he added.
DEALING WITH "HATERS"
"Haters" are a group many drag kids — and their families — know well.
While performing during the 2017 Austin International Drag Festival, Esai became the target of Alex Jones' controversial Infowars website.
"Alex Jones sent a reporter to report on how many kids there were at this festival, and then they realized that Esai was actually a performer in the festival," Andrea said. "They did a whole exposé on him."
The article was titled "Drag Queen Festival in Austin Promotes Early Sexualization of Children/Gender Confusion" and claimed children were "being indoctrinated into fetish lifestyles" at the event.
"They videotaped him without our permission and did a really ugly segment or two on my kid," Andrea added. "The comments were so disgusting and disturbing, all coming from adults."
Andrea said she wants to "run and cry and hold [Esai] tight" in order to "deflect all the hate," but she realizes that's not always possible.
"All we can do is just talk very honestly and openly whenever it comes up," she said. "Esai knows that he's a special kid, and not all kids are going to understand the things that interest him, and that's OK."
"You always want to protect your kids, but at some point, you have to let your kids protect themselves," Andrea added.
Esai has developed thick skin when it comes to his critics — both young and old.
"It is not a bad thing to let kids do drag," he said. "Drag is an art form, so people of all ages can create and express themselves the way they want to."
The Napoles and Golden families have also received their fair share of "haters." Earlier this year, for example, both Desmond Is Amazing and Lactacia were mentioned in an op-ed in the Washington Examiner titled "Letting an 8-year-old be a drag queen isn't progressive, it's child abuse."
"There's nothing politically correct about this new frontier; it's abuse, merely distorted and cloaked in progressivism," the op-ed's author stated.
Both Jessica Golden and Wendy Napoles, Desmond's mom, said their approach to critics is simple: don't engage.
"Those people, we know what their views and opinions are, we know how they feel about it, and they aren't interested in hearing any other way," Jessica Golden said. "So there's no point in trying to explain something to them that they aren't ready to understand."
"We don't feel that we need to justify our kid's art, or the fact that he dresses up," she added. "He is who he is, and there's nothing about it we have to defend."
As for Wendy Napoles, she said, "I just report, block, delete."
"I think what these drag kids are doing is so brave and courageous. They are not hurting anyone, so it is cruel that others would try to hurt them and their families," she added. "Personally, I feel like a mom who supports her son's interests, and I think all parents should support their children as well, whether it's dance, football or whatever."
"DRAG RACE JUNIOR" ON HORIZON?
With the debut of "Dancing With the Stars: Junior" this past Sunday and "MasterChef Junior" back in 2013, could a "RuPaul's Drag Race Junior" be on the horizon?
"This is absolutely something we have been discussing, so stay tuned," Barbato and Bailey told NBC News.
As for drag kid "haters," the duo said, "When it comes to kids, there are far more important things to worry about than what they wear."