"RuPaul's Drag Race" star Peppermint recently made her Broadway debut in "Head Over Heels" at Manhattan's Hudson Theater, but her journey to fulfilling this lifelong dream — and making history as the first transgender woman to originate a principal role on Broadway — was neither quick nor easy.
Peppermint, 38, said she started auditioning for musical theater roles right after college, but the Delaware native said she "felt a lot of pushback" during the process.
"I could feel the judgment even before I would start singing, so I quickly learned this game isn't for me," she said of the daunting auditions.
Discouraged, Peppermint turned to New York City gay bars and nightclubs, where she performed in drag.
"There was a lot of work for me to do in the clubs working as a queen," she said, adding that she performed at a number of Manhattan hotspots over the years, including Tunnel, Barracuda Bar and Limelight.
After establishing herself as a staple in the New York City nightlife scene, she began performing drag around the world and "really honing my craft and really figuring out who I was as a performer."
Her big break came in 2016 when she was cast on season nine of VH1's hit reality show "RuPaul's Drag Race," which aired in early 2017. Not only was Peppermint a fan favorite, but she also made news by revealing that she was transitioning.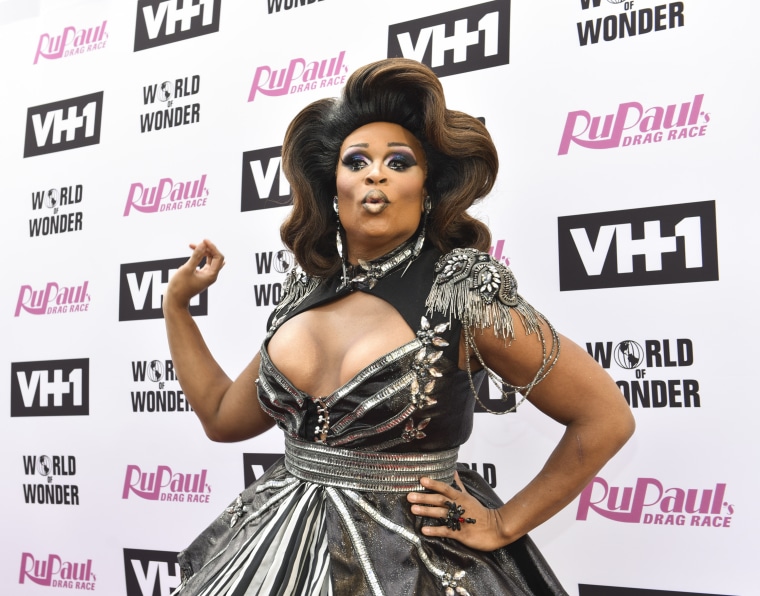 When asked to respond to critics — RuPaul at one time among them — who claim only cisgender (non-transgender) men can be drag performers, Peppermint was quick to pushback and use herself as an example of a successful transgender woman "contributing to the art form of drag."
"Drag is for everyone to enjoy and to employ," she said. "I've heard for years that trans women can't do drag, women can't do drag, and I have to say that that's not the last time that we'll unfortunately ever hear a man tell a woman that she can't do something."
And Peppermint is certainly not alone in this belief that drag can be performed by anyone.
"Trans drag is important and fierce," Alaska, winner of "RuPaul's Drag Race All Stars" season two told NBC News. "Since I started doing drag, I've been working with trans women who do drag, and trans women's contributions to the art form and culture of drag have been essential and go back to the very origin of drag as we know it."
Alaska described Peppermint's appearance on "RuPaul's Drag Race" as a "groundbreaking moment."
"She helped bring more visibility to our trans sisters," Alaska added. "Anyone who knows drag well knows that our sisterhood is a space and an art form of inclusivity and love."
After making it to the final four on season nine of "RuPaul's Drag Race," Peppermint decided to pursue musical theater once again. Her manager heard about a gender-nonbinary role in an upcoming Broadway musical, which was coming off of a run in San Francisco. After a few rounds of auditions, Peppermint won the part and made history. According to producers, she is the first transgender woman to originate a principal role on Broadway.
"It's a dream come true," Peppermint said of performing on Broadway. "I'm on cloud nine just being in any Broadway show, but being in this show is the perfect gig for me, because I'm marrying performance, song, dance, comedy ... and a lot of glitter and rhinestones."
Co-produced by Gwyneth Paltrow and directed by Tony-winner Michael Mayer, the musical comedy is about a royal family on a journey to save their kingdom from extinction. The story is set to the music of '80s band The Go-Go's and includes hit songs like "We Got the Beat" and "Our Lips Are Sealed."
Shortly before the musical's debut, Peppermint was at the center of a controversy involving The New York Times after its chief theater critic, Ben Brantley, made a joke about pronouns in his "Head Over Heels" review that many found to be tone deaf and transphobic.
The Times redacted the comment, and Brantley issued an apology. Peppermint accepted the apology and said she hopes the situation can be a teachable moment for everyone.
"I think he learned from it. I think he learned very quickly — in less than 24 hours — that there are readers who don't necessarily take gender and gender variance as a joke. These are people's identities, and it's a sensitive topic," she said.
"I appreciate the apology," she added. "It opened up room for a much larger conversation that I think we need to have, and we're having it on stage every night in 'Head Over Heels.'"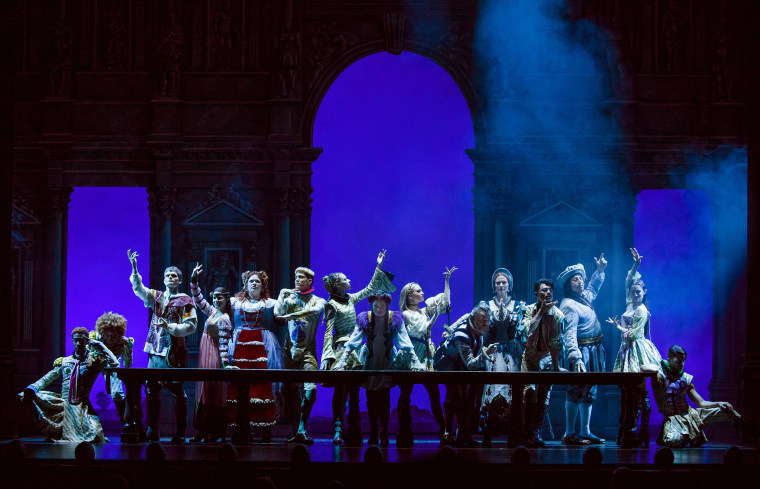 In addition to royal-family drama, "Head Over Heels" deals with topics including sexuality, gender identity, non-conformity and feminism.
"I've never heard of a Broadway show tackling these issues, making them central, and then celebrating the characters that deal with that," Peppermint said.
"When I leave the stage door every night, there's people who are like, 'I'm non-binary. I saw myself on stage," she said, adding that she never saw people like herself portrayed in TV or theater when she was younger. "Being able to give that back to the community is a gift, and I'm hoping that it resonates with folks."