Drag culture is often associated with more liberal enclaves like New York City and San Francisco. But what happens when you sprinkle that sparkle over America's heartland?
That's exactly what HBO's "We're Here" is trying to find out. The series takes three popular "RuPaul's Drag Race" alumni — Eureka O'Hara, Shangela and Bob the Drag Queen — and sends them across middle America.
"We were thinking about the state of our country and just the world in general, and how we could possibly make things better," Johnnie Ingram, one of the show's co-creators, told NBC News. "What if we brought the art of drag to small-town America? Especially now, how meaningful it could be to bring people together in unexpected ways."
One part "To Wong Foo" and another part "Queer Eye," the six-part documentary series, which debuted last week and airs Thursday nights, follows the drag diva trio as they travel to towns and cities including Gettysburg, Pennsylvania, Twin Falls, Idaho, and Branson, Missouri, leaving nary a rhinestone unturned.
Residents of each locale — some of them admittedly homophobic — are transformed into glamorous drag queens, donning high heels and even higher hair. But for many, the transformations are more than just physical.
"What we really wanted to accomplish is letting people who watch the show feel the connection that they never thought would otherwise exist," co-creator Steve Warren said. "We were really distraught when we conceived the idea for the show about the state of our country and how people aren't talking to each other, and that there's such distrust amongst everyone."
Warren said he and Ingram wanted to see what would happen if people from seemingly polar opposite worlds got to know one another as individuals.
"Everyone has the same basic needs, desires, and that when you're put into situations where you're actually seeing into people's lives and the struggles they had, you realize the commonality that we have," he added. "That's what I think we've been able to accomplish with this show, which makes us both very, very proud."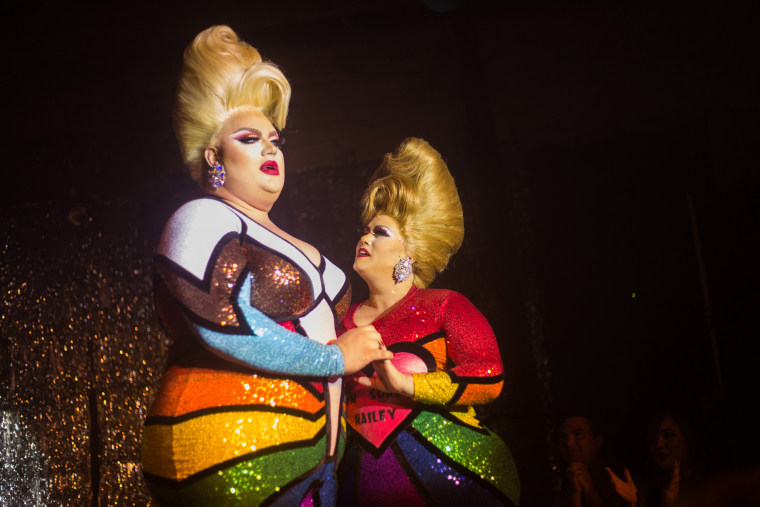 Eureka O'Hara, who gained fame after appearing on seasons nine and 10 of "RuPaul's Drag Race," called "We're Here" a "beautiful show."
"People are going to cry. They're going to laugh. They're going to love. They're going to gag. You're going to do all the above," she said.
In the first episodes, O'Hara talks to a Gettysburg mother who's looking for forgiveness from her daughter. The mother reveals she did not accept her daughter when she had come out to her as being bisexual eight months earlier and has not spoken with her since.
"When people are opening up like that, you just have to listen to how they feel," O'Hara said. "It's not like we're trained psychologists or therapists … We're more like queer life coaches that are giving advice off of our own experiences, and it's really just about self-love and trying to overcome fear within your own mind."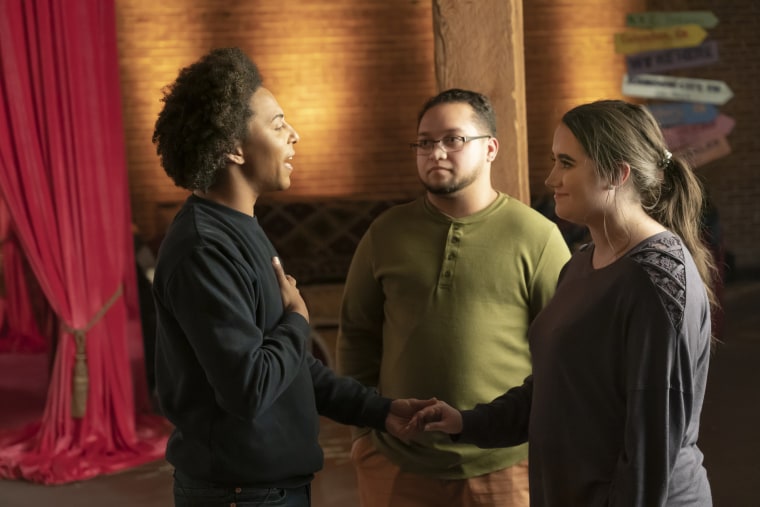 Shangela — who appeared in the Oscar-winning film "A Star Is Born" — initially had some reservations about appearing in the series.
"When we started doing this, I asked myself, 'Am I really qualified to be going into these people's lives and imparting my knowledge?'" she said. "Like, 'Who am I to do this?' But who I am is a person, a friend, and what I'm offering them, I wouldn't even call it expertise, just guidance or advice is like how a friend would offer you."
As filming went on, Shangela said she realized it was important to be "super open and honest" with the people she and the other queens were making over and realize they are all on a journey.
"This isn't just a journey that's been going from who they are when we meet them to a drag entertainer," Shangela said. "They're going from who they are when we meet them to who they want to be when they think of their best self."
While the series has drag queens living in blue states traveling to red parts of the country, Ingram said he wants viewers to know "We're Here" is not "an overtly political statement," rather it's a "humanistic statement."
"It's for the viewer to decide, but what we're hoping to accomplish is that we make people feel something, and that no one is demonized in this show," he said.
One statement the show is making is that drag can be accessible to everyone, no matter the person's gender identity or sexual orientation. That ideal is something drag icon RuPaul has struggled to articulate, coming under fire for making exclusionary comments back in 2018 that "Drag Race" will "probably not" include transgender performers who had undergone gender-affirmation surgery.
"The power of drag really is for everyone," Shangela said. "We want people to understand that this is an art form. Being a professional drag queen is one thing, right? Everybody can't be a professional, nor do they want to be. But I think that the power drag encompasses should be something that is attainable by everyone."