It's a Saturday night, and the crowd is buzzing in the small but gilded space of London's most iconic gay venue, the Royal Vauxhall Tavern, a place where stars are born and guest lists are forbidden.
The stage, one that has played host to alternative cabaret since the 1960s, when homosexuality still meant a jail sentence in the U.K., is aglow with anticipation, everyone turned to its red velvet curtains, waiting for the evening's drag act to arrive.
Then, without warning, the steady electronic beat of the music shifts to a more familiar Divine track, and out pops a drag queen dressed to the nines in a skin-tight catsuit, draped with purple sequins, and a blond wig to top it all off.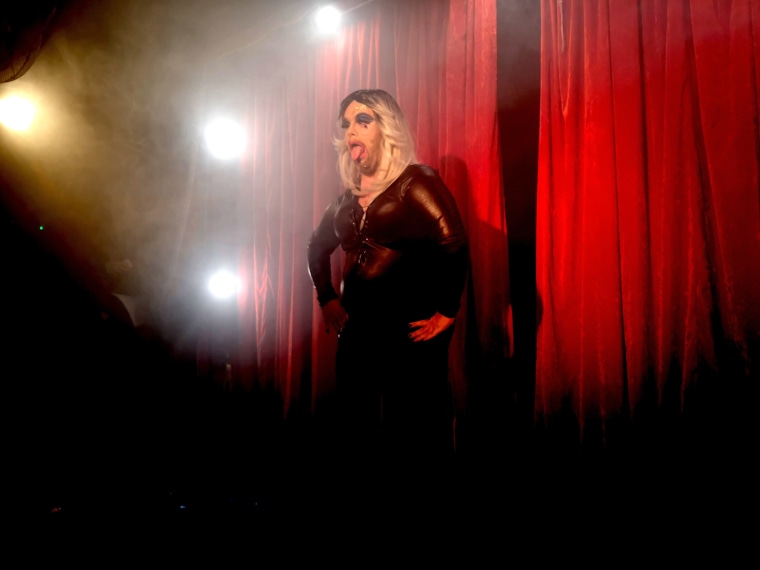 "Good evening bitches," says the performer, Horrora Shebang, whip at the ready, as she launches into her three-part act, which has the audience engulfed in applause by the time she reaches her risquéfinale.
It's Horrora's first appearance under this sacred spotlight, and, if anything is for certain, it's that she's a sure-fire hit.
"I don't do nervous," Otto Baxter, the man behind the feisty Horrora Shebang persona, told NBC News before the show.
Baxter, 31, is part of an art collective called Culture Device — a group of approximately 12 performers that experiment with contemporary dance and theater, pushing the boundaries of the cultural arena by changing perceptions of what it means to be an artist today.
This is because of the sheer talent radiating from the small troupe's repertoire, one that has tackled the likes of haute couture photography and stage classics such as "Waiting for Godot," but also on account that all the performers share the genetic condition Down syndrome.
"The starting point is the art," Daniel Vais, Culture Device's creative director and choreographer, told NBC News. "Before Down's syndrome, before extra chromosome, before disability, before anything."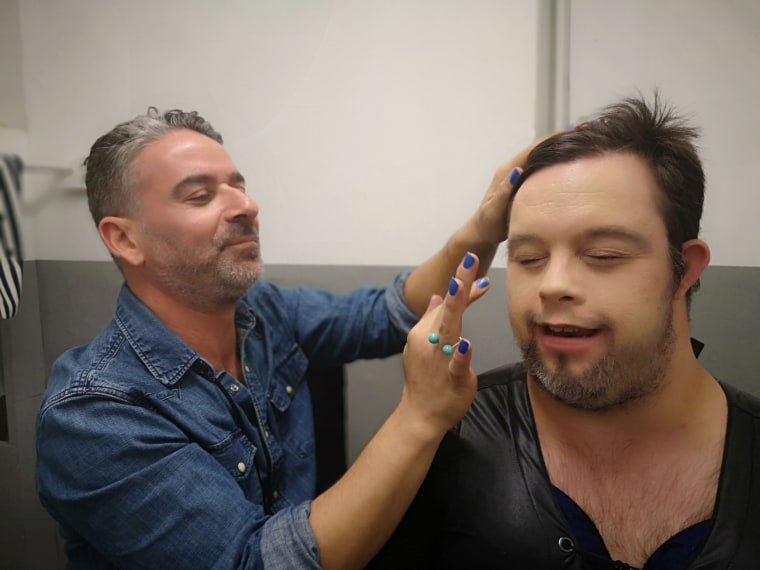 Established in 2007 by Vais, 47, Culture Device has slowly built up a reputation for its high-quality work in a sector not known for its inclusivity.
A 2018 report by Arts Council England, for instance, found that most art forms and institutions generally had less than 5 percent of disabled persons working in them, and attitudes toward disability were one of the greatest barriers to achieving fair representation, alongside a lack of visible role models.
"I didn't plan to work with artists with Down's syndrome," said Vais. "It found me."
There are approximately 40,000 people in the U.K. living with the condition, according to U.K.-based Down Syndrome Association, and 250,000 in the U.S., according to 2008 data cited by the Centers for Disease Control and Prevention. Down syndrome is present from birth and affects each individual's physical and mental development differently.
While considered a disability that has varying levels of severity, Vais dismisses what he calls a bias-ridden label, preferring to uphold the notion that individuals with Down syndrome have a mindset akin to what's needed for outstanding artistic creation.
"I use improvisation in all of my choreography," he said, "and artists with Down syndrome are the masters of improvisation. So the misconceptions that may surround them completely disappear after the performance. [Audiences] see that it's a top-level performance — the dancers just have Down Syndrome."
Similar, perhaps, to the prejudices and barriers that still prevent LGBTQ persons from living out openly — just over half of the U.K. LGBTQ population, for example, felt comfortable doing so in 2017 — the myths surrounding those that have Down syndrome can make certain everyday endeavors more difficult to maintain.
"People misunderstand that people with Down syndrome like sex," said Baxter, who identifies as heterosexual and in 2009 even made a documentary about losing his virginity called "Love, Lust & Las Vegas."
"It can be a challenge to express yourself sexually," he said, adding, "Horrora Shebang is definitely the sexiest character that I've played."
Baxter upholds a long, impressive list of creative accomplishments, but drag appears to be one art form where he can explore sexuality without inhibition, paving the way for others with Down syndrome to potentially do the same.
"Drag is about transformation," said Vais. "It allows you the space to explore sexuality and gender in a society that doesn't normally allow you to do so. And when you transform, your voice is heard."
Drag's place in forwarding LGBTQ rights has been well-documented, as drag queens and kings around the world have challenged gender norms and demanded sexual equality by creating spaces of visibility — from New York's Stonewall Riots in 1969 to the more recent gay marriage referendum in Ireland.
Being loud, out and fabulous-looking demands attention, and whether that attention is positive or negative, good drag has the undeniable ability to control a room, which can assist in changing the discriminatory attitude of even just one person.
Having to react in the moment and control your audience, Vais said, is something that performers with Down syndrome excel at, too, and as the members of Culture Device, they continue to look to be recognized for their craft, rather than their disability. That said, it comes as no surprise that they've found a home on a stage where others have fought for their rights to be recognized.
"Man, woman, gay, bisexual, straight, in-between, non-gender, drag is for everyone," Vais said. "When you transform yourself, it doesn't matter."
Upcoming performances of Culture Device's "Drag Syndrome" tour will be posted on its website.