The U.S. Department of Education will no longer investigate civil rights complaints from transgender students prohibited from using the bathroom corresponding to their gender identity, a spokesperson at the department confirmed to NBC News on Tuesday.
The development constitutes a reversal of the Obama-era guidance on the issue and is another blow to the transgender community from the Trump administration.
In May 2016, former President Barack Obama instructed public schools that they must allow transgender students to use bathrooms and locker rooms that align with their gender identity. The guidance was issued as an interpretation of Title IX of the Education Amendments of 1972, which prohibits sex discrimination in education.
In February 2017, however, President Donald Trump's administration formally rescinded that guidance, sending a letter to the Supreme Court and the nation's public schools stating that the Justice Department's Civil Rights Division will no longer "rely on the views expressed in that guidance, and instead will consider further and more completely the legal issues involved."
On Tuesday, Education Department spokesperson Elizabeth Hill clarified the department's position in an email sent to NBC News.
"Title IX prohibits discrimination on the basis of sex, not gender identity," Hill said. "In the case of bathrooms," she added ,"longstanding regulations provide that separating facilities on the basis of sex is not a form of discrimination prohibited by Title IX."
Hill then stressed that the Education Department's Office for Civil Rights will continue to "use current law and current regulation to determine if any child in school," regardless of gender identity, is being "harassed or discriminated against due to race, sex, or disability."
Following Hill's comments regarding Title IX and school bathroom facilities, which were first reported by BuzzFeed, LGBTQ advocates moved swiftly to criticize the Trump administration, which had up until this week been unclear on the issue.
"Forcing students to use restrooms that do not align with their gender identities is clear discrimination," Dave Garcia, director of policy at the Los Angeles LGBT Center, said in a statement sent to NBC News. "The U.S. Court of Appeals for the Sixth and Seventh Circuits have already ruled to confirm the inclusion of transgender students in Title IX protections."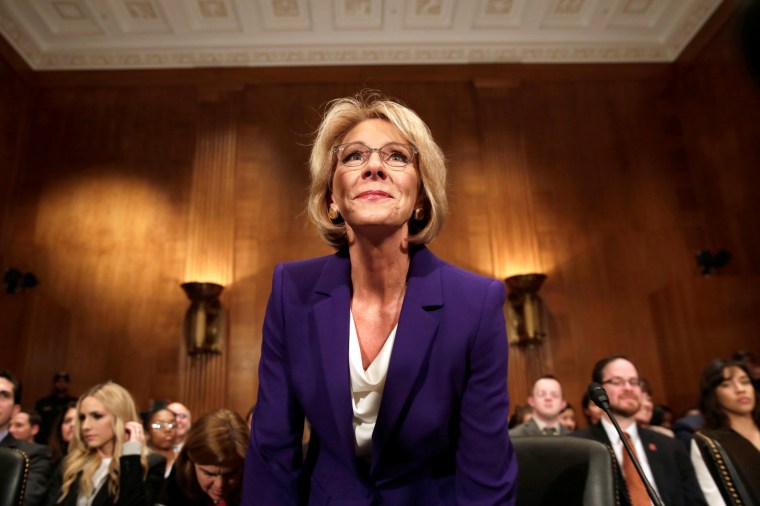 Sarah Warbelow, legal director at the Human Rights Campaign, a national LGBTQ advocacy group, slammed the Education Department's stance on trans students using facilities that align with their gender identity.
"While civil rights advocates have suspected that the Department of Education was not acting on complaints brought forward by transgender students, reports that these violations are completely being ignored are reprehensible," she said.
"Once again, Secretary DeVos proves she is not interested in protecting transgender students and instead is choosing to advance the dangerous Trump-Pence anti-LGBTQ agenda," Warbelow added, referring to Education Secretary Betsy DeVos.
Hill, however, stressed Secretary DeVos and the Education Department "believe strongly that all students are to be protected from harassment and bullying and have the opportunity to learn in a safe and nurturing environment." As for the future of Title IX, Hill said Secretary DeVos "would contend that it is the job of Congress or the Courts, not the bureaucracy, to determine whether or not the term 'sex' under Title IX encompasses 'gender identity.'"