The global music world's "gay Olympics" are back with vengeance, as the final for the annual wacky tune-filled phenomenon known as the Eurovision Song Contest will take place in Tel Aviv, Israel, on Saturday.
Sassy camp aesthetics are commonplace at the always over-the-top Eurovision, but this year's contest final is shaping up as one of its most overtly queer extravaganzas ever.
Openly gay, gender-playful, and Muslim teen crooner Bilal Hassani will compete for France, and leather-clad bondage-synth-punk trio Hatari aim to take the crown for Iceland — with some Eurovision experts predicting that despite the band's decidedly anti-pop approach (or maybe because of it), they just might pull off a win.
"We haven't identified as a queer band as such," Hatari singer Matthías Tryggvi Haraldsson told NBC News, "but we do touch upon themes like gender fluidity, masculinity and femininity, repression and expression, and others — which many audience members identify with, not least of all in the queer scene."
Adding to the LGBTQ-tinged excitement at Saturday's Eurovision final will be the return of the only trans and drag champions in the contest's history, Israel's Dana International (1998) and Austria's Conchita Wurst (2014).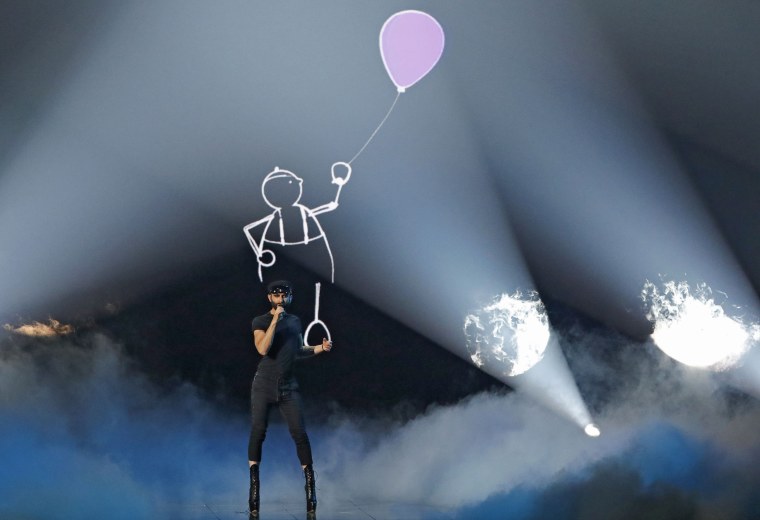 And for the first time ever, pop diva Madonna will headline the show, making her the biggest global star to ever do so in the contest's 64-year history.
So what is Eurovision, you may ask, and why are 180+ million viewers so crazed for its craziness every year?
Launched in 1956 with entrants from just seven Western European nations, the contest now spans the European continent and Australia, and is the longest running annual song competition in history.
During that time, Eurovision has introduced the planet to such iconic musical acts as Sweden's ABBA (who beat no less than Olivia Newton-John in 1974), and given us a slew of classic pop songs, from 1958's "Volare" to 2012's "Euphoria."
The number of Eurovision entrants varies slightly every year — Turkey, for example, has boycotted the contest since 2018 over its inclusion of LGBTQ performers. This year's 41 entries were whittled down in semi-finals earlier this week to the 26 that will appear in Saturday's final.
Each country can choose its entry however it sees fit, with most leaving it up to the TV-viewing public. There are two hard and fast rules, however: Each entry must be an original song, and its performance can be no longer than three minutes. Beyond that, pretty much anything can go, and usually does.
While generally oozing cheeky cheer, the competition sometimes courts controversy — and this year, that controversy has had a partially queer slant.
In protest of the Palestinian policies of host country Israel, many political activists called for a global boycott of the 2019 contest. Some even suggested that the contest will be just another example of Israeli "pinkwashing," or pushing the perception of LGBTQ-openness to distract from the country's other human rights shortcomings.
Indeed, Iceland's Hatari, as avowed anarchists, were originally part of the boycott movement, but realized they might have more impact by winning over the Icelandic public and becoming this year's Eurovision entrant for the island nation, something they achieved handily in March with their guttural ditty "Hatrið mun sigra" ("Hate Will Prevail").
"If Iceland's entry ignores the fact that the song contest is political by nature, it undervalues the need for critical dialogue concerning human rights," Haraldsson said.
Madonna too rejected activists' calls for her to not perform at the Eurovision final in Israel. "I'll never stop playing music to suit someone's political agenda, nor will I stop speaking out against violations of human rights wherever in the world they may be," the singer told Reuters on Tuesday.
For 19-year-old Hassani, merely competing for France as an openly gay Muslim is a statement in itself, one that's unfortunately been met with an onslaught of social media attacks over both his religion and his sexuality.
In Hassani's freedom-embracing Eurovision song "Roi" ("King"), many have seen something of a defiant gay anthem.
"I love the saying 'gay anthem,' but at the same, it's also a song that's directed toward anyone who may feel marginalized or alienated in society," Hassani told NBC Out. "It's about not listening or caring about what people say or think about you, and just following and listening to your heart."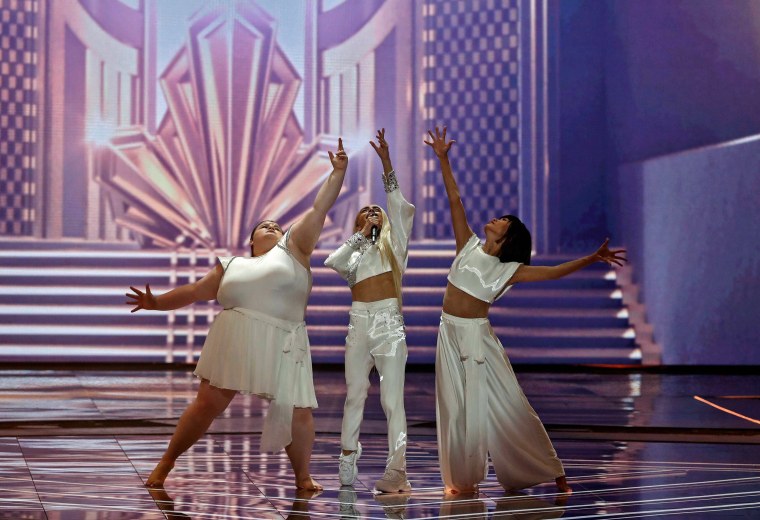 To that end, Hassani's non-traditional approach to gender and gender-bending is distinctly his own. "I love to live in a blurred line between the two genders in terms of style, but I don't think I identify as gender-fluid," he said. "I don't really think about it, to be honest. Maybe I am? I'm a happy person, and I think it's the only thing that matters."
Currently, Duncan Laurence of the Netherlands is a favorite to win Eurovision 2019 with his sweet ballad "Arcade."
But given the contest's live and unpredictable nature, upsets are fairly common, and Iceland's Hatari is considered this year's dark horse — arguably, one of the darkest the pop contest has ever seen.
Win or lose, however, the provocateurs are just pleased to compete.
"It's obvious that capitalism is one step closer to crumbling," Hatari member Klemens Hannigan said after the band's successful semi-final performance on Tuesday. "Everything is going according to plan."
The 64th Eurovision Song Contest final will begin at 10 p.m. local time in Tel Aviv on Saturday. (That's 3 p.m. ET and 12 p.m. PT.) While the show will be broadcast live on YouTube, geo-blocking will prevent Americans from watching it at home without a VPN. Check local event listings for a screening location near you.