Handsomely clad in a suit at a posh Mercedes-Benz party at the New York International Auto Show, Jane Lynch is someone you'd expect to find intimidating. But, perhaps surprisingly, the six-foot-tall actor is remarkably open.
Lynch, 56, is best known for her imposing characters — from dictatorial coach Sue Sylvester on "Glee" to the boundary-crossing store manager in "The 40-Year-Old-Virgin," and "Best in Show" favorite Christy Cummings, the dog-training taskmaster and publisher of American Bitch, a magazine with a "focus on the issues of the lesbian purebred dog owner."
But in person, Lynch is neither scary nor tightly wound. She comes across as naturally thoughtful and feels present in a way many actors do not. Maybe that's how she's able to work so hard — juggling dozens of television and film projects each year along with concerts, touring and even authoring books.
In 2017, Lynch will celebrate the fifth season of NBC's "Hollywood Game Night." She'll also portray Janet Reno in Discovery's "Manhunt: Unabomber" anthology this August, and she recently joined the NBC pilot "Relatively Happy," which was written and produced by the creator of "Will and Grace."
In the midst of her busy schedule, Lynch sat down with NBC Out to discuss her gender-defying roles, being an out lesbian in Hollywood and more.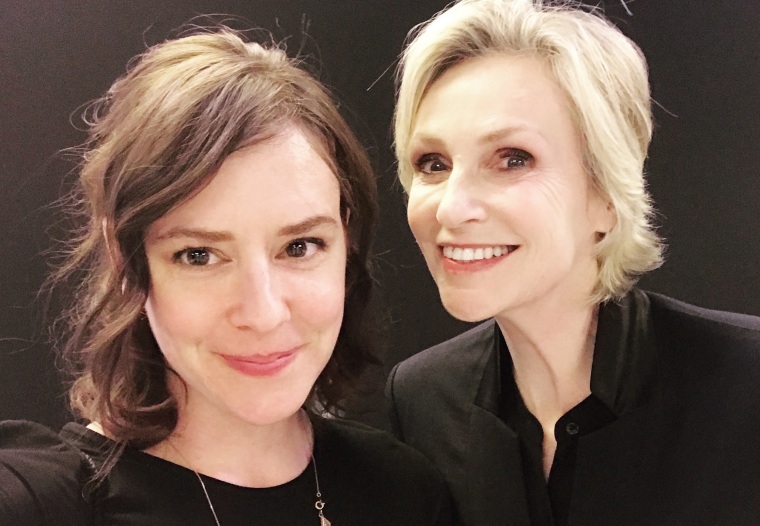 NBC Out: Your character in "Relatively Happy," a divorce attorney named Bobbi Martin, has been described as a "womanizer" and a "father figure," which is genre-busting to say the least. What can you tell us about her?
Jane Lynch: She defies labels. Max Mutchnick wrote it for a guy: a womanizing, Scotch-drinking guy. And then he cast me instead, and we decided to make her kind of a Marlene Dietrich in drag. She's very come-hither with both men and women. She loves to drink, she loves to smoke cigars, she wears men's suits — but she's also very sexy in a feminine way.
She's womanizing a little bit, yeah yeah, but she also objectifies guys as well. She's an equal opportunity seducer. There are no labels for her. She's never tried to be one thing or another — she's always been purely an original. She's just herself.
Kind of like you! And so many of your roles are like nothing we've seen before in terms of female characters.
If you look at my history, I've played many roles that were originally written for men. The first role I ever played was the king in "The Princess and the Pea" in high school. If there's a doctor or a teacher, I had an agent that would call and say, "Can you see a woman in this part?" And if they said, "Well maybe," I'd go, and sometimes I'd get it.
I think people write authoritarian parts, sort of knee-jerk, as male. You know, he's the boss, he's this and that. And if you ask if it can be a woman, it's thinking outside the box. It's off the beaten path. But you see women in authority roles now more than when I started in the 90's, when a research scientist would be a guy.
You're the boss on "Hollywood Game Night" for sure. How is hosting a live show different than creating a character as an actor?
It's a role as well. You define your limitations and how you operate in it. I love throwing parties, too. Nothing makes me happier — and I do this with "Hollywood Game Night" as well — than seeing two people who have just met and are hitting it off and enjoying themselves together. That fills me with, I don't know if it's pride, but it just makes me very happy to see someone make a connection with someone they didn't know five minutes ago.
Speaking of connections: Who is the most famous woman you've ever slept with?
Oh. Me! I'm the most famous woman I've ever slept with. No, okay ... Hilary Rosen. I just gave you a scoop. You're welcome. Oh, and Hilary: you're welcome too.
It's a very short list, actually. And it's done. The shop is closed. It's over. The ship has sailed. It's not sad, it's a f---ing relief.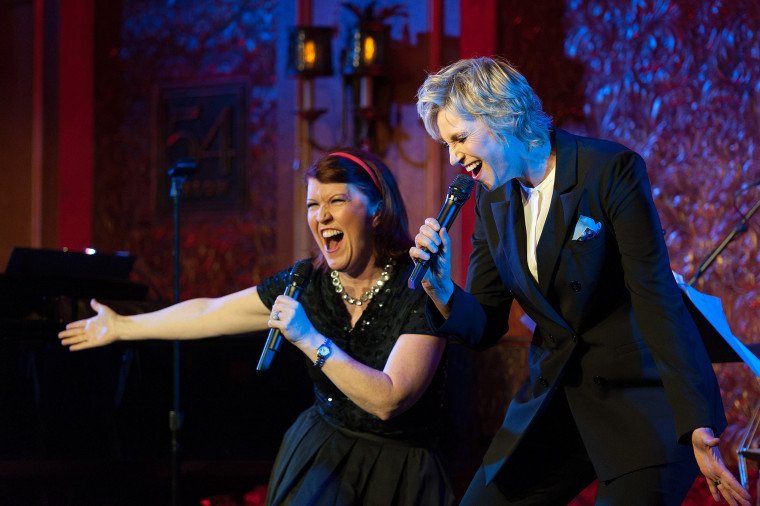 Well thank you for even responding to that extremely personal question. Let's move on. You're known for your iconic characters, but you're also an amazing singer and we don't get to see that as much. Are you doing any more musical work?
I'm singing with symphonies. I'll be with the STL Symphony in St. Louis June 9 and the Pittsburgh Symphony Orchestra July 7. You show up with your orchestrated songbook — which I'm working on right now — and the symphony learns it in a frickin' day — they're like amazing musicians — and you perform it that night. I'm nervous and excited.
I've got Christmas concert dates coming up with my cabaret group with Kate Flannery and Tim Davis. We've been touring the country. We had an album that did very well on the charts: "A Swingin' Little Christmas." And that of course will be available next Christmas, too. We have about 10 dates in December.
Are you following politics right now? Are you as obsessed as everyone else?
I didn't follow it at all when Obama was president, because I felt like it was all under control. Now I'm like, afraid. I always check MSNBC, which I watch like a crazy person.You can get really wrapped up in that stuff. I try not to let my blood pressure rise. I feel like I have to be more engaged with politics now ... What I get relief from is this notion that Trump is going more centrist.
I don't like that we've bombed Syria — the whole nation-building thing has not worked out well for us, but it makes me so sad what's happening to the people of Syria. I wish that we could open our arms to them, but our president won't let us.
You are one of the most prominently out gay figures in Hollywood ... From the inside, what are you seeing change the most in terms of LGBTQ representation?
Well, I'll tell you what is happening to me internally, which is the desire to let go of all labels. And I understand the need, especially for say, the transgender community, to stand up and say "I am a transgender person, and I will be counted. I exist, and I will be respected." But then hopefully we move on.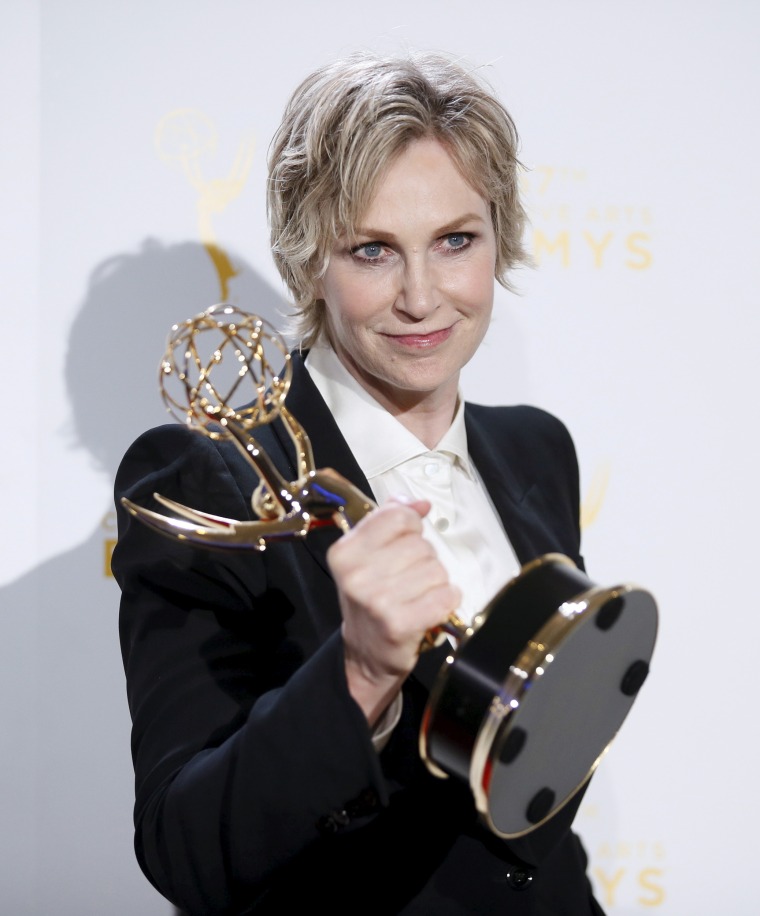 I think we've gone backwards, a little. But never in Hollywood. Entertainment is very inclusive. Whoever does the best job gets hired. And there's a lot of gays and lesbians in every level, every job — from crew to writing and acting.
Ellen [DeGeneres] took one for the team when they canceled her show (ABC pulled "Ellen" in 1998 shortly after the comedian came out publicly as a lesbian), and look where she is today. It wouldn't happen today.
I always wondered if I would have to be closeted. I would lay in bed as a young person thinking, "What if I become famous? Do I hide this thing?" But I never had to. I never had to make that decision because of the people who came before me like Ellen and Melissa [Etheridge] and K.D. [Lang]. I was never in the closet. It wasn't an act of courage — I just didn't have to be.
As television and movies open up more LGBTQ roles, though, does that expand your opportunities or is it limiting? Are you concerned about being typecast?
I never look at my work in those terms ever. I don't step outside and objectively evaluate it. What's great about Hollywood in its representation of gay characters and trans characters is that it finds its way into middle America. It creates a wave of acceptance.
I would have loved it as a kid. A "Glee" would have made me very happy.
Do you remember the first gay character or person you saw on TV?
I didn't know Paul Lynde was gay, but I loved him. I didn't have "gay" to attach to him, but I remember feeling a kinship with him on some deep level that I didn't even know what it was.
A lot of people want to know whether Sue Sylvester was secretly a a lesbian. I mean, those track suits...
Do they?! No, she's not. She's not one way or the other. She had boyfriends. Another neutral kind of person who, wherever the power was, whatever she had to do she went that way. But she never expressed an affection for a woman, she never had a relationship with a woman. She had plenty of boyfriends. I don't think she was in the closet. I don't think that was an issue.