Two online fundraisers have pulled in more than $100,000 for the LGBTQ humanitarian crisis in Chechnya.
One of the fundraisers, titled "Helping Gay Men Flee Chechnya," raised $93,499 in just six days. Another raised more than $20,000 in five days.
The charity drives were launched on Facebook's new Fundraisers feature, and all proceeds will go to American Friends of Rainbow Railroad — the American non-profit arm of the Canadian organization that works to help LGBTQ refugees in crisis.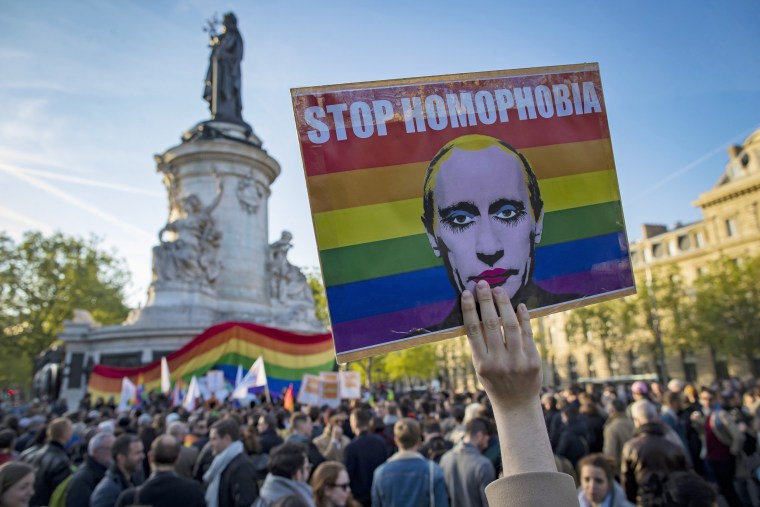 Rainbow Railroad's executive director, Kimahli Powell, told NBC News his group is working directly with the Russian LGBT Network "to help bring people who have fled Chechnya to Russia out of safety."
Svetlana Zakharova, communications manager at the Russian LGBT Network, confirmed the two organizations are working together.
"We also do this work all year round supporting LGBTQ people at risk," said Powell in an email to NBC News. "Monies raised will go towards direct travel assistance getting people to safety."
Related: Kidnapping, Torture, Murder: Refugees Speak of Chechnya's Anti-Gay Purge
Reports first surfaced of a state-sponsored, violent campaign against Chechen men who are suspected of being gay or bisexual — which is highly taboo in Chechnya. Russian independent newspaper Novaya Gazeta first reported that as many as 100 LGBTQ men had been arrested, detained and tortured, with three confirmed deaths and as many as 20 men believed to have been killed by police.
Both Russian and Chechen authorities have denied the claims. Chechnya is part of the Russian federation, but its violent history and reputation as a stalwartly anti-ISIS Muslim region have created a complicated relationship with the Kremlin and Russian President Vladimir Putin.
Earlier this month, Putin met publicly with Chechen leader Ramzan Kadyrov to discuss, among other things, the accusations of anti-LGBTQ persecution. Putin's spokesperson, Dmitry Peskov, announced the next day there was "no evidence" of the crisis, despite growing reports from gay Chechen men fleeing the region.
In an April 18 statement, Powell announced that Rainbow Railroad would begin to expand its contacts in Eastern Europe in order to assist with the Chechnya crisis. He also pledged to help cover the costs of travel for refugees fleeing the area in search of safety.
"This includes fundraising to support the organization while allocating resources to increase the number of people we can support in the region," Powell said. "In addition, we are formally requesting the Canadian government provide direct assistance to those in need by way of emergency visas."
On April 12, Russian LGBT Network's International Advocacy Officer Natalia Poplevskaia told NBC News her group had set up an emergency hotline for Chechens fleeing LGBTQ persecution. It received more than 30 calls in less than two weeks from terrified men desperate to remain anonymous.
"People are very intimidated and not eager to talk. They are hesitant to even talk to us," Poplevskaia said. "The people who have been targeted by the campaign need some time to get back to normal life."
In a video segment that aired on NBC Nightly News last Sunday, a gay Chechen man using the pseudonym Ilya described being lured into a forest, then attacked by authorities.
"They dragged me out of the car, started to beat me, humiliate me," Ilya said. "They were saying that I was a f****t, a gay person and that such people shouldn't exist in Chechnya."