Jeffery Self is coming off a stint hosting the after show for MTV series "Scream" and has decided to keep on hosting. Harnessing social media, Self launched a Facebook Live talk show from his home, "Jeffrey Live."
Self's home is a "unique space," and he typically invites his friends over on Sunday afternoons, so one of his friends decided it was an opportunity to create something new. "My friend Jake Wilson, who created 'Jeffery Live' with me, said to me 'Why don't you do something at your house on Facebook Live?' He had the idea," Self told NBC OUT.
Every week Self hosts a live show full of laughs and interesting conversations. He interviews celebrities about their projects and -- alongside his friends -- entertains those watching the online.
"The hook of the show is that it's a talk show done in a single take. I call it the 'Birdman' of talk shows," Self said.
Actor Alan Cummings, athlete Gus Kenworthy, breakout actress Alexandra Grey and comedian Horatio Sanz are among the guests Self has interviewed to date.
"It's been a wide range of different types of people and different forms of entertainment. Athletes, actors, comedians, singers," Self said, "We're hoping to continue that. I really want to get more politicians and authors on the show."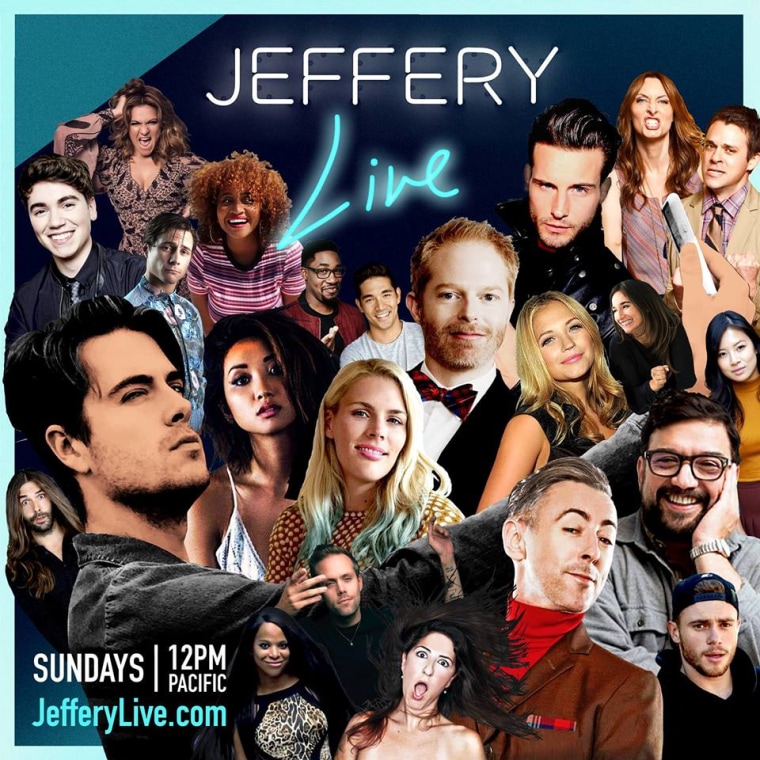 When asked about dream guests, Self chose Whoopi Goldberg, Diane Keaton and Rose O'Donnell.
Facebook Live allows for Self, who got his start on YouTube several years ago, to broadcast straight to his audience. "What I like about Facebook Live is the immediacy, and there is something uncharted about it," Self explained.
The comments and questions viewers send allows for more direct interaction, which is not typical of talks shows. "There's something about Facebook Live that reminds of the early rawness of YouTube. I like the freedom and playfulness of that and also Facebook is where we consume information now," he added.
"Jeffery Live" is not the first time Self has used Facebook Live in this way. After the Pulse Nightclub Shooting, Self put on a telethon to process his feelings and have an open discussion with queer friends and his audience. Recently, he did another similar show after Trump's victory.
"Jeffery Live" airs on Self's Facebook page on Sunday afternoons.