A U.S. appeals court on Monday ruled that Title VII of the 1964 Civil Rights Act prohibits discrimination on the basis of sexual orientation. In Zarda v. Altitude Express, the 2nd U.S. Circuit Court of Appeals affirmed that the late Donald Zarda, a skydiving instructor, was unlawfully fired from Altitude Express for being gay.
"Although sexual orientation discrimination is 'assuredly not the principal evil that Congress was concerned with when it enacted Title VII,' 'statutory prohibitions often go beyond the principal evil to cover reasonably comparable evils," Chief Judge Robert Katzmann wrote in his court opinion. "In the context of Title VII, the statutory prohibition extends to all discrimination 'because of … sex' and sexual orientation discrimination is an actionable subset of sex discrimination."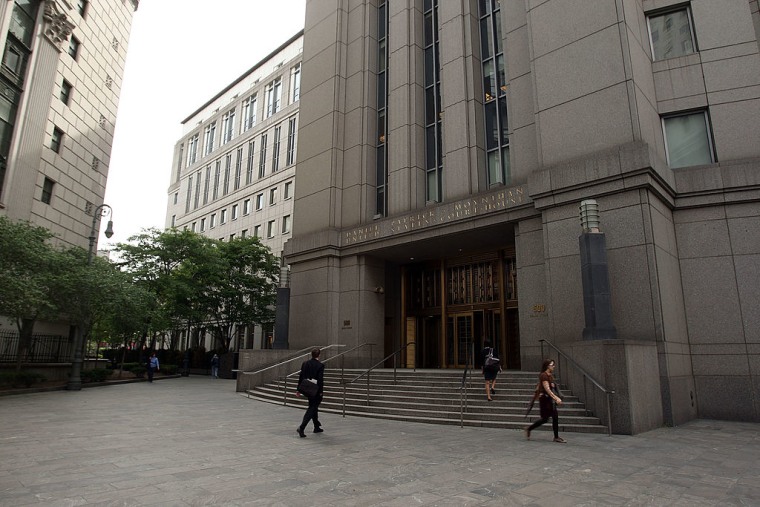 With the 10-3 decision, the 2nd Circuit joined the 7th U.S. Circuit Court of Appeals, which in April ruled that Indiana educator Kimberly Hively had been fired due to her sexual orientation and was protected by Title VII.
Gregory Nevins, the director of Lambda Legal's Employment Fairness Project and an attorney on both the Hively and Zarda cases, called Monday's court decision a "huge victory" for gay workers.
"Another federal court of appeals has recognized that federal law protects LGBT people from discrimination, because denying someone the right to a job because they are attracted to someone of the same sex is a form of sex discrimination, plain and simple," Nevins told NBC News. "We will continue pushing this issue until every LGBT person in this country benefits from the protection that our federal law provides by its plain terms against discrimination because of a person's sex, including their sexual orientation."
Mary L. Bonauto, a renowned civil rights lawyer who successfully argued the 2015 landmark same-sex marriage case Obergefell v. Hodges before the Supreme Court, applauded the 2nd Circuit's decision and said it is grounded in long-standing case law "about treating individuals differently because of sex, about sex stereotyping and about penalizing an individual's associations."
"Today's ruling from the Second Circuit, along with positive developments in other states and federal circuits, brings hope that existing civil rights laws can help to address the job discrimination plaguing so many LGBT people across the country," Bonauto, who serves as the Civil Rights Project Director at the GLBTQ Legal Advocates & Defenders (GLAD), said in a statement following the decision.
There is currently no federal legislation that protects LGBTQ employees from discrimination, and most states do not offer nondiscrimination protections on the basis of sexual orientation or gender identity.
Following Monday's court decision, Shannon Minter, legal director at the National Center for Lesbian Rights (NCLR), called for legislative action to close the remaining legal gaps for lesbian, gay, bisexual and transgender workers.
"The federal courts are increasingly recognizing that LGBT workers are entitled to protection against discrimination under federal law," Minter said in a statement. "Congress should pass the Equality Act, which would make clear that these protections cover workers across the country."
The Equality Act is a proposed piece of federal legislation that would add sexual orientation and gender identity to the Civil Rights Act.
DEFEAT FOR TRUMP ADMINISTRATION
The 2nd Circuit invited the submission of amicus briefs in the Zarda case. A number of civil rights groups, lawmakers and corporations submitted such briefs in support of Zarda's estate, as did the Equal Employment Opportunity Commission (EEOC), an independent federal agency tasked with enforcing federal anti-discrimination law.
The Department of Justice (DOJ) was among those that submitted a brief arguing for a limited interpretation of Title VII.
"The sole question here is whether, as a matter of law, Title VII reaches sexual orientation discrimination. It does not, as has been settled for decades. Any efforts to amend Title VII's scope should be directed to Congress rather than the courts," the DOJ brief stated.
Anthony Kreis, a professor at Chicago-Kent College of Law, said Monday's ruling was a "strong, robust repudiation of the DOJ's position and a vindication of the EEOC's position."
The Hively case was argued in November 2016, when the DOJ was headed by appointees of former President Barack Obama. During the Obama administration, the DOJ deferred to the EEOC on questions regarding Title VII. Thus, Kreis explained, Monday's ruling was the "first opportunity for a federal court to review the DOJ's position on Title VII."
DOJ spokesperson Devin O'Malley issued a statement to media outlets following the ruling, asserting that the department is "committed to protecting the civil and constitutional rights of all individuals, and will continue to enforce the numerous laws Congress has enacted that prohibit discrimination on the basis of sexual orientation."
"We remain committed to the fundamental principle that the courts cannot expand the law beyond what Congress has provided. The position that the department advocated in this case has been its longstanding position across administrations and remains the law of nine different courts of appeals," O'Malley continued.
Nevins objected to claims that the Zarda case was an instance of "activist" judges overstepping the statute. Nevins said 2nd Circuit ruling "is absolutely paying attention to words" of Title VII.
WHAT'S NEXT FOR TITLE VII, LGBTQ WORKERS?
The Supreme Court in December declined to hear the case of Jameka Evans, a security guard at Georgia Regional Hospital who contends she was fired because she is a lesbian. In March, the 11th U.S. Circuit Court of Appeals sided with the hospital, saying only the Supreme Court can declare that Title VII's protections cover gay workers. Nevins said the Supreme Court's decision not to hear was a missed opportunity to resolve the schism in the circuit courts and "get a national answer" on the question of the scope of Title VII.
Given that the 2nd Circuit ruled in Lambda Legal's favor in the Zarda case, Nevins said "no one on our side can appeal to the Supreme Court." He said it would be up to Altitude Express to appeal the decision.
Kreis speculated that it would be unlikely for Altitude Express to take the case any further. "I think it's going to be a decision informed by legal strategy and limit liability but also recognition that it is a business decision as well," he explained, adding that being associated with anti-gay animus is "a very bad public relations strategy."
Even if the Supreme Court does not hear a Title VII case in the near future, Kreis said disputes regarding Title VII are not going to disappear.
"Cases are making their way through the courts, and we may very well have appellate rulings on this in the future," he said. These include a 5th Circuit case involving a Louisiana woman alleging she experienced discrimination and was eventually fired for being heterosexual.
Kreis said the more interesting legal issues regarding sexual orientation discrimination are arising on the state level. The Supreme Court of Missouri, for example, will hear the case of Harold Lampley, a gay man who contends that his employer, the child support enforcement division of Missouri's Office of Administrations, discriminated against him for not conforming to masculine stereotypes. The court will decide whether sexual orientation is a subset of sex discrimination under Missouri Human rights Act.
While changes at the state level would not impact Title VII itself, decisions in these cases could expand state law to include protections for LGBTQ employees and allow them to file state employment discriminations claims.
Regardless of the outcome of future cases, Kreis said Monday's Title VII ruling is "another watershed moment in the long litigation strategy that recognizes that LGBTQ people have valid discrimination claims when the are discriminated against on the basis of their sexual orientation or gender identity."