Brooklyn's last remaining lesbian bar, Ginger's, sits on a busy avenue that cuts through the borough's gentrified Park Slope neighborhood. Over the past two decades, it has endured 9/11, the Great Recession and skyrocketing rent, but owner Sheila Frayne is unsure it will survive COVID-19.
"Realistically, I'm saying maybe this is the end," Frayne, 53, told NBC News.
In compliance with citywide guidelines for nonessential businesses, Frayne locked the doors of Ginger's on March 15, two days before St. Patrick's Day and what would have been the bar's 20th anniversary. Through the darkened windows, she peered at the shamrock decorations that still hung on the walls and started to cry.
"The bar business is recession proof — it's not pandemic proof, though."
Henrietta Hudson Owner Lisa Cannistraci
"It's really sad, because women-owned businesses are hard anyhow, and women-owned bars are unheard of," Frayne said. "Usually, they have somebody backing them or something like that, but I did do it by myself, and it's just blood, sweat and tears to get where I did and keep surviving."
Ginger's Bar is one of three lesbian bars still standing in New York City, and one of just a handful left in the entire country. With most, if not all, of these establishments forced to temporarily shutter due to the coronavirus pandemic, their future is uncertain, with several facing the potential of permanent closure.
Last call for lesbian bars?
The number of lesbian bars in the United States has always been far fewer than those primarily catering to gay men, even though statistically women are more likely than men to identify as LGBTQ. The peak came in the late 1980s with an estimated 200 lesbian bars across the country, according to a study published last year by Greggor Mattson, an associate professor of sociology at Oberlin College, but the number is now estimated to be 16. These venues include Henrietta Hudson in New York City, My Sister's Room in Atlanta, Wildrose in Seattle, Walker's Pint in Milwaukee and Gossip Grill in San Diego.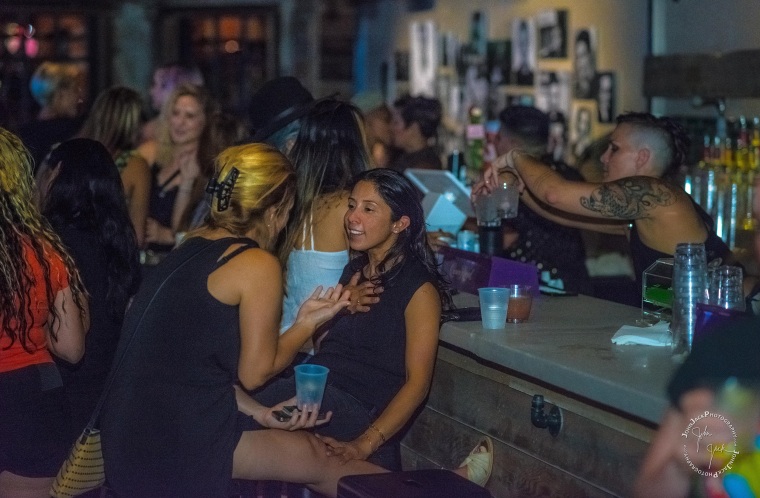 The decline in the number of lesbian bars is part of a broader trend of LGBTQ bars shuttering across the U.S. Throughout the 1980s, there were more than 1,500 such bars, but that number has been steadily declining since the late '90s, with less than 1,000 existing today (with the lion's share of them catering mostly to male or mixed-gender crowds), according to Mattson's study. These closures, however, have not happened equally: Between 2007 and 2019, an estimated 37 percent of all LGBTQ bars shuttered, while bars catering to women and queer people of color saw declines of 52 percent and 60 percent, respectively, according to the report.
Mattson said even the closure of a single gay or lesbian bar can be a particularly acute loss for a community.
"It leaves already isolated LGBTQ people even more isolated, because these bars do more than just provide a place to drink," he said. "They're also a place where sometimes parents call the bar to ask for advice about their kids coming out. These bars are often performance spaces for the entire community, and besides the drag shows that they host, some of them are also local community theater spaces."
Since the gay liberation movement began in the 1960s, many of these bars have served as the nucleus of America's "gayborhoods" — refuges where people could organize, raise funds, meet friends and find romance. Mattson said even the closure of a single LGBTQ bar can be a particularly acute loss for a community.
New York City has witnessed the country's largest rise and fall in lesbian spaces — with about 200 opening and closing over the last century (including bars, cafes, bookstores, and community centers), according to Gwen Shockey, creator of the Addresses Project, a digital tool that tracks the city's lesbian venues. Shockey said New York saw a wave of lesbian bar openings in the the '70s and '80s, likely bolstered by the surging feminist and LGBTQ rights movements of the time and the passage of the Equal Credit Opportunity Act in 1974, which made it illegal for banks to deny loans on the basis of gender. This trend, however, didn't last, with the following decades seeing closures amid soaring commercial rents in metropolitan areas and alternative ways for queer people to meet each other, like dating sites and apps.
Shockey said the loss of additional brick-and-mortar spaces dedicated to LGBTQ people, particularly for women, would be tragic.
"There's nothing like sitting in a safe space that's controlled by queer people, and having a conversation, dancing, interacting," she said. "It's just so valuable, and it's so liberating, and it's enabled me to come out and to find a life for myself."
In the last five years alone, iconic lesbian bars such as Sisters in Philadelphia and The Lexington Club in San Francisco permanently shut their doors. In New York City, at least 11 bars and clubs frequented by lesbians and queer women have shuttered since 2004, including One Last Shag, Meow Mix and Crazy Nanny's. Bum Bum Bar, which had been the only lesbian bar in Queens, officially closed last year.
While there are only three lesbian bars left in all five boroughs of New York City — arguably considered, along with San Francisco, to be the queer capital of the U.S. — online listings show there are more than 80 venues catering to gay men or mixed-gender LGBTQ crowds in the city.
In America's heartland, there are few bars that cater to the gay and lesbian community. Walker's Pint, Milwaukee's lone lesbian bar and perhaps one of just two left in the entire Midwest, temporarily shuttered in March after Wisconsin Gov. Tony Evers ordered nonessential businesses to close. With help from her bank, owner Elizabeth "Bet-z" Boenning said she managed to receive a modest loan from the federal Paycheck Protection Program — just enough to cover expenses for about three months. If her bar doesn't reopen, she said it would be a devastating loss for the local community.
"Women don't have a place that's for women other than the Pint, really," Boenning said, noting that her Milwaukee business is surrounded by several bars that cater to gay men.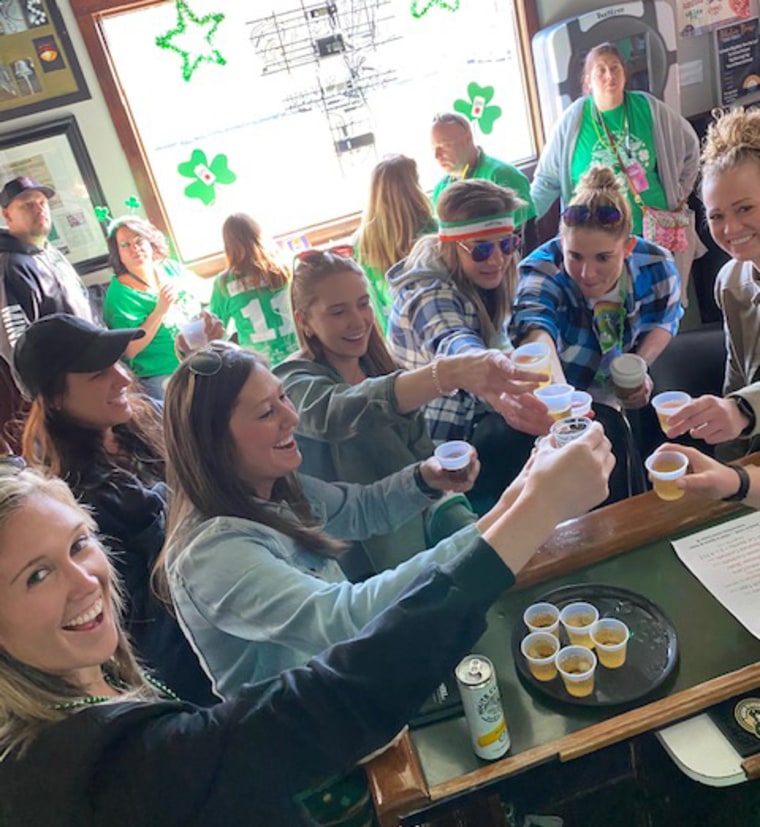 In Washington State, only one lesbian bar remains: Wildrose. Since 1984, it has managed to survive sky-high rents in Seattle's gentrified Capitol Hill neighborhood. In mid-March, as COVID-19 swept through the city, current owners Shelley Brothers and Martha Manning temporarily closed their bar. If they're unable to reopen, Brothers said it would be more than the loss of a historic watering hole.
"It's like a bar in a community center," Brothers said. "We've always just tried to provide a safe space for women to come."
Systemic funding issues
Many attribute the loss of lesbian bars to the high cost of opening and maintaining a bar, as well as the systemic difficulty women often have in acquiring financial support.
"If you look at any funding statistics, they always show you that women-owned businesses get even less than male-owned businesses, or that 4 percent of venture capital goes to women," said Pamela Prince-Eason, president and CEO of the Women's Business Enterprise National Council (WBENC).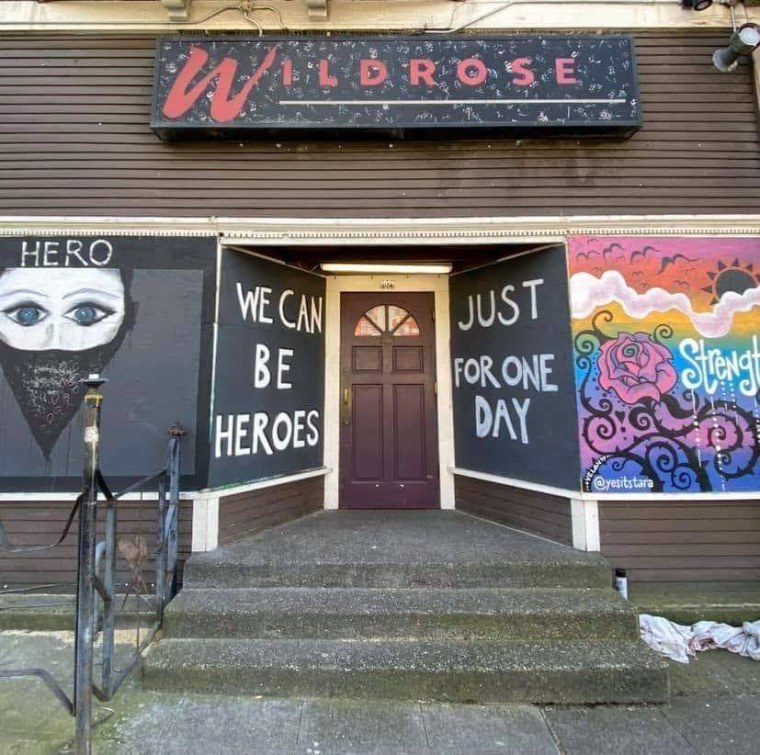 The pandemic is likely exacerbating the problem. Millions of small businesses throughout the U.S. have been unable to access assistance through the $2.2 trillion emergency relief package passed by Congress at the end of March. Even before the emergency relief program ran out of money in April, several bar owners interviewed for this story said they were unable to apply for assistance through the online application, which they said routinely froze or crashed, and most of these owners said they lacked relationships with banks that could help them.
While the federal stimulus was meant to help small mom and pop shops, $243.4 million worth of payroll loans went to publicly traded companies, because language in the bill opened the door for many to apply. Within WBENC's network of more than 16,000 women-owned businesses, less than 1 percent received aid through the first round of stimulus, according to Prince-Eason.
On Monday, the relief program reopened, replenished with $310 billion, and $60 billion set aside for businesses that do not have established banking relationships. But a rush of applicants quickly choked the system, leaving many banks again struggling to process loans.
Currently, about 12 million of the 32 million businesses (less than 4 in 10) in the U.S. are owned by women, and the majority of these are small businesses, according to WBENC. Even fewer businesses are owned by LGBTQ people — about 1.4 million, according to the LGBTQ Chamber of Commerce.
If the next round of stimulus leaves out many small businesses again, Prince-Eason said much of the gains made by women-owned businesses — which saw a 58 percent increase over the last decade — are likely to be reversed. "Which is very depressing and demeaning and painful for all people affected," she said.
Online fundraising efforts
As lesbian bar owners nervously await government assistance or the green light to reopen their businesses, and negotiate rent payments with their landlords, many are launching fundraising campaigns to raise money for their overhead costs and their employees.
Boenning — whose Milwaukee pub has been closed since March 17, on what would have been the city's popular St. Patrick's Day bar crawl — recently raised $3,695 for her Walker's Pint staff. "I don't know what else to do for them," she said.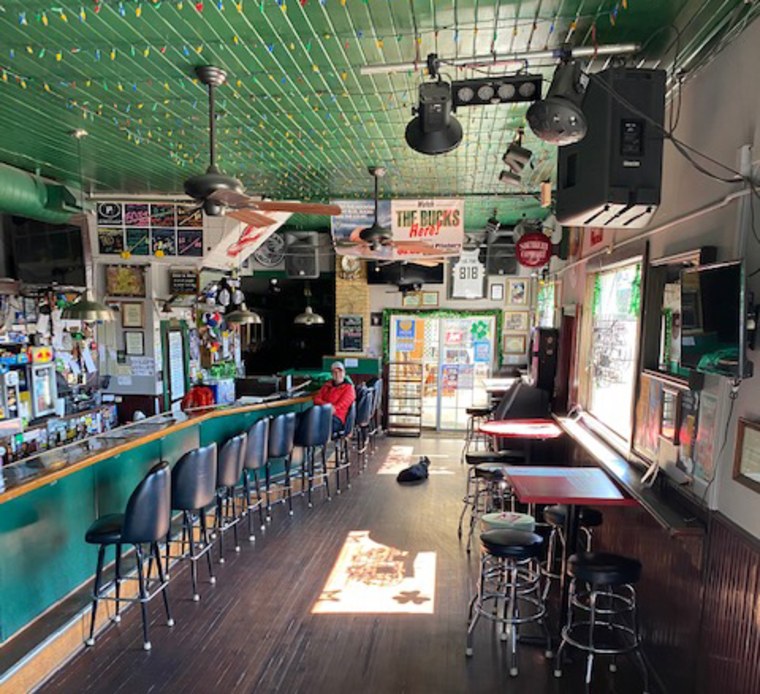 Nightlife workers stuck at home — bartenders, barbacks, bouncers and performance artists — whose income depends largely on tips, wonder when they will be able to work again. Many who have been unable to get unemployment through their states' overwhelmed unemployment systems grapple with an uncertain future.
"One day we'll feel pretty good, and the next day we'll feel terrible," Jo McDaniel, a manager and bartender at A League of Her Own in D.C., said. "It's a real struggle personally to keep my mental health above water."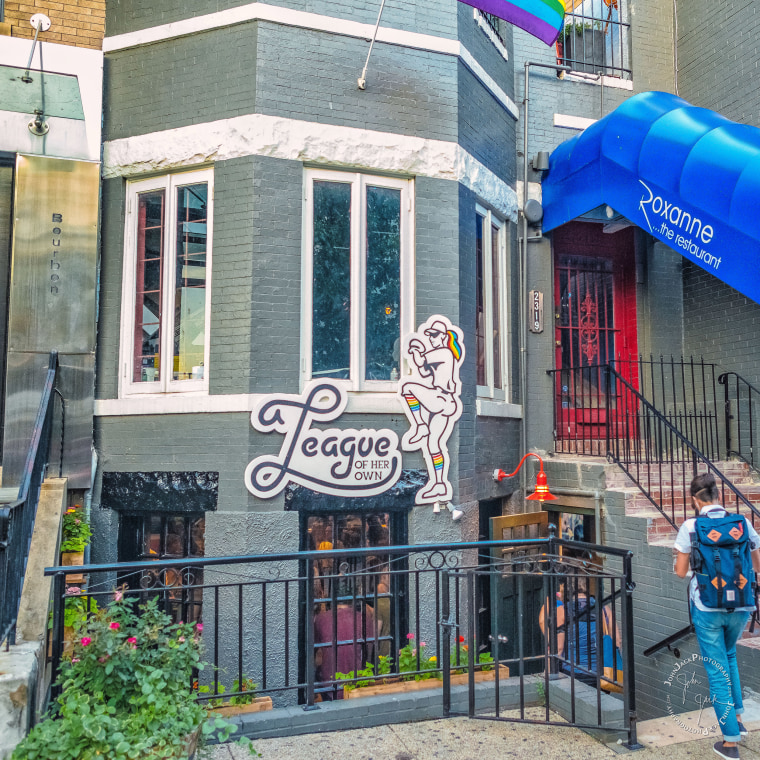 A League of Her Own and its brother bar, Pitchers, both owned by David Perruzza, managed to raise over $8,000 for staff. Neighboring Washington, D.C., lesbian bar, XX+, managed to raise about $4,000 for staff after not receiving government assistance.
"I'm trying to do all the legit things by applying for this, applying for that, and never get any word about when you're going to get a grant or if you should get a grant," XX+ owner Lina Nicolai said, "and so it's very uncertain."
Cubby Hole, a popular hangout for queer women in Manhattan, raised over $48,000 for staffers after owner Lisa Menichino was unable to retrieve federal aid. Even with tens of thousands raised, she's not sure she will be able to sustain her bar through the fall without emergency assistance. "It's been really scary," said Menichino, whose monthly expenses total more than $10,000. But she is not giving up hope.
"I'm going to find a way to keep this bar open," she said. "I have to. It's like an icon. It means so much to so many people. Even if I have to go into my personal finances, I will."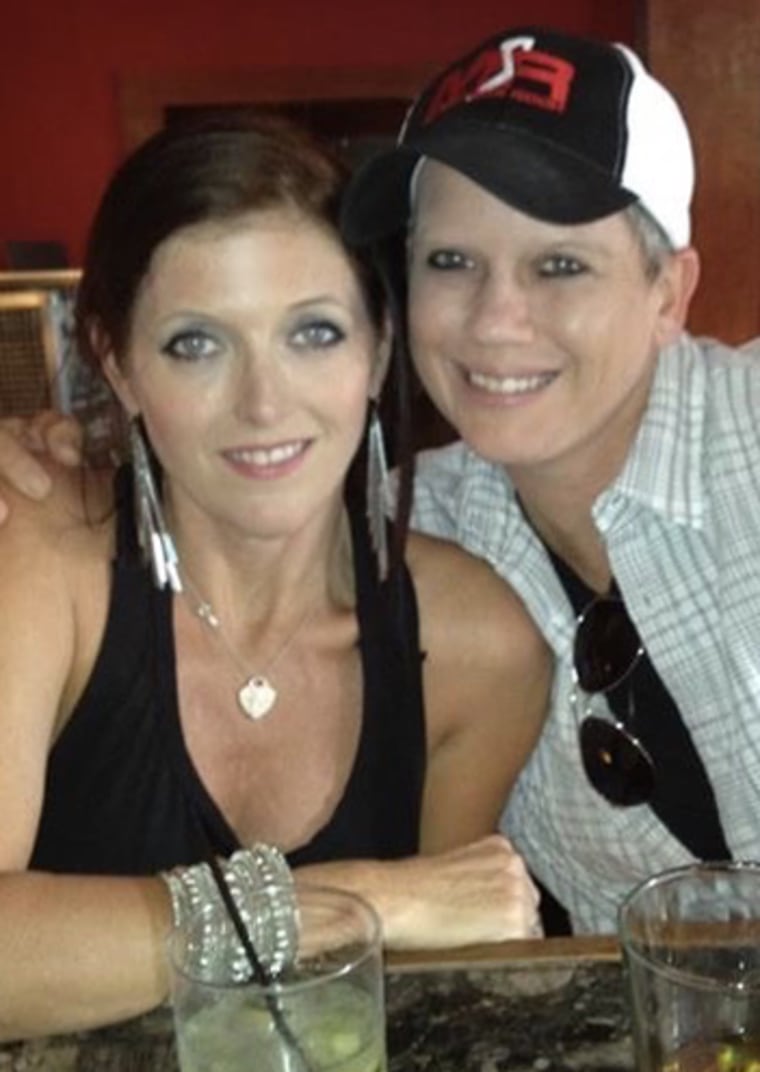 My Sister's Room in Atlanta is the only bar that serves lesbian and bisexual women in Georgia, and possibly the entire Southeast. Owners Jen and Jami Maguire are raising money for staff by selling T-shirts online. They applied for emergency aid but haven't received any. They're hopeful, but also worried. If the pandemic stretches into October, when Atlanta holds its annual Pride celebration, it would be "very catastrophic," Jen Maguire said.
"We just want to do what we can to get everybody back to work, but not at the sake of someone losing their life for someone to make some money," she said. "Safety is number one."
Many bar owners question how to reopen once the pandemic is over. Typically, people gather in bars whether times are good or bad, Henrietta Hudson's owner, Lisa Cannistraci, said. Her bar remained open through a number of hard times, including 9/11 and the Great Recession, but she sees this new era of social distancing as an entirely different crisis to navigate.
"The bar business is recession proof — it's not pandemic proof, though," Cannistraci, who has raised over $6,000 for her staff, said. Her insurance policy doesn't cover damage from pandemics, she said. And while she applied early for all the government aid she could, she hasn't received any assistance.
"I did everything," she said, "and there's nothing — crickets."
With New York City Pride events postponed indefinitely and Ginger's Bar shuttered until bars and restaurants are allowed to reopen, Frayne is suffering a devastating loss of revenue. For the first time in 20 years, she's unable to pay rent, and her insurance policy doesn't cover her pandemic-related losses. She applied for government aid, she said, but hasn't received any. She worries about her staff, who she said have been unable to file applications through New York City's paralyzed unemployment system.
"It's kind of impossible," said Frayne, who raised over $5,000 for her staff, and is now raising money to save her bar.
So far, Brothers has managed to raise over $36,000 to keep the Wildrose afloat for the time being, but she said it won't last long. Her annual $30,000 insurance policy doesn't cover pandemic-related losses, though she said she still has to foot the monthly insurance bill. And her application for emergency aid has gone unanswered. Not knowing the future of Washington state's last lesbian bar weighs heavy on her.
"It's minute to minute, basically. It's up and down. You'll be all filled with hope, and then it's like, 'Oh, my God, this is so horrible,' and then, 'OK, we can do this,' and then 'Oh, God, this is horrible.' It just goes back and forth," Brothers said.
'A stronger economy that includes all of us'
Last week, Frayne returned to Ginger's Bar to collect the mail that had piled up since she shuttered it in March — mostly bills, she said. Without assistance, she wonders if Brooklyn's last lesbian bar will ever reopen.
"I mean, after 20 years, do I really want to owe a ton of money with rent and insurance to open a business again?" she said. "I worked too hard; I'm getting too old for it. I don't know if I can do that again."
If gay and lesbian bars, like Ginger's, close, it could have a domino effect on other LGBTQ-owned businesses and organizations, according to Jonathan D. Lovitz, senior vice president, National LGBT Chamber of Commerce. . Historically, he explained, gay community centers, nonprofits, mom and pop shops and even big companies have relied on their relationships and proximity to these venues, whether to attract customers or host events and fundraisers. The silver lining he said, is that many people are coming together to support these LGBTQ businesses.
"We cannot and will not lose our precious safe spaces. Whether they are the LGBT bars that we frequent or the small businesses that we support, we will find ways to to support them as a community, because they represent the best of us," he said. "They're not just our homes away from homes, but they are our employers and our friends and our allies in the fight to have a stronger economy that includes all of us."