A sea of green hats, shamrocks and bagpipes flowed through the streets of Staten Island last week, but the rainbow flag was not among them.
Every year since 2011, the Pride Center of Staten Island has been denied entry into the annual Staten Island St. Patrick's Parade.
The Pride Center's new executive director, Carol Bullock, said she attempted to apply for a spot in this year's event, but when she met with parade president Larry Cummings last month, he told her that her organization could not participate.
"To be honest with you, I was shocked and obviously very disappointed," Bullock told NBC News. What was most surprising to Bullock, who took the helm of the Pride Center in December, was that she wasn't even allowed to fill out an application.
"At least let me apply, and then if you want to come back and tell me if it's a 'yes' or a 'no,' I get it," she said. "Then I could have some kind of conversation with the individuals who would then make that decision."
Bullock said the decision "screams discrimination" and sends a "very bad message" to LGBTQ youth.
Cummings did not respond to multiple phone calls and text messages from NBC News. But in an interview with the Irish Central Voice, he explained, "Our parade is for Irish heritage and culture. It is not a political or sexual identification parade."
Cummings told the Irish-American media outlet that the parade committee voted to ban LGBTQ groups from the event when representatives from the Pride Center first attempted to apply back in 2011.
"The committee voted so that's that. Those are the rules," he said. "Gays can march, but not under a banner."
Bullock said the Pride Center of Staten Island had no intention of promoting "sexual identification." She said the organization simply wanted to march under a white banner that displayed only its name and logo.
"Just like everyone else who wants to celebrate their Irish ancestry, we do as well," Bullock said.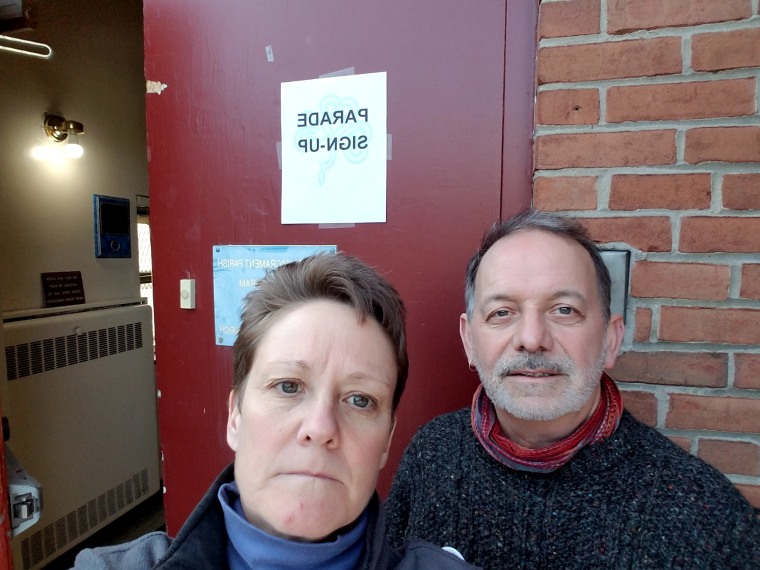 Brendan Fay, an openly gay Irish immigrant and the founder of LGBTQ Irish advocacy group Lavender and Green Alliance, said Staten Island is not the only place in the U.S. where LGBTQ groups are not permitted to participate in St. Patrick's Day celebrations. However, he said the New York City borough is part of a shrinking list.
"Growing numbers of parades are including LGBT groups, and that's reflecting a changing Ireland," Fay told NBC News, noting that Ireland in 2015 became the first country in the world to legalize same-sex marriage by popular vote and now has an openly gay prime minister.
LONG MARCH TO INCLUSION
Today, LGBTQ groups participate openly in St. Patrick's Day events across the world, including in Ireland. In Chicago, which reportedly has the second largest St. Patrick's Day parade in the U.S., LGBTQ groups have been allowed to march under their own banner since the 1990s, but in New York City and Boston, which boast the largest and third-largest U.S. parades, respectively, their inclusion came much later.
In 2014, the organizers of Boston's St. Patrick's Day Parade voted to allow gay groups to march openly, but then they briefly reinstated a ban in 2017. After fierce backlash from the community, the organizers voted unanimously to lift the ban once again.
A ban against LGBTQ groups marching openly in the NYC St. Patrick's Day Parade, located on historic Fifth Avenue in the borough of Manhattan, lasted for 25 years. Fay said he and other gay activists fought for decades to be included in the event. Though they were prohibited from doing so, the activists would enter the parade with their banners and signs anyway, he said. For years, they endured jeering crowds, police arrests, and even had beer cans thrown at them.
Nearly two decades ago, Fay founded the Queens-based St. Pat's for All parade. The event celebrates "Irish heritage and culture regardless of race, gender, creed or sexual orientation," according to its website.
"I've been part of the protests, the arrests … but once I began St. Pat's for All, the first one being in 2000, I realized the importance of cultural celebrations being welcoming and inclusive," Fay explained.
In 2015, Out@NBCUniversal, NBC Universal's LGBTQ employee resource group, became the first and only LGBTQ group permitted to march under it's own banner in the NYC St. Patrick's Day Parade. While the inclusion of a group belonging to NBC — the parade's official broadcaster (and NBC News' parent company) — stirred controversy, Out@NBCUniversal's participation paved the way for other LGBTQ groups to be included in following years.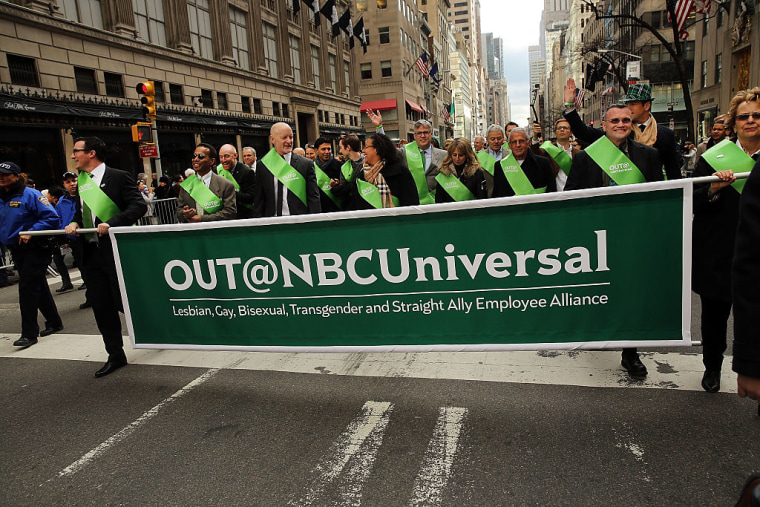 In 2016, NYC parade organizers voted to allow the Lavender and Green Alliance to march under its own banner. The organizers had come under pressure from Mayor Bill de Blasio, who had boycotted the parade since taking office in 2014, and from beer brewers Heineken, Sam Adams and Guinness, which pulled their sponsorships over the ban, according to the Washington Post. In March of that year, 300 members of the Lavender and Green Alliance finally participated in the 254-year-old parade. There "were many tears of joy," Fay recalled.
Fay said he is hopeful the organizers of the Staten Island St. Patrick's Parade will eventually follow the lead of other St. Patrick's celebrations around the world and allow LGBTQ groups to march openly under their own banners.
"I believe the day will come, just like it did on Fifth Avenue after over a quarter of a century of determination and hope," Fay said.
DESPITE BAN, LGBTQ STATEN ISLANDERS CELEBRATE
While the Staten Island St. Patrick's Parade was officially off limits to LGBTQ groups, some activists found a way to unofficially participate in the March 4 festivities. For the second year in a row, the Young Democrats of Richmond County applied to participate in the Forest Avenue Mile, a Staten Island footrace that occurs on the same day and in the same neighborhood as the borough's St. Patrick's celebration.
K.C. Hankins, vice president of the Young Democrats of Richmond County, said the group called itself the "Rainbow Run." Each runner, he noted, wore a color from the rainbow, and some of them included the Pride Center's logo on their T-shirts. He said many of the parade-goers cheered them on, and one group even greeted them with "a big rainbow balloon banner."
Hankins, 25, called the Pride Center of Staten Island a "cornerstone" of the community, noting it provides health care services and other support to LGBTQ Staten Islanders.
"It is a travesty that they cannot march under their banner openly the way that all of these other organizations can," Hankins said. However, he said seeing people cheering on the Rainbow Run from the sidelines brightened his spirit.
"Not a single person was negative to us," he recalled. "It was all love on the parade route, and it just shows that people are ready for us to be able to march in the parade openly as queer Irish Staten Islanders."
While some Staten Islanders, like Hankins, unofficially participated in the Staten Island St. Patrick's Parade, others, like Bullock, officially celebrated their Irish heritage that same day at the Lavender and Green Alliance's St. Pat's for All event in Queens.
"It was awesome," Bullock said. "We were invited, we were welcomed, we had a great time, and we were able to celebrate just like everyone else."
But make no mistake, Bullock noted, the Pride Center will continue to apply for entry into the Staten Island St. Patrick's Parade.
"We'll continue to work for the day that we can celebrate our Irish culture and heritage on Staten Island," she said.
The NYC St. Patrick's Day Parade, the largest in not just the U.S. but the world, will be held on March 17, St. Patrick's Day. The Lavender and Green Alliance will, for the third year in a row, be marching under its own banner.
"We have gone from being excluded, then being in the back of the parade, and now," Fay said proudly, "in the front section of the parade."
"It will be such a real moment of joy," Fay added. "We will be celebrating the welcome that we have worked for, for so many years."
While he is disappointed that members of the Pride Center were unable to march under their own banner in Staten Island, Fay said Bullock and many others from her organization will be joining the Lavender and Green Alliance on March 17.
"My hope is that the spirit of the Fifth Avenue St. Patrick's Day Parade inspires other celebrations across Irish America to be as welcoming and hospitable to all, but especially to the LGBT community," Fay concluded.