NEW YORK - When filmmaker Sharon Shattuck was 13, her transgender father told her he hoped one day he could wear a dress to her wedding.
The suggestion gave her a "sinking feeling," she recalls. "I didn't ever want that day to come."
Two decades later, Shattuck tells her family's story in a documentary, "From This Day Forward," to be broadcast on Monday, Oct. 10, for the first time in the United States.
The film follows Shattuck and her family as they come to terms with the coming out of her father, Trisha, as transgender, tackling issues of marriage, commitment, tolerance and coping with the unexpected.
Shattuck, who lives in New York, said she set out five years ago to make a film about other people with transgender family members, mentioning but not planning to focus on her own.
"I felt really uncomfortable about putting myself out there," she told the Thomson Reuters Foundation.
She said she soon realized her own family was engaging, open and would make a better movie.
The movie describes Trisha Shattuck's years of hiding her cross-dressing, the embarrassment Shattuck and her sister felt in school and their treatment by neighbors and teachers.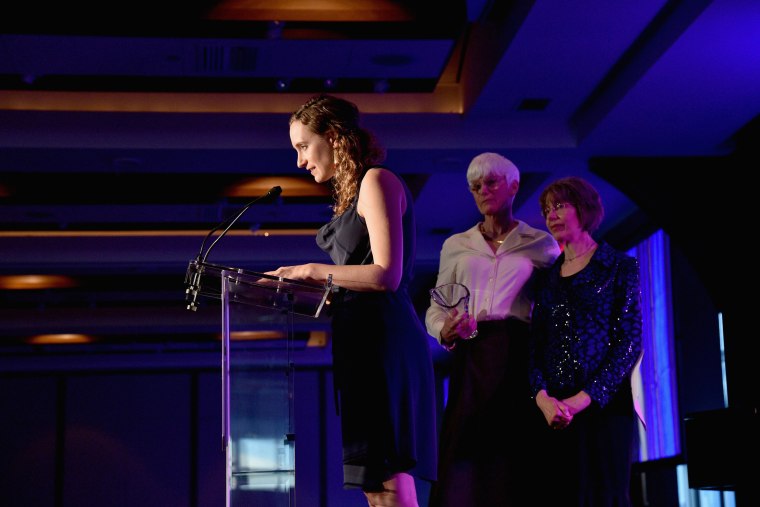 It exposes their father's dark moments contemplating suicide and her parents struggling to decide whether to stay together.
Her mother, Marcia, was the most reluctant to appear on camera, and it took about two years until she was willing to speak out, Shattuck said.
In the film, Shattuck says many children are as much in the closet as their LGBT parents might be until they can come out and talk about it.
"When I was a kid, I was trying to hide it," she said. "As an adult, it's been very powerful and affirming to tackle it head on.
"This is what my family is," she said. "I'm not ashamed."
Nevertheless, stepping out in public as the child of a transgender parent and promoting her film has been disquieting and at times frightening, she said.
"I don't know if somebody's going to stand up and say, 'Your family is disgusting,'" she said.
Despite the popular U.S. series "Transparent" and high-profile transgender celebrities such as Caitlin Jenner, "a lot of people in America are still very uncomfortable around the idea of transgender people," she said.
The film will be shown on Monday on POV, a long-running showcase of independent non-fiction films on the nation's Public Broadcasting Service (PBS).
In February, "From This Day Forward" will be available on Netflix and SundanceNow, an online streaming service, she said.
"I think there's some sort of universal lesson to be learned about accepting or embracing other people or other families and just seeing us as any other family," Shattuck said.
"But I understand that it's still interesting for people," she added. "That's why I made the movie."