This Saturday marks Donald Trump's 100th day as President of the United States, but for some Americans, his tenure feels much longer. Trump's first 100 days have been marked by dozens of executive actions, heated protest marches and even a Senate investigation into election tampering.
For many LGBTQ Americans, the early days of Trump's Republican administration have been fear-inducing. A series of Cabinet appointments have been roundly criticized by LGBTQ advocacy groups. An early draft of a reported executive order legalizing broad discrimination against LGBTQ people threw the community into a panic. The dismantling of Obama-era protections through executive orders came with the simple stroke of a pen.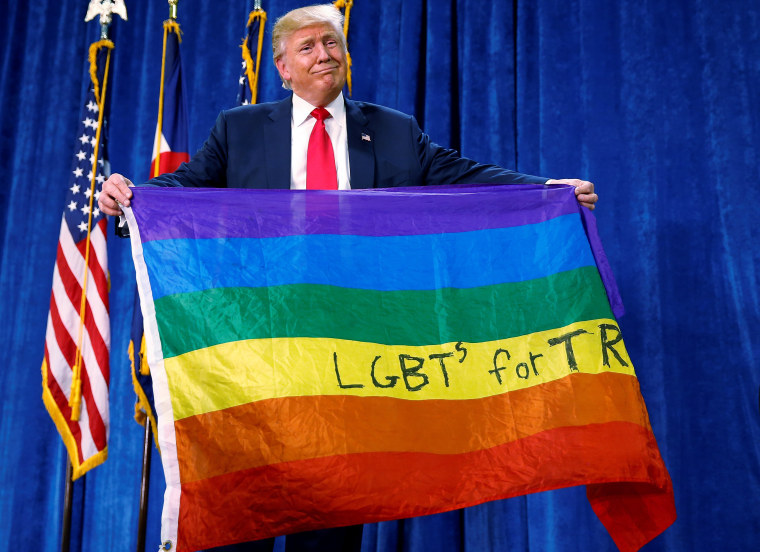 "One hundred days of Trump translates into 100 days of erasure for the LGBTQ community," GLAAD President Sarah Kate Ellis told NBC News. "From the Census exclusion, to rescinding Obama's guidance for trans youth in schools, and lack of any LGBTQ mentions on the White House website, he has spent the early days of his administration trying to remove us from the very fabric of this country, and we must resist."
But while some have characterized the Trump administration as the most overtly anti-LGBTQ in history, others see hints of promise in Trump's early statements of support for LGBTQ rights. Joseph R. Murray, the founder of LGBTrump on Facebook, told NBC News that Trump's first 100 days "proves that he is an ally to the LGBT community," and said he thinks the president will continue to negotiate the issues.
"We must recognize that in a post-marriage-equality America, the rights of LGBT Americans must be balanced against the religious liberties of conservatives. This is how a civilized society works," Murray said. "I look for the president to protect LGBT Americans from discrimination, while respecting the religious liberties of other Americans, and that is not a bad thing."
Trump has received some flak for what critics say is a lack of concrete action in the first 100 days — for example, he hasn't gotten any major legislation passed — but when it comes to LGBTQ discourse, his impact has been as loud as an air raid siren. NBC News looks back at the early months of the Trump administration as seen through the eyes of lesbian, gay, bisexual, transgender and queer Americans.
JANUARY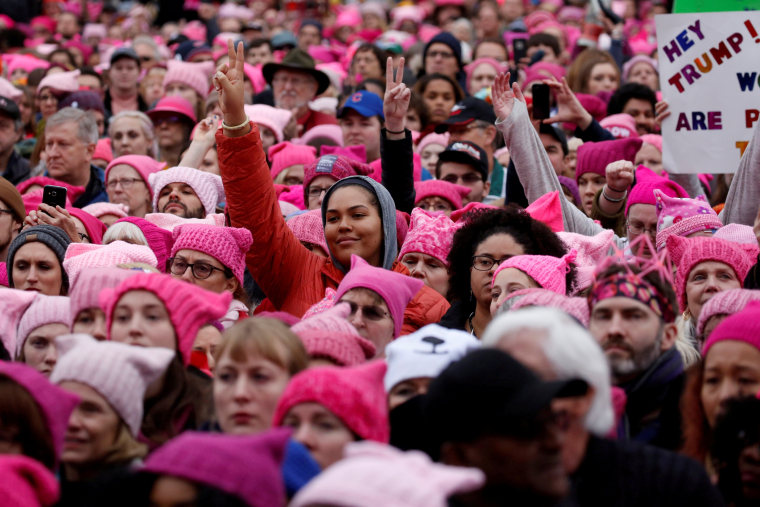 January 20: Trump is sworn in as the 45th President of the United States. Outside the gates of the inauguration, at least 200 people are arrested in massive protests that swarm D.C.
January 21: LGBTQ content removed from White House and Department of State websites on the very first day of Trump's presidency. While other federal websites still retained some related content, it appeared that LGBTQ references were the only removals from the White House and State Department sites. At the time, Senator Ben Cardin told NBC News that he found the scrubbing of LGBTQ references "alarming." On the same day, the Women's March brings over half a million people to D.C. as nearly 700 "sister marches" take place around the globe.
January 25: Trump signs the "travel ban." The much-maligned executive order temporarily halting all refugee entry into the U.S., as well as entry from nationals of seven Muslim-majority countries, caused protests to erupt across the nation. But for LGBTQ refugees fleeing persecution, the human rights group Outright Action International said, the measure amounted to a "death sentence."
January 31: A leaked draft of an anti-LGBTQ executive order causes panic and a protest at the historic Stonewall National Monument. The draft closely resembles the First Amendment Defense Act, a "religious freedom" bill Trump pledged to sign during his campaign that critics said would legalize sweeping anti-LGBTQ discrimination. The White House immediately denies that the order was under consideration and issues a statement reaffirming Trump's stated commitment to LGBTQ equality: "President Trump continues to be respectful and supportive of LGBTQ rights, just as he was throughout the election." In the weeks that follow, inside sources tell reporters Ivanka Trump and Jared Kushner personally intervened to keep the order from being signed into law.
FEBRUARY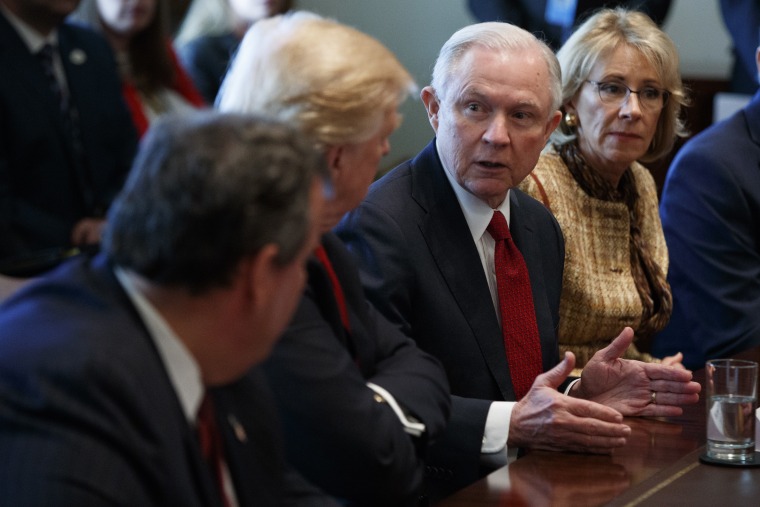 February 7: After weeks of fierce opposition and an all-night speaking session by Senate Democrats, Betsy DeVos is confirmed as Trump's Education Secretary. The Senate is so divided over DeVos, Vice President Mike Pence takes the step of voting to break the tie. LGBTQ advocates speak out against DeVos, noting her family's past donations to anti-LGBTQ groups like Focus on the Family.
February 8: The day after DeVos is confirmed, the Senate narrowly approves Jeff Sessions for Attorney General in what National Center for Transgender Equality Executive Director Mara Keisling calls "a deeply distressing day for civil rights." Lambda Legal Executive Director Rachel Tiven calls Sessions "a lifelong opponent of the civil rights of LGBT people, people of color, women and immigrants."
February 15: Southern Poverty Law Center publishes "The Year in Hate and Extremism" report, saying Trump's campaign helped inspire a surge of new hate groups, including anti-LGBTQ groups.
February 22: The Departments of Education and Justice essentially revoke the Obama administration's guidance on equal access to facilities for transgender students. In a statement, the Trump administration says the fate of transgender students should be left to states and local school districts. Not only does the move upset LGBTQ advocates, it later causes the Supreme Court to remand the pivotal case of trans teen Gavin Grimm — since lower court decisions were based on the Obama guidance.
MARCH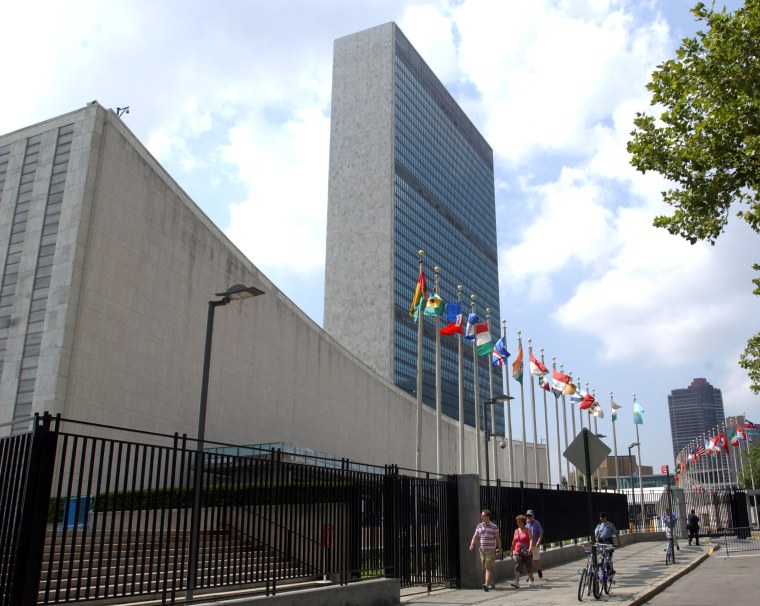 March 16: The Department of State sends two anti-LGBTQ groups to the United Nations Commission on the Status of Women — one of which is designated a "hate group" by the Southern Poverty Law Center for its extremist views. Advocates for both women's and LGBTQ rights slam the choice of delegates, which are able to vote on important U.N. policy statements.
March 20: The National Survey of Older Americans Act Participants (NSOAAP), which helps the federal government decide where to send funding each year, is released. But the Trump administration's 2017 survey has one significant change from previous years: Questions relating to sexual orientation or gender identity have been removed.
March 22: Trump appoints Roger Severino to lead the Office of Civil Rights at the Department of Health and Human Services. LGBTQ advocates find the move disturbing, as Severino dismissed transgender equality as "the radical left using government power to coerce everyone, including children, into pledging allegiance to a radical new gender ideology," among other statements seen as anti-LGBTQ.
March 27: Trump signs an executive order that revokes the Fair Pay and Safe Workplaces Act. In doing so, he removes the requirement that companies prove they comply with 14 labor and civil rights laws in order to receive federal contracts — leaving LGBTQ workers especially vulnerable. Overturning the order also revoked vital protections for women workers combating workplace sexual harassment or assault.
March 28: An initial draft of the upcoming 2020 U.S. Census contains questions measuring sexual orientation and gender identity that advocates fought to include — but the LGBTQ questions quickly disappear from the census later that day. The Department of Commerce called the inclusion of LGBTQ Americans an "error," saying there was "no federal data need" to measure numbers of LGBTQ people.
APRIL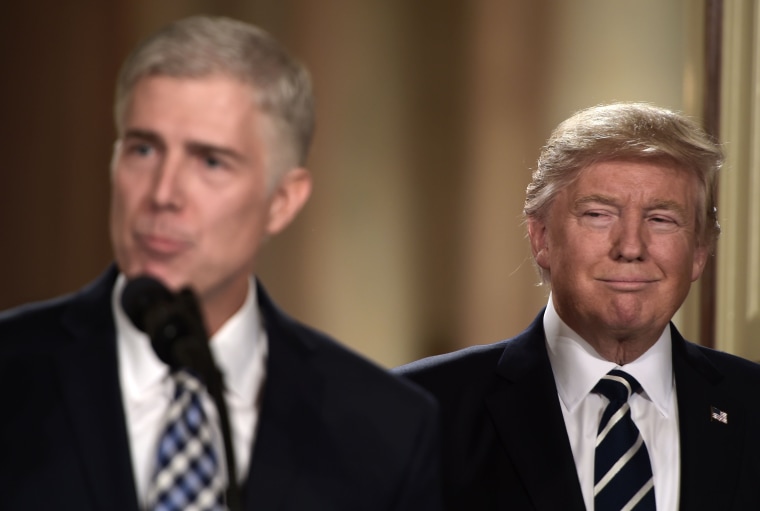 April 5: The Department of Justice launches a Hate Crime Subcommittee as part of a crime-fighting task force. In a letter to U.S. Attorneys, Jeff Sessions says the Justice Department will "protect the civil rights of all Americans" and says it will "not tolerate threats of acts of violence" on the basis of "religious beliefs or background". The letter, however, does not specifically refer to LGBTQ Americans, who are more likely to be targets of hate crimes than any other minority group.
April 7: Neil Gorsuch is confirmed to Supreme Court on the same day Trump nominates Mark Green for Army Secretary. LGBTQ rights advocates remain wary of Gorsuch based on his ruling record and conservative leanings, but they ferociously oppose Green — who implied being transgender is a "disease." Green replaces previous Army Secretary Eric Fanning, the first openly gay man to hold the post.
April 10: A ProPublica investigation reveals recently hired Department of Agriculture employee James Renne helped orchestrate an anti-gay purge of longtime LGBTQ government employees during the George W. Bush presidency.
April 14: The Justice Department withdraws its lawsuit against North Carolina over House Bill 2, a controversial law best known for restricting which bathroom transgender people could use. The joint notice, dismissing both the federal lawsuit and the state's counter-suit, states that a battle is no longer necessary after H.B. 2 was replaced by a similar but slightly less controversial law in early April.
April 17: United States Ambassador to the UN Nikki Haley condemns an alleged anti-LGBTQ campaign in Chechnya, where gay men report being detained and tortured. Responding to international pressure, Haley urges Chechen and Russian authorities to investigate and intervene. Her remarks are issued 10 days after the State Department says it is "increasingly concerned" about the LGBTQ crisis in Chechnya.