Just two and a half months ago, as NBC OUT exclusively reported, Navy Lt. Cdr. Blake Dremann was one of four service members historically stepping out of Secretary of Defense Ash Carter's office a week prior to the announcement ending the ban on transgender troops. Then at a ceremony last Friday, Dremann became the first known openly transgender service member promoted since that repeal. To top it off, everyone on his promotion stage was transgender.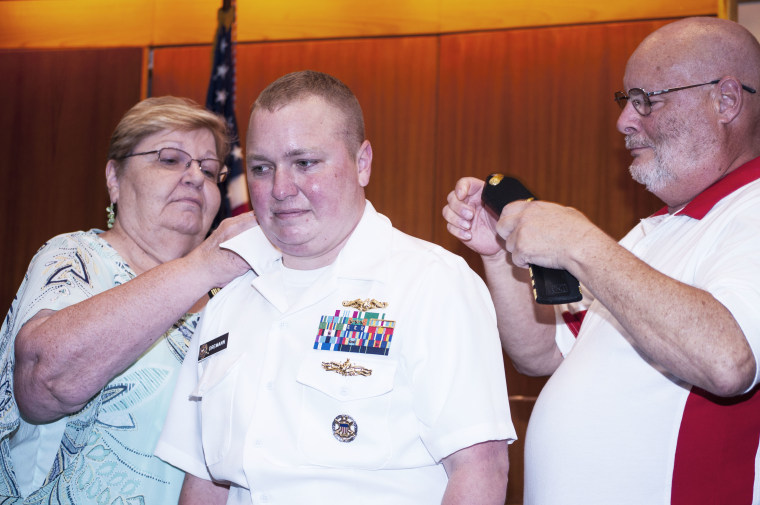 Flanked by the American, Navy and Senior Executive Service flags, wearing his male summer whites and surrounded by his parents, family, friends, admirals, officers and representatives from a number of advocacy groups, Dremann stood to attention at the front of the President's Room at the Navy Memorial.
"I couldn't have asked for better people, a better place, or a better person to swear me in. I wouldn't have changed a thing," Dremann told NBC OUT.
Asked what would have been different had the ban on transgender service members not ended, Dremann said, "It wouldn't have been as momentous. While it was a huge deal, it was even bigger because the ban has been lifted." He explained that everything would have been different, including the location, presiding officer and what he would have worn. "I would have been in khakis and not my whites as I would have had to wear the female dress uniform."
Choosing the Navy Memorial rather than a room inside the Pentagon not only was a logistical advantage, but also had personal meaning to Dremann. "It's significant because I'm passionate about my job and the Navy, and (the Navy Memorial) is the biggest reflection of the Navy in D.C."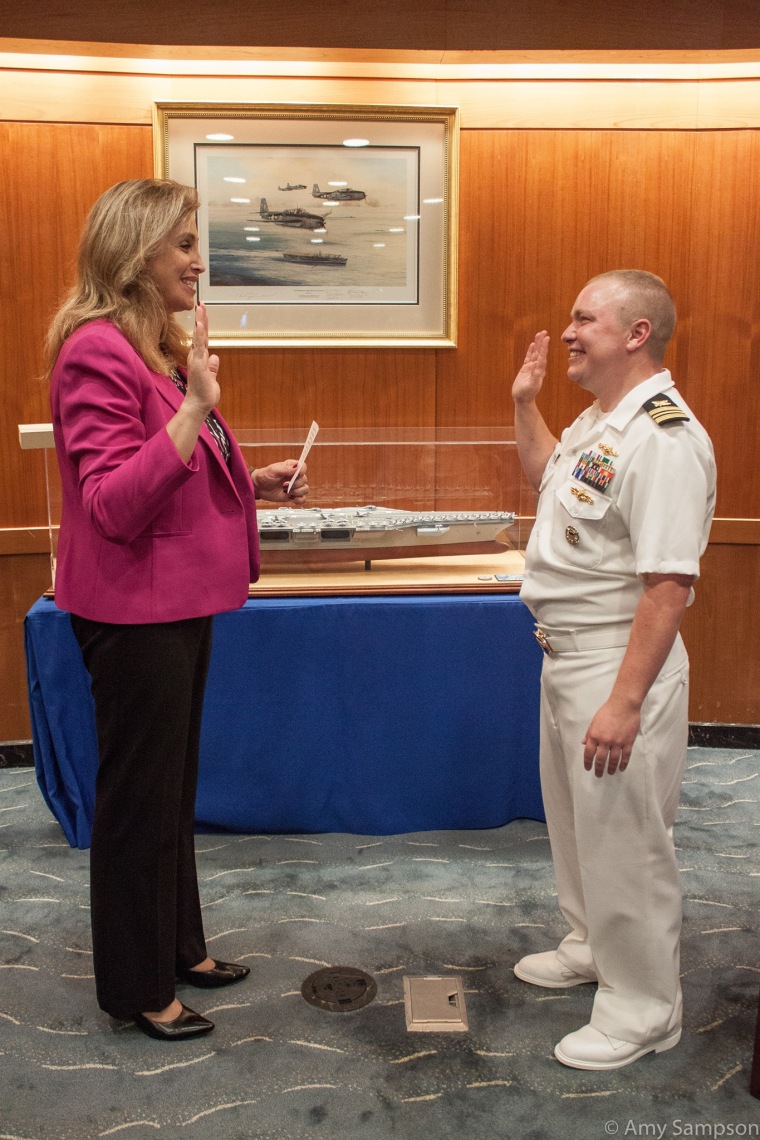 At his invitation, Dremann was promoted by Deputy Assistant Secretary of Defense for Operational Energy Amanda Simpson, who in 2010 became the first transgender woman appointee ever in the U.S. government, and today is the highest ranking transgender person in the Department of Defense as well as the federal government.
"I suppose I should start by addressing the significance of today's ceremony," Simpson said in opening. "To my knowledge this is the first U.S. military promotion ceremony for an openly transgender officer."
This isn't the first time Dremann has found himself being a first. In 2011 he was one of the first female- bodied sailors to integrate submarines. "While it was a big deal to be the first, we did the job just like any sailor aboard a submarine," he said. "We proved that neither gender nor sex-assigned-at-birth had anything to do with how well we performed."
During his 10-year career, Dremann has deployed 11 times and has been stationed inside the Pentagon since 2015. Although he's been promoted in rank from Lieutenant to Lieutenant Commander, his job will stay the same.
Outside of work, Dremann has recently taken the reigns from Army Veteran Sue Fulton as President of the trans military organization SPART*A, which has more than 500 trans active duty or veteran members. It was SPART*A leaders who met several times with military top brass to share their stories advocating for the end of the ban on transgender service. Fellow SPARTA member Major Bryan Fram of the Air Force emceed the event.
Fram, who has served for almost 14 years and is also stationed inside the Pentagon said, "It's a signal that it's not career-ending to come out of the shadows. Blake's promotion and having openly transgender officers serve in senior leadership positions helps show that the military can, and will, judge a person by their actions, accomplishments, and potential and not their gender identity."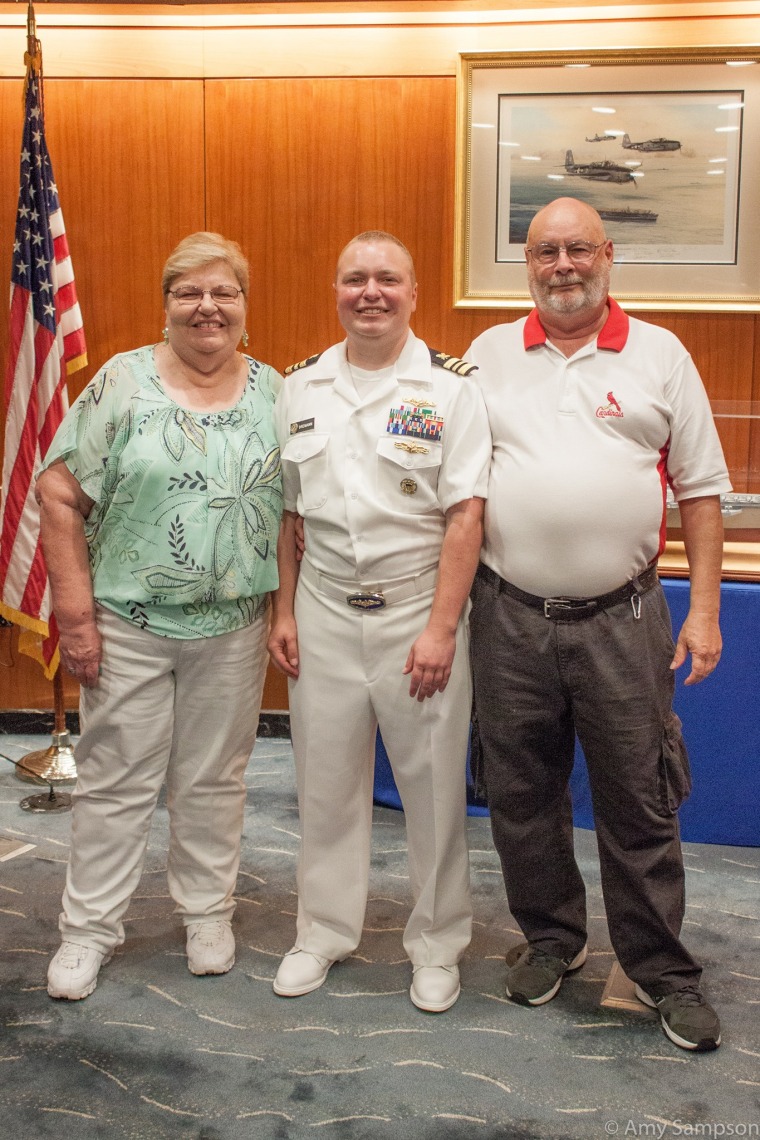 Dremann's parents, David and Diane, had flown in from St. Louis for the ceremony. "We're extremely proud," Diane said. "He's been the apple of my eye for years and years and we finally got to make one (of his promotions)." As previous ceremonies had been on submarines, ships or hard to reach towns, this was the first promotion Dremann's parents had been able to attend.
His mother was particularly nostalgic as her own mother, Dremann's grandmother, volunteered to served as a truck driver in the Army during World War II. "She's got to be looking down from heaven and busting her buttons right now," his mother emoted. "The service was everything to her, too." But after World War II ended his grandmother had to be discharged, as she was taking the position of a man. Dremann on the other hand, regardless of his sex-assigned-at birth or gender, can continue his career without restriction.
"I wouldn't be surprised if he'll be the first transgender Admiral," his mother said. "He's just so driven now, you can see it in him… the sky's the limit."
Fulton, who recently asked Presidential Nominee Donald Trump a question on MSNBC's Commander in Chief Forum and happens to be one of the first female graduates of West Point, was also in attendance.
"In the language of the traditional orders, this promotion shows a 'special trust and confidence in the patriotism, valor, and abilities' of this officer, and his potential as a leader in the Navy," Fulton said.
Although Simpson had recognized all of the trailblazing moments and people in the room, within her remarks she concluded, "But today isn't about firsts. This ceremony is about following the grand traditions of the United States Navy and the high standards of trust and service and thus, specifically, Blake Dremann. And that is why we are all here."
Fulton concurred, "Blake has already achieved much in the Navy, helping to integrate subs and earning the Navy-wide Batchelder Award. But today was special for more than that. While continuing to perform his job with excellence, Blake has shown tremendous courage in coming out as transgender. And his leaders have responded as they should, recognizing his contributions without regard to his gender identity."
When asked to reflect upon the entire day, Dremann requested for a moment, "I need to look it up on my phone … as it's my favorite quote." Once loaded on his device Dremann read the words of Retired Army Brigadier General Rhonda Cornum, which are etched into glass at the Women in Military Service for America Memorial, "The qualities that are most important in all military jobs, things like integrity, moral courage, and determination have nothing to do with gender."
Fiona Dawson is a national Emmy®-nominated multi-media director, producer and writer. She directed "Transgender, at War and in Love" commissioned by The New York Times and created the media project "TransMilitary," which intimately shares the lives of American transgender troops risking discharge as they work to end the ban upon their service. In 2015 Fiona was honored by The White House as an LGBT Artist Champion of Change.