Planting Peace, a nonprofit dedicated to "spreading peace in a hurting world," launched the first Pride flag into the stratosphere on August 17 using a high-altitude balloon, and the organization released video of the flag's journey on Wednesday. The flag reached an altitude of about 21.1 miles above earth before free-falling back down. Regardless of the flag's longevity, Planting Peace believes the message was clear and, more importantly, the impact has been made.
"It was an honor to send the first Pride flag into space, and it provided a wonderful opportunity to show that Planting Peace will not stop fighting for LGBTQ rights until all sexual and gender minorities experience full, fundamental rights in every corner of the universe," Aaron Jackson, president of Planting Peace, told NBC OUT.
"The backdrop of space gave us a stunning, inspiring and peaceful canvas for our message of hope to our LGBTQ family. I would love for LGBTQ children who are struggling to see this, and look up to the stars and remember that the universe shines brightly for them, and they are not alone," Jackson added.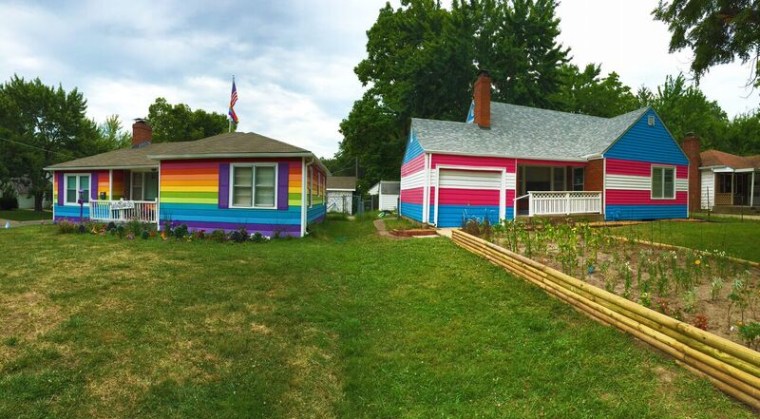 This is not the first time Planting Peace has made headlines while spreading its message. During the Republican National Convention, Planting Peace placed a billboard that depicted Donald Trump and Ted Cruz in a romantic embrace five minutes away from the Quicken Loans Arena, with the words "End Homophobia" emblazoned on the side, a clear message against what is widely perceived as an anti-LGBTQ GOP platform. In March of 2013, Planting Peace also painted a house with the Pride colors directly across the street from the Westboro Baptist Church. The house next door to the now dubbed "Equality House" has been painted in the colors of the transgender flag.