A vandal's attempt to deface a church sign with anti-gay graffiti backfired when the congregation responded with a message of love.
Employees of the Allendale United Methodist Church in St. Petersburg, Florida, arrived on Monday to find someone had spray-painted the words "gay pastor" in large, black letters on the church's roadside sign.
"Of course we were disappointed that someone chose to do that, but we saw this as an opportunity to turn what was intended to be hateful words into something beautiful," the Rev. Andy Oliver, the church's pastor, told NBC News. "We decided to leave the spray paint up, because we wanted to surround it with love."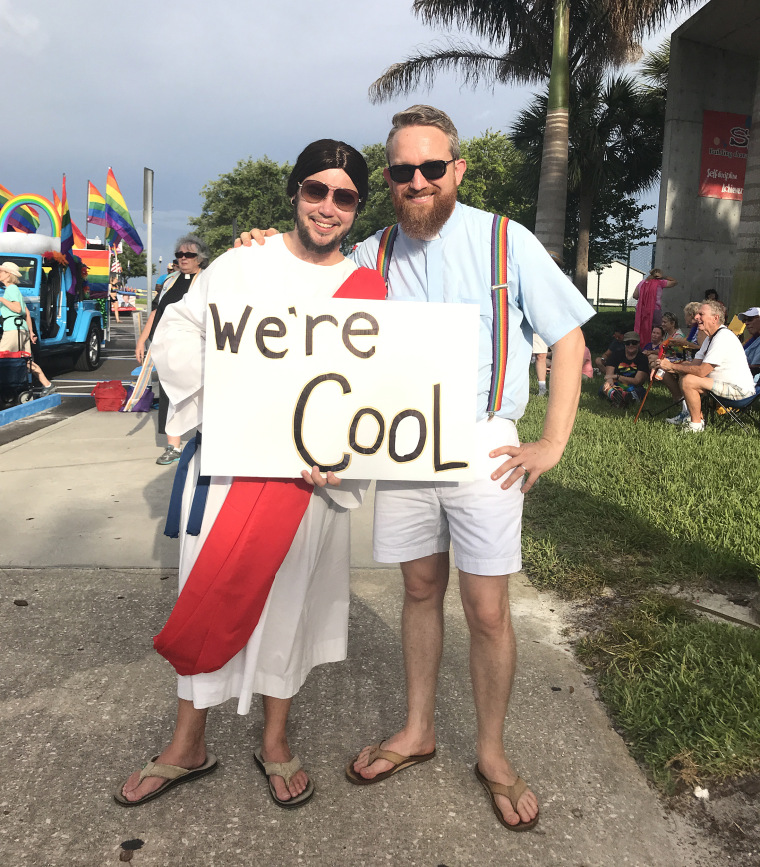 Instead of quickly removing the graffiti, Oliver and his congregation surrounded it with colorful hearts and the phrase "Love Always Wins!"
"So often the harm that happens to LGBT people happens in invisible ways, so we wanted to keep this up to show love always wins," Oliver explained, adding that the church will leave the message up for a week or two.
This is the second time in two months the Allendale United Methodist Church has been vandalized. In July, someone threw a brick at their sign.
"We've been a target, because we are inclusive," Oliver explained. He said his church had been recognized as an ally by the surrounding community, especially those who are members of oppressed groups.
"We officiate same-sex weddings here and regularly have gay and lesbian people preach," Oliver added. While he does not identify as LGBTQ, he estimated that about a fifth of his congregation does. He described the Allendale United Methodist Church as a "change agent within our own denomination" and as working to make the broader United Methodist Church community more inclusive.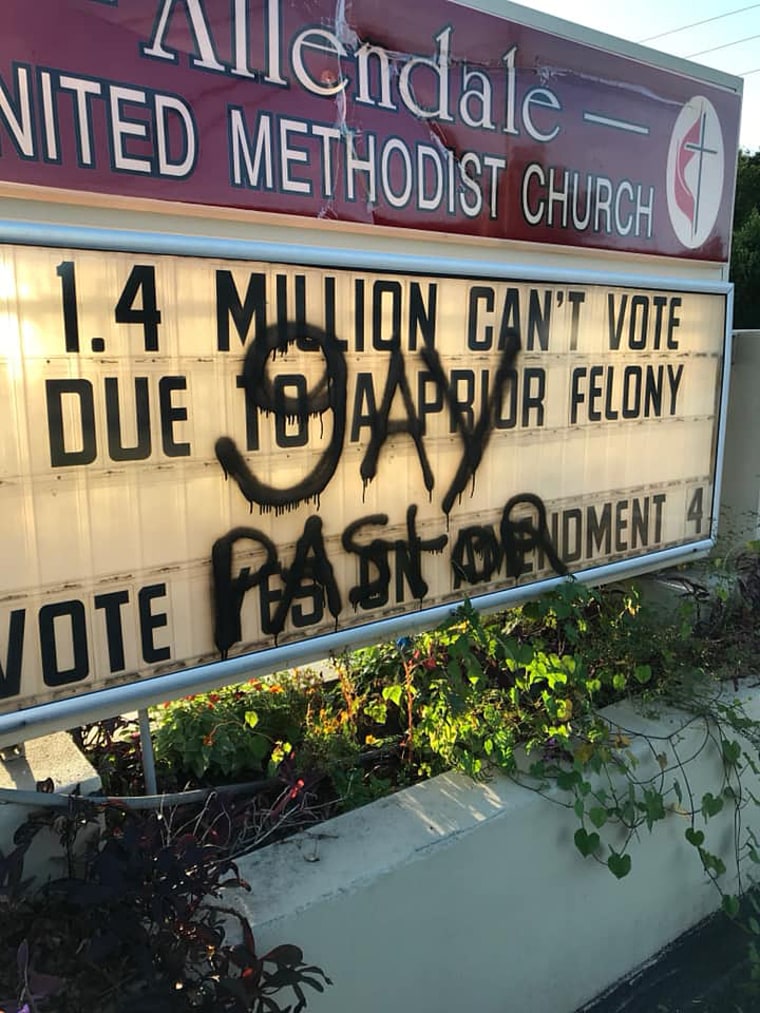 Before the church's "Love Always Wins" message, its sign said: "1.4 million can't vote due to a prior felony. Vote yes on Amendment 4."
Oliver said the church decided a few weeks ago to focus on this amendment — which if passed would automatically restore voting rights for people with felony convictions — until the November elections.
"We believe people that have made mistakes and paid their debts deserve a second chance," Oliver said.
Florida is one of four states that does not permit felons the right to vote unless a state officer or board restores their voting rights. Amendment 4 would not apply to those convicted of murder or a felony sexual offense.
Keeping with its decision to focus on Amendment 4 until November, the church posted a second message on the other side of its roadside sign after the graffiti incident: "Vandalism is a felony that shouldn't take away your vote for life! Vote yes on Amendment 4."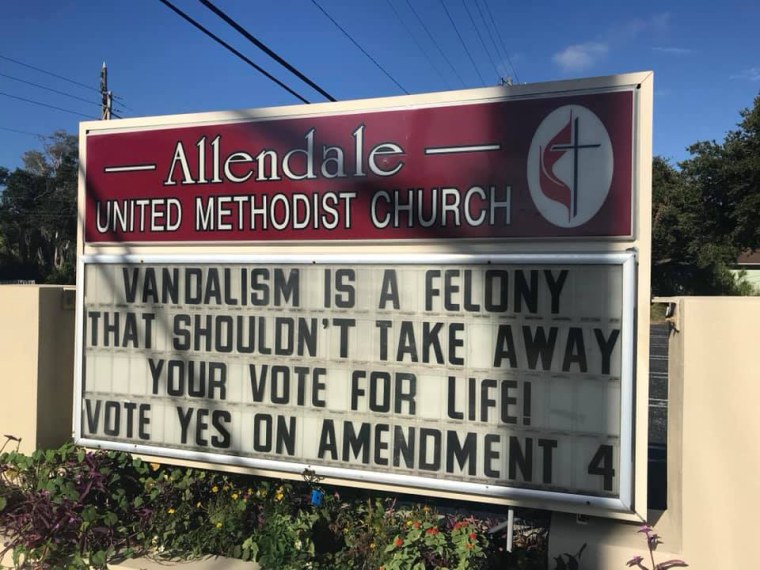 An official from the St. Petersburg Police Department told NBC News that the vandalism incident is under investigation as an act of "criminal mischief." There have not been any arrests, and there are no suspects, the official added.
Oliver said he believes the incident is part of an "extinction outburst." The theory is that just before "certain types of bigotry become extinct, you see an outburst" of these bigoted occurrences," he explained. He added that the key to combatting these "outbursts," which he said are currently happening across the country, is with solidarity and love.
When asked what he hopes people take away from this week's act of vandalism, Oliver was quick to answer.
"Being gay is a beautiful thing and a gift from God," he said. "Our church has benefited greatly from having a diverse community of lesbian, gay, bisexual and transgender people and allies."