Voters in Wilton Manors, Florida, on Tuesday elected the state's first and the country's second all-LGBTQ local government. Palm Springs, California, last year became the first locality in the U.S. to do so, according to the Victory Fund, which tracks lesbian, gay, bisexual, transgender and queer candidates and elected officials.
Justin Flippen, currently the city's vice mayor, was elected mayor last week, and current Mayor Gary Resnick and newly elected Paul Rolli will fill the commission's two vacancies. Scott Newton, the commission's only straight member, lost his re-election bid.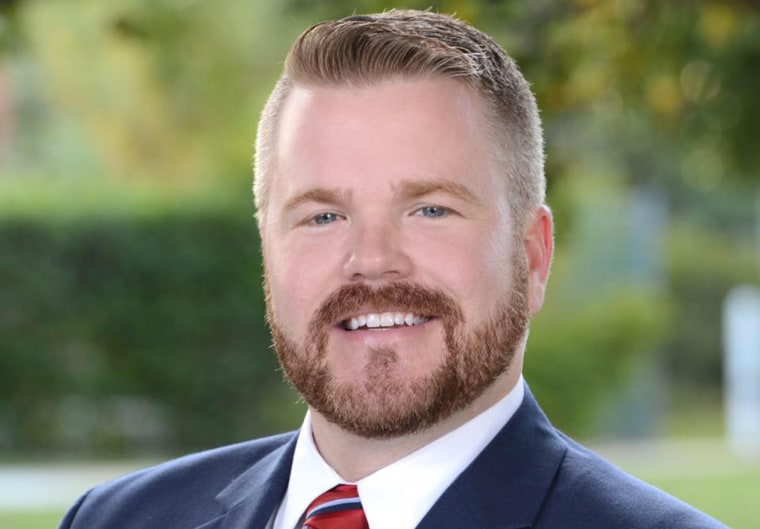 "In Wilton Manors, our goal is to serve as an example for other cities across the nation on how a municipality and community can prosper from being inclusive and accepting from policy to practice," Flippen, a Florida native, told NBC News after the election. "Wilton Manors is a city where whatever color under the rainbow you most identify with, you are welcomed, affirmed and respected for who you are."
Just north of Fort Lauderdale, Wilton Manors has the second highest rate of same-sex couples in the U.S., behind Provincetown, Massachusetts, according to UCLA's Williams Institute, which used data from the U.S. Census Bureau in its research. According to the institute's report, Wilton Manors has 125 gay couples per 1,000 households. San Francisco, for comparison, has just 30.
For the fifth consecutive year, the Human Rights Campaign, a national LGBTQ advocacy group, awarded Wilton Manors a perfect score of 100 on its annual Municipal Equality Index, which uses 49 criteria to measure how inclusive a community is for its LGBTQ residents and visitors. This year, 78 out of the 506 small, medium and large cities were awarded a perfect score.
Newly elected Paul Rolli, a retired IRS executive who moved to Wilton Manors with his partner 12 years ago, said the city "is on the verge of the next level of change from an economic and social standpoint." But he stressed that the positive changes on the horizon will be for all residents, not just those who identify as LGBTQ.
"While the city has a large LGBTQ population, it is not a majority," he said. "The fact that we now have an all-LGBTQ commission is a historical marker, but not necessarily a defining moment."
Echoing Rolli, Flippen said this is an exciting time in Wilton Manors for all its residents — gay or straight.
"Community in Wilton Manors means everyone, and when I take office as mayor, my mission is to serve all," Flippen said. "We are focused on local initiatives that will best prepare us for the future, specifically, driving economic growth while protecting the character of our neighborhoods, building community through programs and events, and planning for the resiliency of a South Florida city facing sea level rise and climate change."
Wilton Manors' all-LGBTQ commission is part of this year's so-called rainbow wave, which saw more than 150 lesbian, gay, bisexual, transgender and queer political candidates emerge victorious in the midterm elections.
"LGBTQ representation in government ensures the advancement of equality at all levels," Flippen said of the rainbow wave.
He also had a message for LGBTQ people who may be considering a future political run.
"We all have the ability to create change and civically serve," he said. "Don't let a history of underrepresentation hold you back from making a difference and setting an example for future generations."