Facebook has disabled some advertisements about the potential side effects of HIV prevention medication Truvada following complaints that they were misleading and a "harm to public health."
The decision comes less than a month after almost 70 LGBTQ advocacy organizations signed an open letter demanding the social media giant "immediately remove" the "inaccurate advertisements," which they claimed were targeting gay Facebook and Instagram users.
"After a review, our independent fact-checking partners have determined some of the ads in question mislead people about the effects of Truvada," Facebook spokeswoman Devon Kearns wrote in an email to NBC News. "As a result, we have rejected these ads and they can no longer run on Facebook."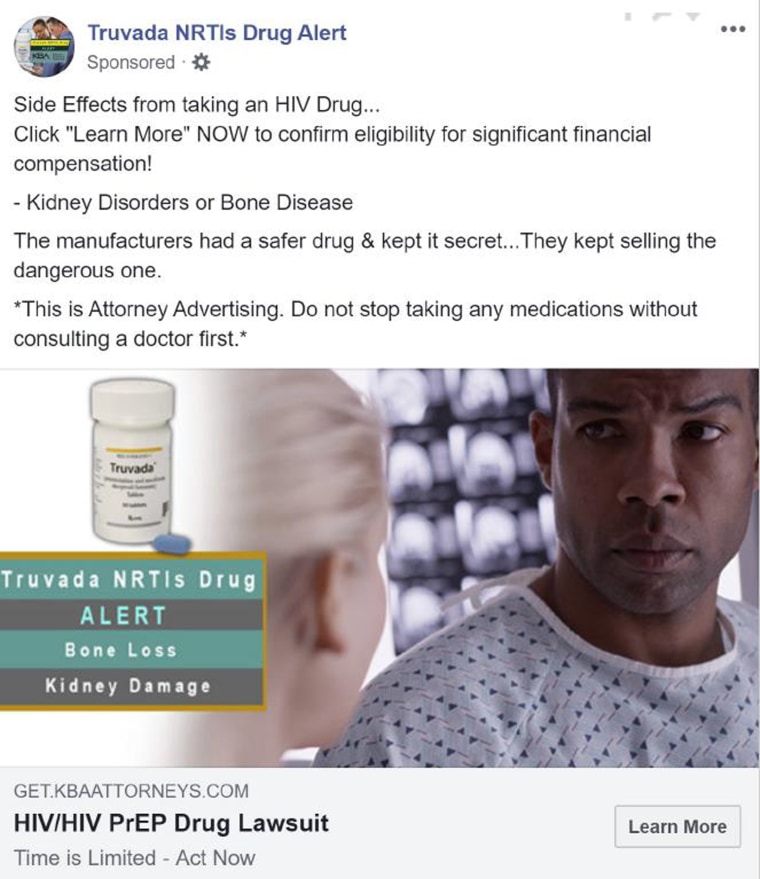 The advertisements, purchased by personal injury law firms looking to recruit plaintiffs for a class-action suit against pharmaceutical manufacturer Gilead Sciences, claimed that HIV prevention drugs were linked to serious bone and kidney damage. The problem, according to advocates and health experts, is that the side effects listed were only an issue for those who were living with HIV and undergoing long-term treatment — not those who used the drug as a preventative measure.
Health experts and HIV activists began advocating for the advertisements' removal in September. Some doctors expressed concern that the advertisements were having a "chilling effect" on the use of HIV prevention medication in the LGBTQ community.
"I've had my patients coming in to see me saying, 'Should we be switching me off of Truvada?'" Demetre Daskalakis, deputy commissioner of disease control at the New York City Department of Health and Mental Hygiene, said earlier this month. "It's really frustrating."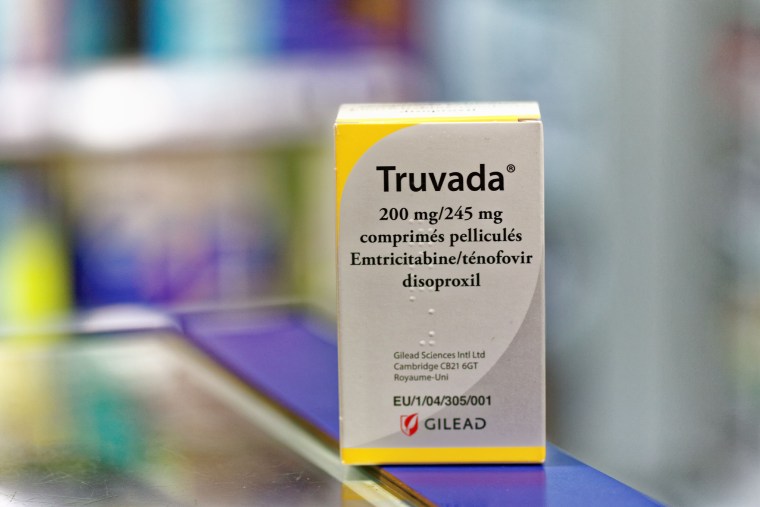 In recent weeks, lawmakers have joined the call for the ads' removal, including New York Gov. Andrew Cuomo, Sen. Bob Menendez, D-N.J., and Democratic presidential candidate Sen. Elizabeth Warren, D-Mass.
Facebook had initially declined to remove the advertisements, saying they had passed the muster of their independent fact-checking agencies. According to a spokesperson for GLAAD, the LGBTQ advocacy organization that spearheaded the campaign, one of the company's fact-checking agencies, Science Feedback, emailed the group Friday explaining that they had ruled some of the ads misleading.
According to Facebook's advertisement library, advertisements with similar language to those deemed misleading have also been removed. But in a statement from GLAAD, the organization said it has found many similar ads still running on Facebook, and called for the company to review its advertisement policies.
"Removing select ads is a strong first step, but the time is now for Facebook to take action on other very similar ads which target at-risk community members with misleading and inaccurate claims about PrEP and HIV prevention," GLAAD President and CEO Sarah Kate Ellis said in the statement. "The pervasiveness of these ads and the subsequent real world harm should be catalysts for Facebook to further review how misleading and inaccurate ads are allowed to be targeted at LGBTQ and other marginalized communities."
Peter Staley, a longtime HIV activist and co-founder of PrEP4All, a coalition working to expand access and use of PrEP medications, said that while the action is appreciated, its limited scope and Facebook's delayed response are concerning.
"It's a messy way to deal with what we've characterized from the get-go as a public health crisis that they are causing," Staley said. "It's not how you deal with AIDS activists, and it's not how you deal with a community that you have a formalized relationship with."
Staley said that he and other advocates are eagerly awaiting a formal response from Facebook, which he said the company has promised to release this week. He was both disappointed and unsurprised, he added, that it took a public outcry to elicit some action from the company.
"[Facebook] acts like a fortress on a hill, and the only way you get their attention is if you create a big enough cannon that punches a hole through one of their walls," he said. "God help anyone with an equally serious issue who doesn't have one of those cannons."