Homelessness is a growing epidemic in the United Kingdom. The number of people in the country living on the streets (or "sleeping rough") increased by 134 percent between 2010 to 2016, according to a recent government report, leading a committee of lawmakers to declare the issue a "national crisis."
Members of the U.K.'s lesbian, gay, bisexual, transgender and queer community are acutely affected by this epidemic: While LGBTQ people make up an estimated 4 percent of the nation's population, they comprise of 24 percent of homeless people under 25 years old. Issues such as family rejection and social stigma contribute to their disportioncate rate of homelessness, according to The Albert Kennedy Trust, a U.K.-based LGBTQ advocacy group.
Now, thanks to a successful pilot program that concluded earlier this year, Britain's LGBTQ homeless community will soon get its first permanent LGBTQ emergency shelter to help address this issue.
THE OUTSIDE PROJECT
Carla Ecola, a self-described queer homelessness activist, witnessed firsthand the lack of adequate resources for LGBTQ homeless people in the U.K. when she was homeless in her early 20s. After her five-year experience going from one insecure living condition to another, including sleeping in warehouses and derelict buildings, Ecola decided to help others facing circumstances she had once endured.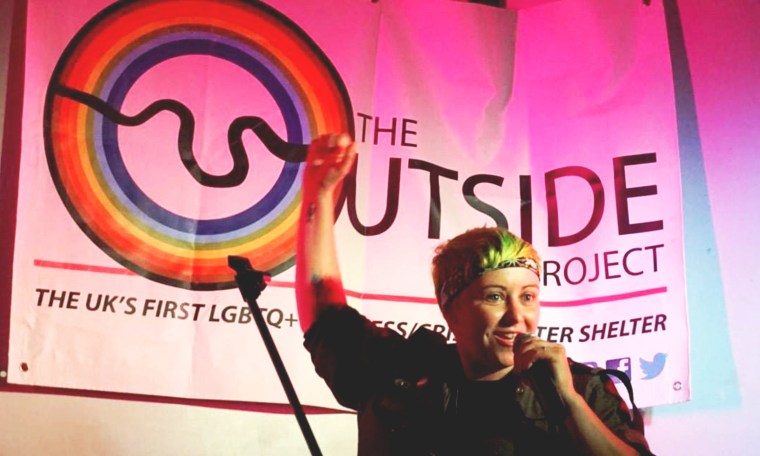 "There are relatively more queer people who are homeless, but we're not really seeing this reflected in service provision," Ecola told NBC News. "I thought 'Why don't we set up a shelter specifically for the LGBTQ community?' So I got a team together, and everyone was really in support of the idea."
Last year, Ecola created The Outside Project, the U.K.'s first LGBTQ homeless crisis shelter. Using some of the £11,500 ($14,827) raised from a crowdfunding campaign, she bought a 12-bed bus — the former tour bus of English rock band Status Quo — to house some of London's most vulnerable LGBTQ homeless residents.
"We put up flowers, flags, fairy lights, queer literature and art everywhere to make it nice for guests," Ecola explained. She said activists with both professional and personal experiences of homelessness helped to create a safe environment in the overnight shelter for LGBTQ people — many of whom have dealt with prejudice at traditional crisis centers or did not feel comfortable in mainstream shelters.
As Ecola expected, there was a massive overrepresentation of trans people accessing the shelter, which was in operation from Dec. 2017 to March 2018.
"In the first couple of weeks we only had trans women," she said, highlighting the additional challenges faced by the transgender community. A recent report published by LGBTQ-rights group Stonewall U.K. found 25 percent of trans people have experienced some form of homelessness, the same percentage also said they faced discrimination when looking to rent a house or apartment.
ANIRA'S STORY
One of the residents who stayed at The Outside Project's shelter during the pilot program was Anira, a trans woman of color who moved to London from Denmark in 2015. Although she had a job arranged before coming to London, a few months after arriving both her job and passport were lost.
"I didn't have money for a new passport, and, as I couldn't get a new job without any ID, it just went downhill from there," Anira, who declined to share her last name, explained. "I was sofa surfing a lot, and I couldn't stay in those places for long, so I had to go out clubbing a lot just to find guys to go home with for a place to sleep."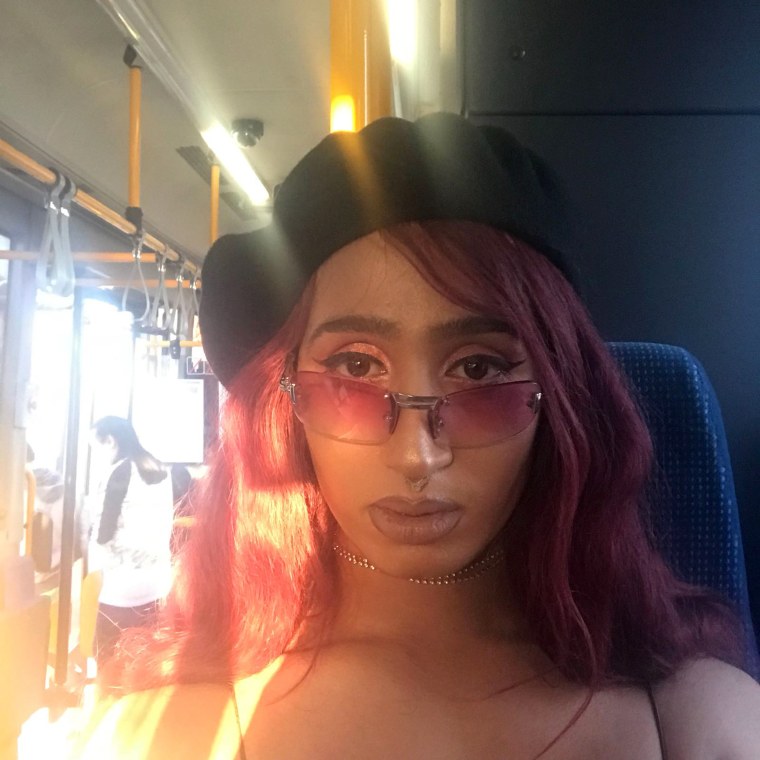 "As a straight-passing homeless person, you have to deal with finding a place to stay, getting food and other issues directly related to homelessness," Anira added. "But as a trans person of color, you have to deal with discrimination and ignorance from people on top of this."
After being referred to The Outside Project, things started to look up for Anira. More than just a place to stay for the night, Anira said the shelter fostered a sense of solidarity and community.
"When you come back to the shelter in the evening, you enter this small world where you can let your guard down and be you. I met some great people," she told NBC News.
The strong sense of community became one of the signature aspects of the shelter and gave residents an experience most wouldn't expect at traditional homeless accommodations. Trips to comedy events, cabaret shows and drag performances helped to establish a bond between guests, which was the first time some of them had the opportunity to be part of the LGBTQ community.
The reality for other LGBTQ people who are homeless is usually much different. Bob Green, CEO of Stonewall Housing, said the current level of support for LGBTQ homeless people in the U.K. is "absolutely not sufficient."
Green said his organization's "Finding Safe Spaces" research found many LGBTQ homeless people in the U.K. were reluctant to approach mainstream services, because they did not think the organizations would "have the expertise or resources to help."
"The shocking findings from research and speaking to LGBTQ people is that some would prefer to sleep rough, remain hidden or stay with abusive relatives or partners rather than access services," Green told NBC News.
For Anira, The Outside Project offered her support when it was needed most.
"It was hard sleeping rough, there was just so much harassment and ignorance from people who don't agree with how you look or dress. At the shelter, there was food, and they helped me with making phone calls and getting travel cards — it was finally a safe place to be."
GOVERNMENT FUNDING
Thanks to the success of the initial four-month pilot program, the London mayor's Rough Sleeping Innovation Fund (RSIF) announced earlier this month it would fund a permanent LGBTQ community center and night shelter. The upcoming facility will be managed by both The Outside Project and Stonewall Housing, which specializes in LGBTQ housing services.
Ecola said she was relieved when she got the call from the Mayor's Office offering to fund the center.
"We could only realistically and professionally self-fund a winter shelter as a pilot, which was tough, knowing that it was needed all year round," she said. "From an activist point of view, I felt really proud that our movement had created that space to demonstrate its need and get a government response within just one year, but our community shouldn't have to self-fund services that respond to the symptoms of systemic oppression."
Ecola is now looking for a suitable location in London to house the community center and night shelter. When opened, she said visitors and residents will be able to access a number of LGBTQ-led services, including housing and employment advice.