A prospective NFL player has claimed that an unnamed team asked him about his sexual orientation at the 2018 Scouting Combine, a weeklong showcase that takes place every February where college football players are connected with coaches, general managers and scouts.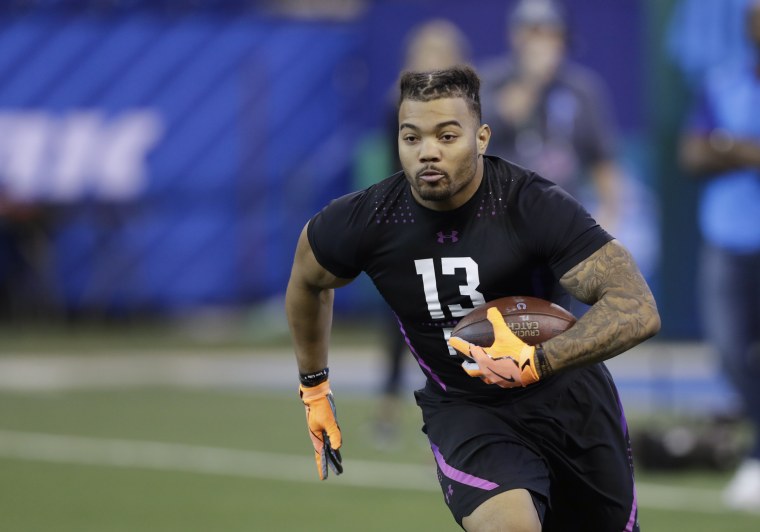 Derrius Guice, a running back for the Louisiana State University Tigers, said he was asked "if he likes men" at the combine, as well as whether his mother "sells herself."
"It was pretty crazy," Guice told SiriusXM's "Late Hits" on Wednesday night. "Some people are really trying to get in your head."
"I go in one room, and a team will ask me do I like men, just to see my reaction," he said during the interview. "I go in another room, they'll try to bring up one of my family members or something and tell me, 'Hey, I heard your mom sells herself. How do you feel about that?'"
NFL spokesman Brian McCarthy condemned the alleged line of questioning and told NBC News the NFL is investigating the incident.
"A question such as that is completely inappropriate and wholly contrary to league workplace policies," McCarthy told NBC News via email. "The NFL and its clubs are committed to providing equal employment opportunities to all employees in a manner that is consistent with our commitment to diversity and inclusion, state and federal laws and the CBA. We are looking into the matter."
This is not the first time the NFL has been flagged for inappropriate questions at the combine. In 2016, the Atlanta Falcons apologized to prospect Eli Apple for asking him if he liked men. In 2014, the league sent a memo to all teams reminding them they could not discriminate against players based on a host of factors, including sexual orientation.
"The league annually reminds clubs of these workplace policies that prohibit personnel from seeking information concerning a player's sexual orientation," McCarthy added.
For advocates, the incident is another example of how the world of athletics can be unwelcoming to lesbian, gay, bisexual, transgender and queer people. The Human Rights Campaign, a national LGBTQ advocacy group, swiftly released a statement, calling the question "unacceptable."
"The fact that Derrius Guice was asked by an NFL team — and a prospective employer — about his sexual orientation is absurd and inappropriate," Ashland Johnson, HRC director of public education and research, stated. "With similar incidents already reported, it's clear that the NFL did not do enough to prevent it from happening again. Guice's experience illustrates the risks faced by millions of LGBTQ people today in employment, athletics, housing and other areas of their lives."
Taylor Carr, a spokesperson for Athlete Ally, and LGBTQ sports advocacy group, told NBC News his organization "vehemently supports" an investigation by the NFL into the allegations.
"These questions are discriminatory, have no place in sport and only further perpetuate a culture of exclusion for the LGBTQ community in athletics," Carr said. "The NFL should take swift action against any team found to be using a player's sexual orientation as a factor for their interest in any prospect."