A former employee at a high-profile event company in New York claims in a discrimination complaint filed this week that he was fired because of his sexuality after his boss told him his salary was being cut in half because he was being paid "so much more than the other females in the office."
The ex-employee, Wesley Wernecke, says Eventique tried to alienate and degrade him after CEO Henry Liron David learned he was gay, said Wernecke's lawyer, Anthony Consiglio.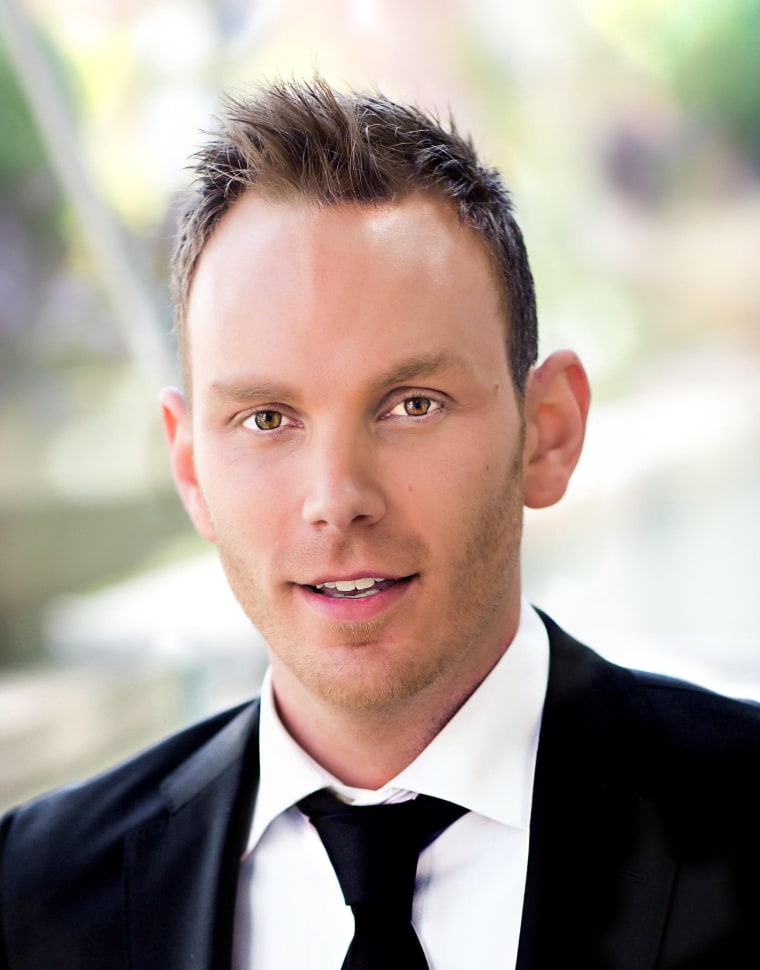 "Wesley was personally recruited by this employer to be a senior producer, and once he learned he was gay, the employer began shutting him out of the business," Consiglio said in an email to NBC News.
David's lawyer, Gena Zaiderman, denied the allegations, calling them "baseless."
Wernecke had just begun to work for Eventique, which stages events for high-profile clients, such as Nike, Twitter and Amazon, when David began to push him out of his role, the complaint filed Wednesday in Manhattan Supreme Court states.
Wernecke left his previous job at an event company in Boston, where he had worked for more than three years, to join Eventique in June. A week after he was hired, Wernecke's coworkers commented on his "girly" engagement ring. When a co-worker asked if his wife wore a similar ring, Wernecke replied that his partner, Evan, did.
From that point on, tension developed between Wernecke and his co-workers and David that had not existed before, according to the complaint.
In the interim months, the complaint alleges, Wernecke was ostracized and excluded from professional meetings and office social events, passed over for assignments with large commissions and subject to discriminatory remarks.
David intentionally excluded Wernecke from his weekly practice of welcoming employees every Friday with "a fist bump and a greeting of 'Shabbat Shalom,'" walking past Wernecke's desk without acknowledging him, the complaint says.
He also would exclude Wernecke from company lunches and frequent after-work drinks with "the fellas" in his office, the lawsuit states, and at one point, David gave an account Wernecke had been working on to another employee without consulting Wernecke.
The alleged discrimination took a toll on Wernecke's mental health, forcing him to book an appointment with a psychiatrist in August for the first time in his life, the document says, and he began taking anti-depressant and anti-anxiety medication to cope with the situation.
"David took pains to mark Wernecke as different from the other employees through these physical demonstrations," the complaint alleges. "Neither Wernecke's professional experience and accomplishments nor the goodwill he brought to Eventique's work earned him equality."
Eventually, David called Wernecke into his office to tell him his salary was being cut from the $145,000 that was initially agreed upon to $70,000.
"I couldn't sleep at night thinking that you were being paid so much more than the other females in the office," David told Wernecke, according to the complaint.
Not long after, Wernecke discovered that David had lowered his salary even more, to $58,000 or 40 percent less than the starting salary he was promised when he left his former job, the lawsuit says.
"David simply could not bear the thought that Eventique would continue to be represented by a gay man," the complaint states, referring to Wernecke's Oct. 4 firing.