Back when Esera Tuaolo was playing in the NFL, he never imagined that one day he'd be hosting an LGBTQ-themed sports event in the days leading up to the Super Bowl. The former defensive tackle was in the closet for his entire playing career. Now, at 49, he's finally witnessing the type of change and evolution he's been advocating for since he came out to the world in 2002 on HBO's news series, "Real Sports With Bryant Gumbel."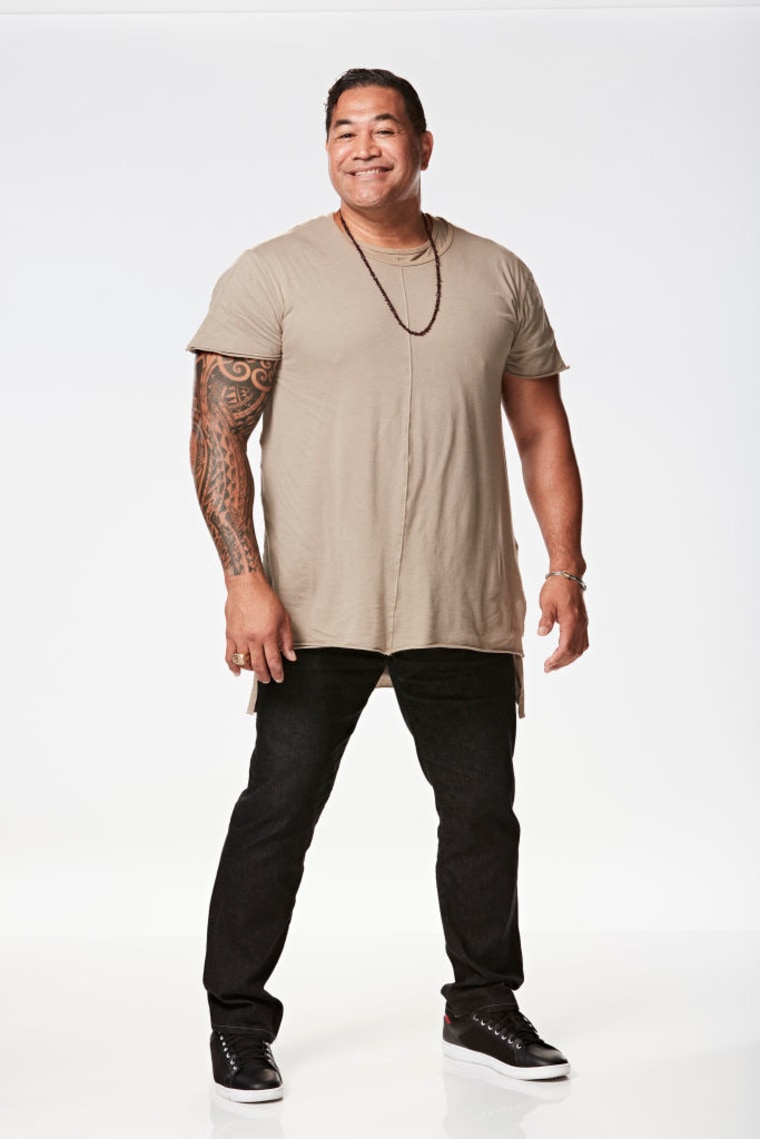 "I played nine years in the NFL as a closeted gay man," Tuaolo told NBC News. "When I came out, I started speaking out against hate, bullying and homophobia in sports. I'm proud to represent the LGBTQ community, and it's always been a dream of mine to foster a positive relationship with the NFL and to create something like a support group or an event where people can come and be who we are and educate others on inclusion."
Tuaolo, who played in the NFL from 1992 to 1999, spent most of his career with the Minnesota Vikings. Things were very different in the sports world and even in society then, and Tuaolo said homophobia was rampant and often swept under the rug.
But times have changed, and Tuaolo believes we are on the path to inclusion and acceptance — even within the hyper-masculine culture of the NFL.
"I was in the closet for 35 years, and I was afraid to speak up, because the environment around me was so hostile."
Esera Tuaolo
"I decided about a year ago, knowing the Super Bowl was going to be here in Minneapolis, to put this together," Tuaolo, who currently residents in the city with his family, said. "To have the opportunity and the support of the NFL is something I definitely thought would never happen. Now there's space to have a conversation, and I want people who come to learn about inclusion just by being there and interacting with everyone."
The event, billed as "Esera Tuaolo's Super Bowl Inclusion Party," will take place on Wednesday in downtown Minneapolis. A handful of former and active NFL players will be in attendance, something Tuaolo couldn't have imagined back when he was in the league.
Along with professional athletes, Tuaolo — who was on NBC's competition show, "The Voice," this past season — helped to arrange performances by some of the hit program's former contestants. The event will serve as a fundraiser for several Minneapolis-based organizations, including The PACER's National Bullying Prevention Center, Avenues for Homeless Youth and Tuaolo's own anti-bullying nonprofit, Hate Is Wrong.
"I know we won't be able to convince everyone with a single event," he confessed. "But we're hoping that the inclusion party helps."
Tuaolo speaks at colleges across the country about inclusion in sports, and he said he gets emails from "so many athletes who are still in the closet."
"They have no idea that there are resources available to them or that their school supports the LGBTQ community," he explained. "I wish I had that when I was at Oregon State. I wish there was a speaker who would have come and spoke to my school about homophobia."
Tuaolo said one of the main goals of the event and his broader work advocating for inclusion in sports is to foster an environment where closeted athletes can witness the support and acceptance that is available to them. He said the more they see that they won't be ostracized or villainized for who they are, the more likely we'll see an active NFL player come out in the near future.
"I was in the closet for 35 years, and I was afraid to speak up, because the environment around me was so hostile. But now you have these young athletes coming out, like Michael Sam and others, who are educating people while they are still playing," he said. "It's just amazing to see. It's safer for athletes to come out, and the more that do come out, the better it is for the younger generation."
Tuaolo also stressed the importance of having an LGBTQ person who has had similar experiences in the world of sports providing guidance for others in the community.
"I played in a lot of NFL games, and I gave all of my blood and sweat just as much as everyone else," he said. "So, to have someone like myself, who has been in the trenches, who knows what it's like in the locker room, I think that would go a long way."