Four transgender people are suing the the Ohio Department of Health, because they are unable to change their birth certificates to reflect their gender identity.
"Ohio's practice, which each Defendant enforces, violates federal constitutional guarantees, including the rights to equal protection, due process, and freedom from compelled speech," the lawsuit, filed by the American Civil Liberties Union, the ACLU of Ohio and Lambda Legal stated. "There is no government justification to support Ohio's refusal to provide transgender people with accurate birth certificates matching their gender identity."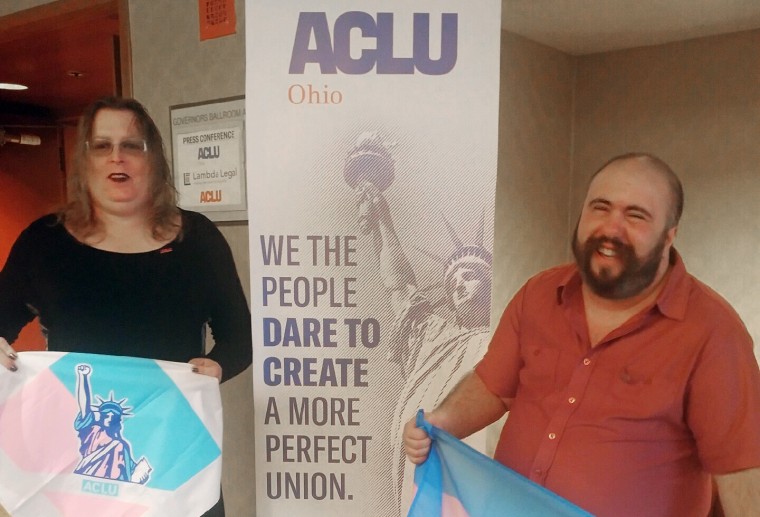 Ohio, which permits residents to change gender markers on state-issued driver's licenses and other state identification cards, is one of only three states — along with Tennessee and Kansas — that does not permit transgender individuals to change gender markers on birth certificates. Last month, a judge in Idaho ruled that the state must allow transgender Idahoans to do so.
"It's past time Ohio complies with the Constitution's promise that all people have a right to live freely and openly in society as who they are, without fear of discrimination," Susan Becker, general counsel of ACLU of Ohio, told NBC News. She added that the outcome of this case will have a "profound impact on a lot of people's lives."
The Ohio attorney general's office said it is reviewing the lawsuit. The Ohio Department of Health declined to comment.
Nearly 70 percent of transgender people do not have an identification document with their preferred name and gender marker, according to a survey conducted by the National Center for Transgender Equality. As a result, the survey found more than half of respondents reported experiencing some form of discrimination, including verbal harassment and physical assault.
Stacy Ray, one of the lawsuit's plaintiffs, told NBC News the inability to change her gender marker on her birth certificate had a substantial impact on her employment situation. At one job, Ray said coworkers mistreated her after learning she was transgender from a human resources employee who had seen her birth certificate. After leaving that position, Ray sought a higher paying job that required a background check from the Transportation Security Administration.
"The TSA didn't want to give me a background check," Ray said. According to the lawsuit, a TSA employee publicly humiliated Ray and denied her request for a background check, because her driver's license and birth certificate did not match.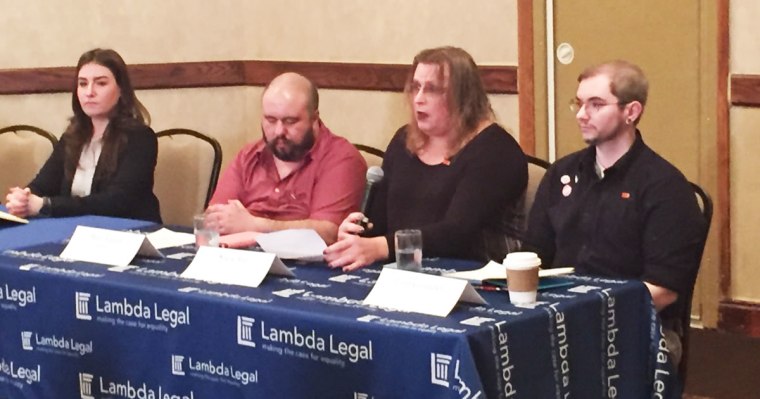 When Ray sought to change the gender marker on her birth certificate, an employee at the Ohio Department of Health's Office of Vital Statistics refused her request. According to Ray, the employee said, "Even if you sue us, we won't do it."
Ray lamented the "extra hoops" transgender people in Ohio must jump through in order to access basic services or obtain employment. "It's a lot of extra legwork that a cis (non-transgender) person doesn't have to do," she said.
While Ohio is one of just three states that does not permit trans people to change the gender markers on their birth certificates, Becker noted that many states across the U.S. will only do so with proof of gender-confirmation surgery.
"There are people who don't want the surgery, can't afford the surgery — so having that requirement sets an unreasonable bar," she said. "Only about half the states allow transgender individuals to change the birth marker with an administrative process, and that's what we are pushing for."
Arli Christian, an attorney for the National Center for Transgender Equality, said the federal government has a "fairly uniform standard" for the alteration of identity documents. By contrast, Christian said the states have a "smorgasbord of requirements."
When it comes to birth certificates, Christian said 11 states and the District of Columbia do not require proof of surgery; 21 states require proof of surgery; and 10 states have no clear practice, leaving the decision up to judges and state officials. Three states, including Ohio, do not allow amendments. Five state — Montana, Oregon, Washington, California and Nevada — have adopted a policy that just requires a simple administrative procedure.
Streamlining the process by which transgender people can obtain up-to-date identity documents is, according to Christian, "another step in moving us toward ensuring that governments are respecting transgender people and providing the right documentation to make sure everyone can participate in society fully."
For Ray, a policy change cannot come soon enough. "It's 2018. It's time to wake up and stop all forms of discrimination," she said.