College fraternities strive to establish powerful connections of lifelong brotherhood, but in the case of Adrian Homer and Harrison Guy, their fraternity experience also produced a long-term romance.
Homer was a senior at Prairie View A&M University near Houston, Texas when he decided to join Delta Phi Upsilon, a fraternity established in 1985 for gay men of color.
Guy, a business professional and Delti Phi Upsilon veteran, was assigned to be Homer's mentor during the pledging process. To the surprise of both men, a fraternity bond that started in 2007 would lead to a romantic partnership and then — this past spring — marriage.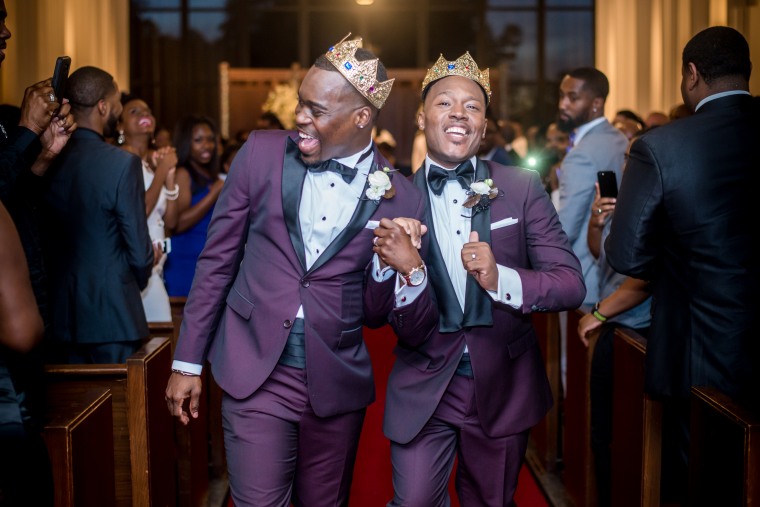 Delta Phi Upsilon
Delta Phi Upsilon was started on the campus of Florida State University in Tallahassee and is currently comprised of more than 300 members in city chapters across the U.S. Its mission, according to its website, is to "build better brothers by encouraging intellectual achievement, improving the public stature of gay people, promoting unity among gay men and support a progressive interest in the social and civic welfare of such men."
"The organization seeks to create a platform for brotherhood 
for black gay men, which was something that was highly missing at the time,"
 Guy told NBC News. "When I came into the gay community here in Houston, the 
chapter had a strong presence in the community."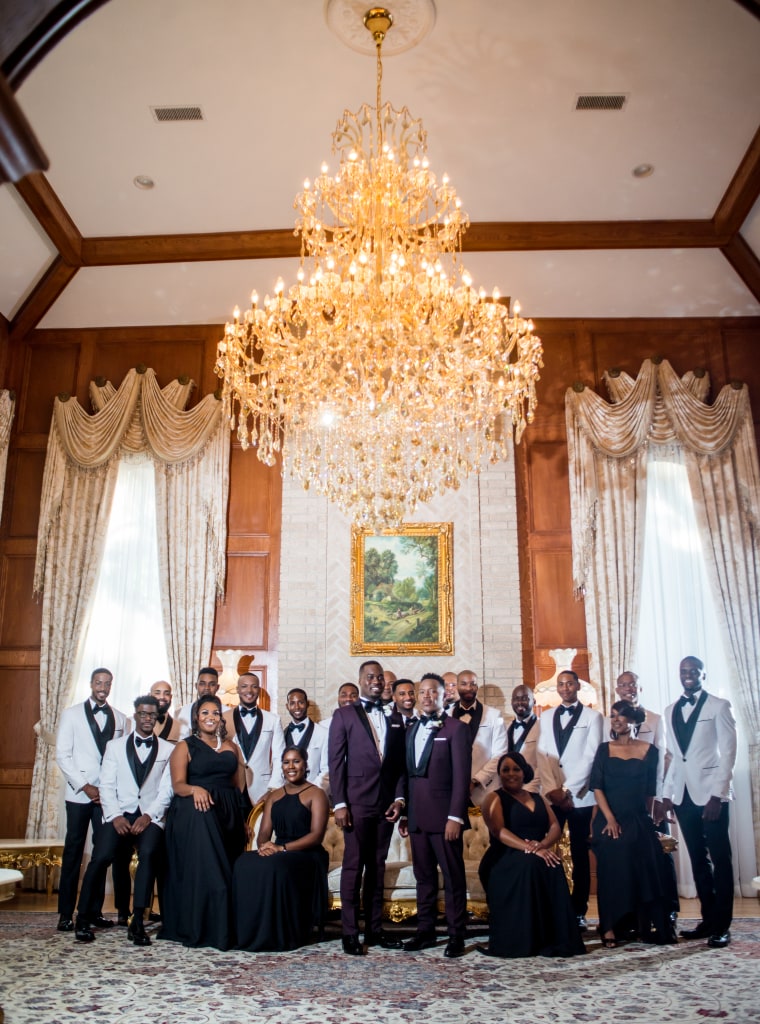 Guy and Homer said they were attracted to the organization, 
because it provided a space where individuals could be their authentic selves.

"I wanted to join an organization where I can be comfortable 
with my actual sexuality. When I started going around the organization, and I
 started seeing the members of the organization, I saw that these gay men are successful
 and they're doing stuff in the community," Homer said.
Delta Phi Upsilon attracts men across the LGBTQ spectrum. 
Some of the men in the organization are questioning their sexuality, some are 
openly gay and others are somewhere in between. Guy said groups like Delta Phi
 Upsilon are important for both the black and gay communities.
"I think in both communities we still have a long way to go. I think that organizations like Delta Phi Upsilon allow black gay men a space
 where we can explore empowerment, which I think is really important," Guy
 explained. "I think your self-confidence leads you to the trajectory of your
 life. The more organizations you can get in where they're going to empower, I 
think it puts you on a trajectory that's closest to your best self."
A Budding Romance
When Homer and Guy met, they were 22 and 29, respectively,
 but their nearly eight-year age difference was never an issue for either of them. 
After Homer completed his initiation requirements to join Delta Phi Upsilon, he
 started to text Guy informing him of his romantic interest. Text messages then 
followed dates, which ultimately led to the start of a 10-year relationship.
Just as their age gap was never problematic for them, neither
 was the fact that they are fraternity brothers.
"I don't think it was weird for either one of us. We already
 had a respect for each other going into it," Guy said. "Within the organization, it's 
probably mixed. I think people would love to be able to say we have this 
organization of black gay men, and we are never are romantically involved with 
each other, because we are brothers. I don't share that idea. I'm on the other end of the spectrum, where I believe if this is a cohort of the best men
 available, then why not?"
The Proposal
Guy proposed to Homer in downtown Houston on the couple's seventh anniversary. Homer thought they were simply celebrating their dating anniversary, but Guy had him fooled.
"I had gathered all of our friends and had them meet us at 
this gazebo downtown," Guy recalled. "We went to eat at a jazz restaurant, and we got on a 
horse and carriage, and once we got to the gazebo, Adrian saw the rose petals on 
the floor. The rose petals led up to the gazebo, and there was a guy 
singing a John Legend song with an acoustic guitar and two male dancers. I 
proposed to him in that moment."
The Wedding
The couple's wedding took place at the University of 
Houston's A.D. Bruce Religion Center. The theme of the event was a "Southern
 Coronation of Love," with Homer and Guy crowning each other at the end of the ceremony. Prior to the crowning, a poet told their love story to a crowd of about 275 guests.
Homer and Guy said their families have been very supportive 
of their relationship and were part of their special day. Their mothers even
 walked them down the aisle.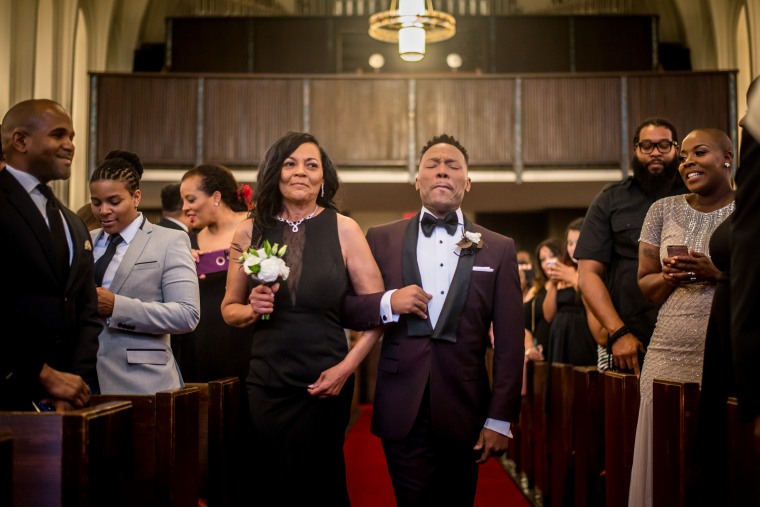 "I have a very awesome and dynamic relationship with my family. They've always been 
supportive — I got lucky," Guy said. "I came out at 18, my freshman year of 
college, and it was a great coming out story. Unfortunately, that's not
 everyone's story."
As for Homer, he said his parents have always been his inspiration.
"My parents have been married for 37 years," he said. "
If they could survive through everything for 37 years, I know I can as well."
Homer and Guy had a total of 15 groomsmen and four groomsmaids take part in their wedding. They both said they remain very close to their Delta Phi Upsilon brothers, and six of them were in their wedding party.
The couple also paid tribute to their friend Chyna Gibson, a transgender woman who was killed earlier this year in New Orleans.
"She was so excited about being in the wedding, so we had to 
incorporate her into the ceremony," Guy said. "We opened it up with the officiant 
doing a tribute to her and laying a rose at the altar."
Married Life
Since tying the knot in April, Homer and Guy have received a significant amount of support and 
attention from social media. They believe their story has attracted attention 
due to the lack of representation of black, gay love.
The
 newlyweds are currently enjoying married life and plan to have kids in the 
future. They hope their story will inspire others to live their truth 
and their best life.