Many students and faculty members at the University of North Carolina Wilmington (UNCW) have had it with Professor Mike Adams, and there's currently an online petition to get the professor—who, according to the petition, "has a history of spewing misogynistic, xenophobic, transphobic, homophobic, racist rhetoric" —fired from his job.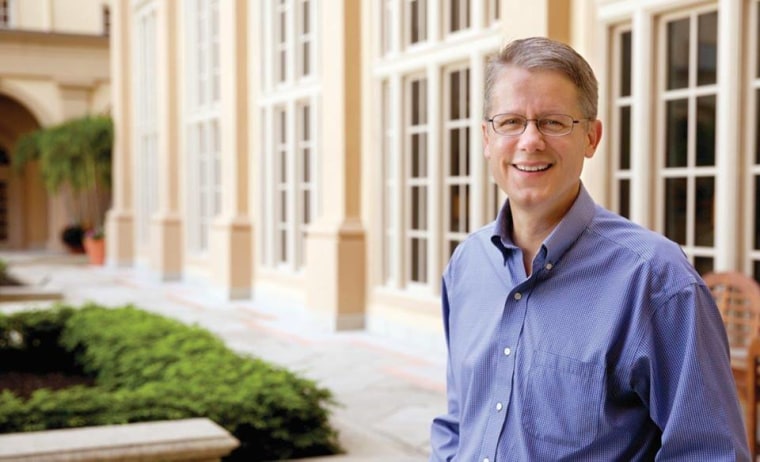 Most recently, the criminology and sociology professor has been accused of openly harassing an LGBTQ Muslim immigrant student, Nada Merghani, in articles and social media posts. But it's hardly the first time he has been accused of targeting a student or a faculty member under the guise of "free speech."
According to Kelly Williams, an alumna of UNCW and a Community Outreach Manager at the Wilmington YWCA, Adams has harassed "10 or more students over the past 15 years." Some of those current and former students wrote lengthy anecdotes about their run-ins with Adams on the new Change.org petition that calls for the university to fire him. The petition, as of Wednesday afternoon, had more than 3,300 supporters.
Mikaela Fleming is one of the students who shared her experience of being "harassed and ridiculed" by Professor Adams on the petition page. In the spring of 2015, Fleming wrote, she was among the UNCW students who protested an anti-abortion group that came to campus displaying graphic imagery comparing abortion to the Holocaust and to slavery.
Fleming was interviewed by reporters at the time and was later stunned when Adams—a professor at her school—posted the news footage on social media along with threatening statements that she said were connected to her news appearances, including a post that read: "The mortality rate among people who disagree with me is right at 100%. So just nod and go with the flow. Or face the consequences."
Adams, whose Facebook and Twitter pages can be viewed publicly, has a long history of posting controversial comments on social media—many of which are aimed at ethnic, religious and sexual minorities.
Fleming said she and other students met with the UNCW administration to complain about years of comments and articles they felt directly harassed students at the school. Nothing was done, according to Fleming, and she eventually graduated.
The current petition calling for Adams' removal isn't the first such petition. A similar one circulated online two years ago, alleging Adams had waged war against a married lesbian professor who was then head of the campus LGBTQIA Office. Adams wrote a letter to the university chancellor—titled "Caged Animals" and posted to conservative blog Townhall— insisting that Amy Schlag be fired or else he would sue. Schlag resigned shortly after, though UNCW, in a Facebook post, said "Her resignation has nothing to do with Professor Mike Adams or an issue with her beliefs."
Another two-year-old petition sarcastically called for an "I Hate Mike Adams Day" on campus. It was signed by Adams himself. The petition appeared shortly after Adams—represented by the powerhouse anti-LGBTQ law firm Alliance Defending Freedom—won a lawsuit that found UNCW violated the professor's First Amendment rights by denying him a promotion (allegedly because of his right-wing postings online).
Ever since Adams won that lawsuit, according to students and faculty with whom NBC OUT spoke, he has practically been untouchable.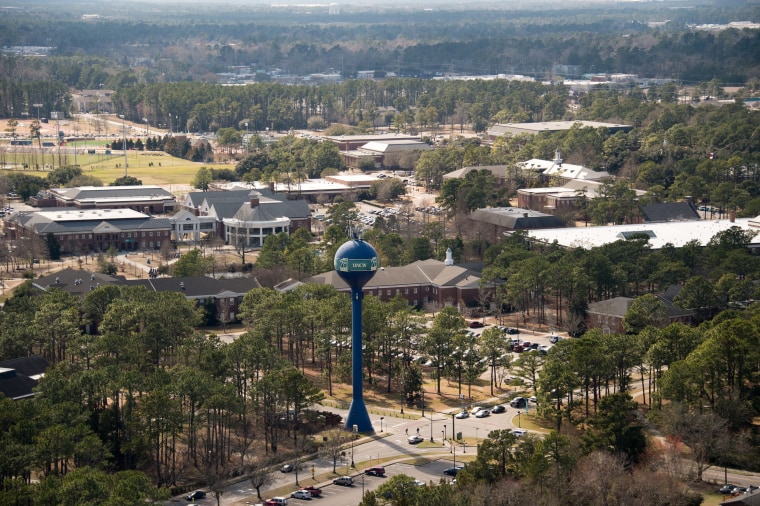 Nada Merghani was just 17 at the time Adams first posted about her, she said. A friend forwarded the Facebook post to the self-identified queer, Muslim, Sudanese refugee who was a freshman at the time. According to the Daily Beast, the April 2015 post, which Adams allegedly sent shortly after seeing Merghani at the abortion protest on campus, said "The only thing more disgusting than a jihadist Muslim is a pro-choice Muslim." NBC OUT has not been able to independent verify this post.
Merghani, now 19, said Adams, 52, continued posting incendiary comments about her online without referring to her by name—though she said it was clear that she was the only student he could mean. The comments and posts continued over the next year and a half, she said.
"We've never had an interaction. Never met in person, never spoken," Merghani told NBC OUT. "It's just this weird two-year fixation on me."
Adams, however, stated in a Daily Wire post that he had the "displeasure" of meeting Merghani at the 2015 abortion protest:
"When I first encountered Merghani at a pro-life event on our campus she stood in front of our display for hours on end yelling at the top of her lungs at every passerby. This was clearly an effort to abort our conversations about abortion. It is my opinion that the condition this confused pro-choice anti-free speech Muslim crusader suffers from is nothing more than attention deficit disorder…"
In that same Daily Wire post, which was published this past September, Adams used Merghani's full name—and openly questioned whether she is a jihadist (the article was written after Merghani was confronted by the Secret Service regarding a Facebook post she had written prior to a Donald Trump rally on campus). He also wrote that her queer muslim identity was an "act designed to fit into as many victim categories as humanly possible," and he called her "the most frightening type of student imaginable … a self-described 'queer Muslim social justice warrior.'"
In response to an NBC OUT email questioning his Daily Wire article about Merghani, titled "A Queer Muslim Jihad?," Adams clarified that he "did not call her a jihadi." When pressed again for explanation regarding his use of the term "jihad," he responded, "Let me explain it slowly. A Queer Muslim Jihad is a question. Note the question mark at the end. I answer the question of whether she really is a jihadist or poses a threat in the body of the article. I specifically explain that she is not a threat. Just someone seeking attention."
"My mom is devastated," Merghani told NBC OUT. "Normal college kids are worried about finals and going home for break. I'm over here worried about someone who commented on a Mike Adams article about initiating gun violence against me is actually going to follow through on that threat."
Three weeks ago, Merghani posted a desperate call for help to her Tumblr page, along with screengrabs of comments saying things like "Shoot all Muslims and let Allah sort them out" on Adams' latest article about her. The Tumblr post was reblogged tens of thousands of times.
Merghani, like other students and faculty members targeted by Adams in the past, decided to leave the school. On Monday—the same day that an article about the situation appeared on the Daily Beast—she received an acceptance letter from UNC Charlotte. She'll be leaving Wilmington on December 5.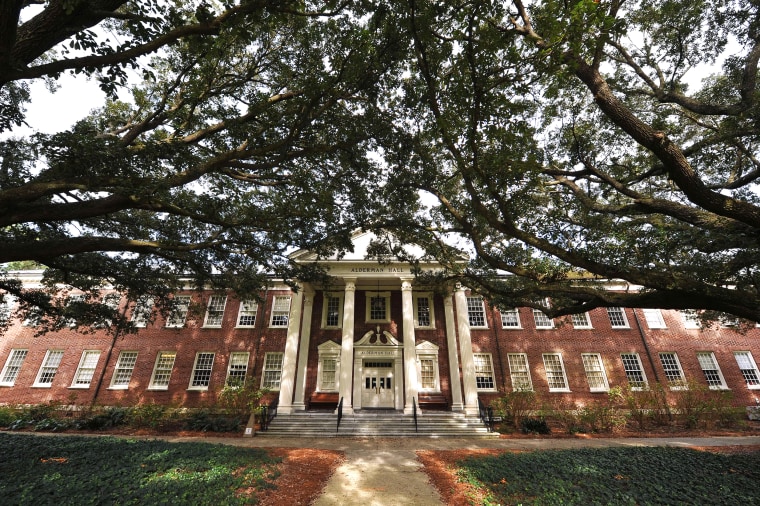 The university administration's response to the Adams debacle seems, to Merghani and others, based on fear of being sued again rather than a commitment to protecting its students from discrimination. Merghani told NBC OUT that she had visited every office on campus seeking help after Adams began posting about her—and after his posts incited an influx of harassing and threatening messages from his supporters.
"There was such a defeatist air around the idea of Mike Adams at the institution," Merghani said she learned through her attempts. "There had been so many reports filed, so many attempts to get him fired [over 15 years]. I just kind of thought, oh I guess there's nothing that can be done, and I have to leave."
No one helped Merghani file a complaint with the Department of Education, or even suggested that she do so. To Williams, the lack of action came as no surprise. She told NBC OUT that she experienced racism at the hands of a professor when she attended UNCW years ago. Williams grew emotional as she recalled the professor saying a paper she wrote "couldn't have come from your brain."
"It was pure racism, and I complained," Williams said. "But nothing was done about it. I transferred to another school, just like Nada is transferring."
In response to a request for comment regarding Merghani's complaints and Adams posts about her, a UNCW spokesperson sent NBC OUT a carefully worded acknowledgement of the issue:
"We are deeply disappointed by the use of hateful, hurtful language to degrade a fellow human being, even when that language is legally protected speech. However, we have fully investigated this matter and believe we have done all we are able to do to support the student involved, given that the comments were not made in a UNCW living, learning or working environment or otherwise affiliated with the faculty member's role at UNCW. At this time, we are focusing on continue to listen to our students' concerns about our campus climate and will be doing what we can to address their needs moving forward."
The university did not respond directly to questions about whether Adams' behavior violated federal anti-discrimination protections set forth by the U.S. Department of Education among other laws. But that was exactly the point raised by UNCW Associate Professor of Creative Writing Wendy Brenner, in an email to NBC OUT.
"The primary component of a university professor's job is to contribute to, support, and help build students' futures," Brenner said. "The question is not whether Professor Adams has the First Amendment right to post his statements – although it should be noted that harassment of a student based on national origin, race, sexual orientation, and religion violates both federal law (Title VI) and North Carolina's criminal cyberstalking law."
Brenner noted that Adams has long attributed his incendiary commentary to "free speech." While she's never personally had Merghani as a student, she said that Adams's behavior has created a stressful work and learning environment that affects everyone in the UNCW community. She also expressed frustration over ways in which policy hasn't caught up with the social media age.
"While a professor's offensive statements made to or about a student in class would certainly be actionable and a violation of UNCW's harassment policies," Brenner said, "Posting such statements online is arguably a much more damaging action, as it puts the offensive statements into the student's 'living and learning environment' 24/7, indefinitely, and with an incalculably larger audience."
On Tuesday, the entire webpage of the Office of the Chancellor was devoted to an ongoing stream of semi-apologetic responses to the Adams situation. Included among the posts is a November 16 letter from Student Body President Dan McCord admonishing Adams: "We will not stay silent while a member of our community feels threatened. It is shameful to use rhetoric as a means to demonize and degrade somebody in such a manner."
Merghani said that despite an "unsupportive" administration, the students and faculty at her school have rallied around her. And even though she's transferring to another UNC branch in another city, she's prepared to continue the fight.
"I've accepted what happened to me, but if I have to see this happening to someone else," said Merghani, "I won't be able to live with that."