When TIME included Alison Bechdel's Fun Home on its list of 10 Best Books of 2006, the graphic novel was described as "the unlikeliest literary success" of the year. By that time, the memoir had received rave reviews and would go on to win a number of prestigious awards.
"It was beyond my wildest expectations," Bechdel told NBC OUT when asked about the book's success over the past decade.
Fun Home - first published 10 years ago this month - chronicles Bechdel's childhood, her coming out process, her complicated relationship with her closeted father and his eventual suicide.
"I felt very righteous about telling this intimate story," said Bechdel, when asked if she ever regretted sharing such deeply personal details. "It was an important story. Yes, it was exposing intimate details about my family ... but I felt I was on a mission, that I had to do this."
A decade after the New York Times called it an "engrossing memoir that does the graphic novel format proud," Fun Home is still collecting accolades, and Bechdel said the positive response feels like a win for the broader LGBTQ community.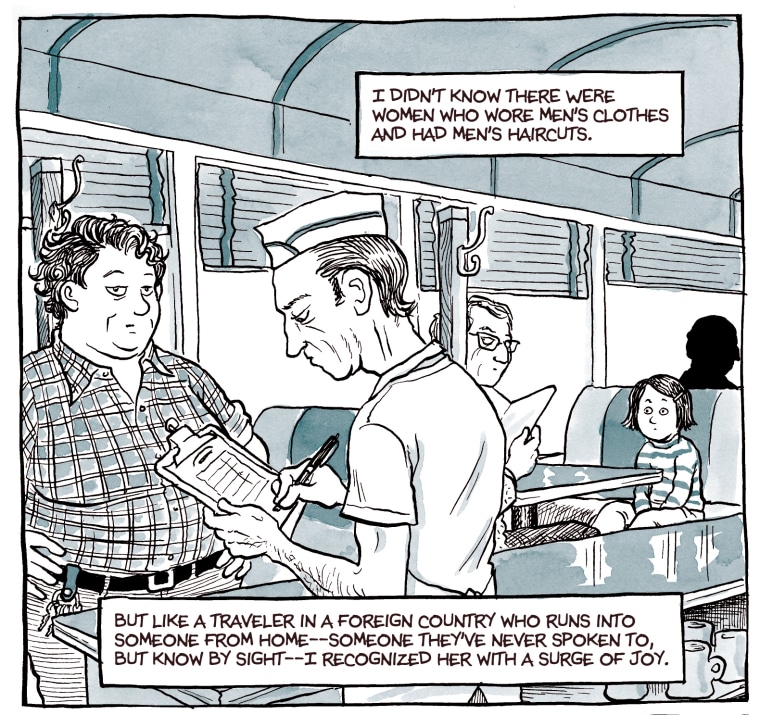 "The reception of the book felt like such a mainstream embrace of a queer story, but then it got exponentially larger with the play," she added.
A testament to the story's lasting success, Fun Home was adapted into a stage musical by Lisa Kron and Jeanine Tesori and made its way to Broadway in 2015.
"It sounded like a pretty cool idea to me," said Bechdel, who had previously turned down an offer to adopt her memoir into a movie. She also said part of the reason she agreed to the musical adaption was the involvement of Kron, a veteran playwright.
Kron told NBC OUT she read Fun Home for the first time around 2007 and thought - like many others - it was a "masterpiece."
"I think that the reason the graphic novel is so perennially powerful is that there is an underground river of yearning that is in the book," explained Kron. "On the surface of the book is Alison's intellect and almost essayistic search to understand her father, and deep down there's this current of yearning. I think what the musical does is express that in the music."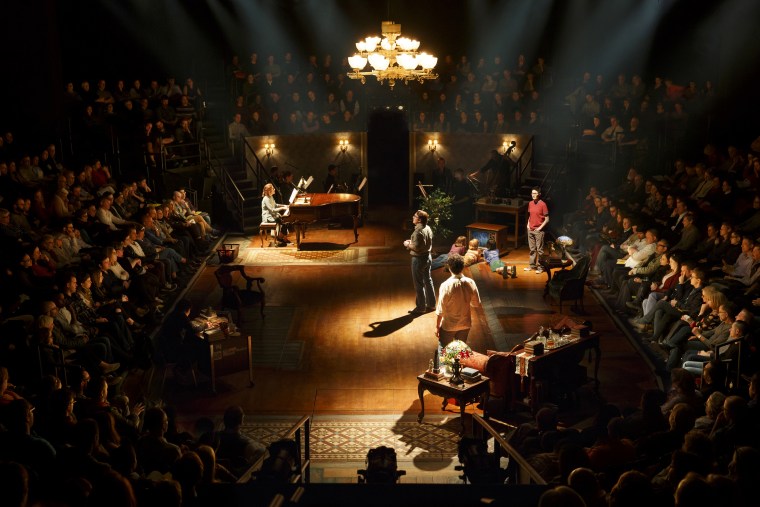 Fun Home, however, was "very difficult" to take apart and remake in a different form, according to Kron, who worked on the adaptation for seven years. But remake it she did, and Bechdel - who was minimally involved int he process - said she was "ecstatic" about the final product.
"I saw it evolving over the years," said Bechdel, who added she "was blown away in small waves all along."
She was not the only one blow away by the musical adaptation. After a slew of positive reviews, Fun Home went on to win five Tonys, including Best Musical.
Kron, who is a lesbian, said she believes the musical came at the right time, opening on Broadway just a few months before same-sex marriage was legalized in the U.S..
"I have had such incredible timing," Kron added, when asked about the significance of five Tonys being awarded to a musical with a lesbian protagonist that was adapted by a lesbian playwright. "Those doors were opening in front of me, and they were closed to the people who came just before me."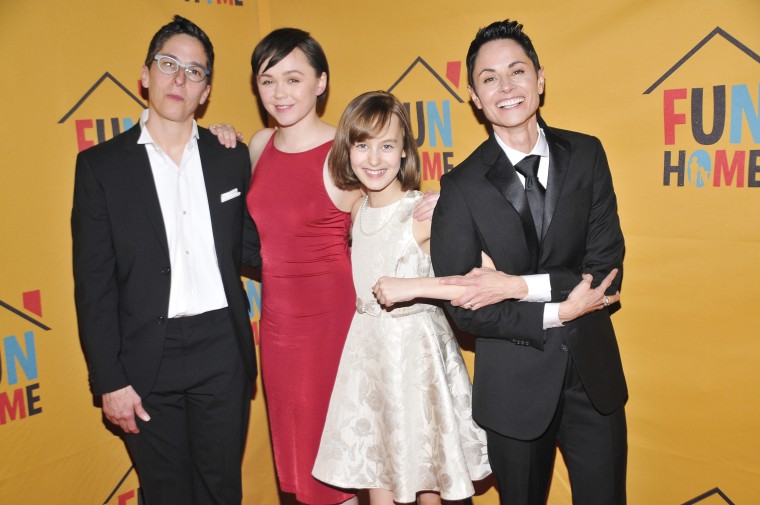 Asked to reflect on the pace of change for LGBTQ rights since Fun Home first came out in 2006, Bechdel said "things have been moving so much faster" than she ever would have expected.
"Certainly when I was a young woman, [knowing] gay people would have gotten married in my lifetime, I would have keeled over."
While there's still plenty of time to read Fun Home the book, it was recently announced the musical will end its Broadway run in September.