A GoFundMe campaign to support college athlete Emily Scheck, who was disowned by her family after they discovered she had a girlfriend, surpassed $100,000 on Tuesday — well over the initial $5,000 goal, leading Scheck to end the campaign.
"Thank you to everyone who showed their love and support in this difficult time," Scheck said in a statement released on Tuesday by a spokesperson at Canisius College, where Scheck is a sophomore. "The positive outreach has been unbelievable. I never expected this amount of support."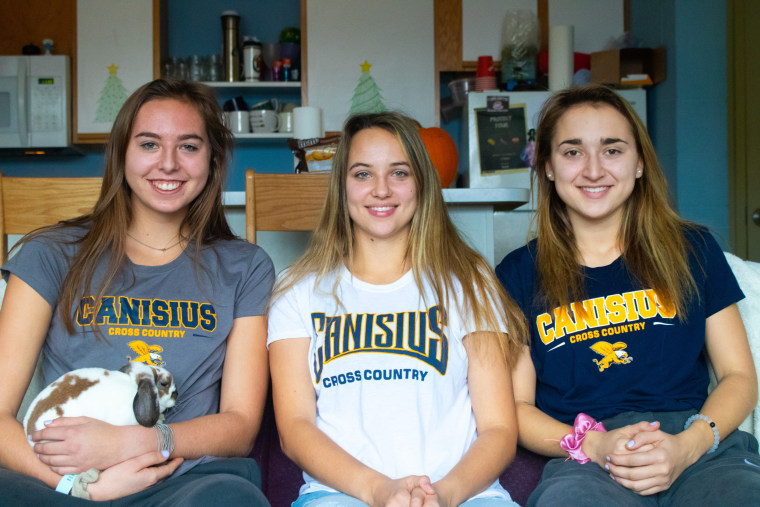 Scheck announced she would "stop accepting online donations" and encouraged those who were touched by her story to direct their generosity to LGBTQ charities.
"What has been given is more than anyone could have expected," Scheck said. "Donating to LGBT organizations is a great way to continue to show support and can help many other people who may be struggling in similar situations."
The fundraiser was started earlier this month by Scheck's track teammate Grace Hausladen, who became aware of the dire situation her friend was in.
"Emily has no home, and has no family supporting her," Hausladen wrote on the "For Emily, Let her be herself" GoFundMe page. She was kicked out of her home for being herself. No one deserves to have their home and siblings taken away from them for being their true selves. Though she has made a new home in Buffalo through her teammates and her girlfriend, Justyna, we can no longer stand by and do nothing."
The fundraiser quickly surpassed its $5,000 goal, but there was a problem: Scheck and Hausladen were initially told by the university that accepting the donated funds was in violation of National Collegiate Athletic Association rules.
"Sadly, because both Emily and I are both Division I runners, accepting this money means we are not longer eligible to run for Canisius College's Cross Country and Track programs due to the regulations of the NCAA," Hausladen wrote in an update on the GoFundMe page.
Both women were ready to quit the team so Scheck would have money to support herself, but in a reversal, the NCAA and Canisius College, a Jesuit school in Buffalo, New York, issued statements late last week saying Scheck could accept the donations and also retain her sports eligibility.
By the time Scheck stopped accepting donations on her fundraising page Tuesday, the campaign had raised $100,515 from 2,573 donors.
"With Thanksgiving coming up, I am grateful for everyone in my life who have continuously been there for me," Scheck said in her statement. "I now know that family is not always something you have, but something you find."