Amazon has trimmed its list of potential cities for its second headquarters down to twenty. But one group of gay activists is pressuring the company to avoid some of the locations that made the cut.
The tech behemoth, currently headquartered in Seattle, launched a public search for the site of its second headquarters, or HQ2, last year. It said it would spend $5 billion on constructing the new headquarters and is expecting to hire a workforce of 50,000 people. When the company requested proposals, more than 238 cities from across North America responded.
Last month when Amazon announced the finalists, Conor Gaughan, the manager of the "No Gay? No Way!" campaign, said he was shocked to find eleven of the twenty cities were located in nine states that did not have protections for LGBTQ people. Gaughan, a full-time digital communications consultant, reached out to a group of friends and activists to launch this new campaign.
"The goal of this campaign is for Amazon to abide by its own values of diversity and equality, and not reward cities that are anti-LGBT," Gaughan told NBC News. "Amazon has always been a great ally for LGBTQ issues, and we hope this gives them a chance to be a leader. With their huge platform, they can send the signal that if you want business in your state, you can't discriminate."
The campaign reported nine states on Amazon's list that currently have no legal protections against firing someone, denying them housing or refusing them service because they are LGBTQ: Florida, Georgia, Tennessee, Texas, North Carolina, Virginia, Pennsylvania, Indiana and Ohio.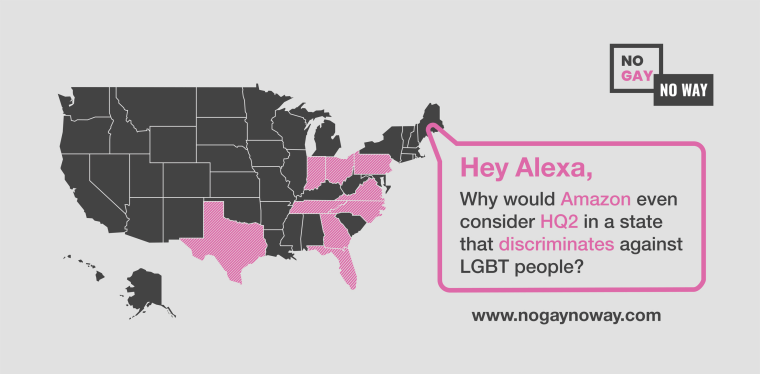 David Mixner, author and gay rights activist, told NBC News that these states have a history of anti-LGBTQ legislation that the community has had to organize against.
"We have future LGBTQ employees who will be working at the new headquarters," Mixner said. "We don't want them to be at a place where they have no rights and no laws to guarantee their safety. LGBTQ employees should not have to work or live in that atmosphere, especially since taxpayers will be subsidizing a great deal of this move."
"They have a right to be protected by their employers," he added.
Kate Kendell, executive director of the National Center for Lesbian Rights, is also part of the group launching the campaign.
"Employees can only bring their best to work if they live lives free from stigma and discrimination," she said. "Amazon should reject for consideration any site that has failed to respect the dignity of its LGBT residents."
Gaughan informed NBC News that Amazon has not yet responded to their campaign launch on Thursday, but that those interested in sending CEO Jeff Bezos a message can do so through the campaign's website, which will aggregate submitted letters and send them to Bezos.
Deena Fidas, director of the Workplace Equality Program at the Human Rights Campaign, told NBC News that Amazon has a "tremendous opportunity" to incentivize progress by choosing locations that have state and local protections for LGBTQ people.
"As municipal leaders around the country continue to step up to offer the protections these businesses are looking for, state lawmakers shouldn't impede that progress by passing needless, anti-LGBTQ bills that can hamstring this progress," she said, adding that HRC is continuing to work with Amazon and hopes the company will send a message "that inclusivity can lead to increased opportunities for all."
In the past, Amazon has been very supportive of gay rights and is proud of earning a perfect score in the Corporate Equality Index from the Human Rights Campaign Foundation. The company formed the first GLAMazon chapter, an internal employee group, back in 1999 to support marriage equality and trans rights.
Bezos has also been a longtime advocate for the LGBTQ community. He and his wife donated $2.5 million to Washington United for Marriage in 2012, one of the largest donations to the same-sex marriage cause.
Amazon has not yet responded to NBC News' request for comment.