Taray Carey put his arm around his husband, Alex Majkowski, in the backseat of an Uber ride on Wednesday, never expecting the gesture would spark what he described as a "hate-filled assault."
"Are you fags?" Carey said the driver asked.
Unsure if he had heard the man correctly, Carey asked him to repeat himself.
"Are you faggots?" Carey said the driver responded.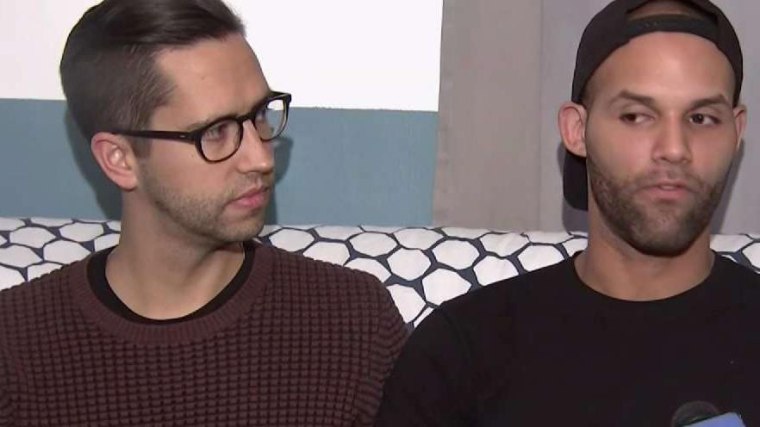 Carey and Majkowski, who got married less than a month ago, were with a friend in Midtown Manhattan around 2 a.m. when they ordered the Uber ride. The three men were on their way to a bar near the couple's East Village home.
Carey told NBC News all three of them were left speechless as the driver continued his hateful tirade. "He's telling us in his country we would be beheaded and left for dead," Carey recalled, adding that the driver said he was from Russia.
The friend stepped out of the Uber at the next red light. Carey attempted to follow him but got caught in the seat belt. He said the driver dragged him about a "quarter of a block" down an East Village street. His hands, left knee and upper left leg are covered in deep welts from the incident, according to pictures Carey posted publicly to his personal Facebook page.
Majkowski said he was still in the car when his husband was dragged along the street. "I said, 'Let me out, let me out, let me out!' just over and over until he stopped," he told NBC New York.
The couple said they turned to police in a nearby squad car after the incident in an attempt to prevent other riders from getting hurt, but they were disappointed by the response. Carey claimed the cops refused to investigate the incident as a hate crime, and he alleged that one of the officers told them they "probably deserved it."
"We were very emotional and very upset, but the cop was barely listening. He wasn't taking notes," Carey lamented. "We wanted him to put out an alert to search for this guy's plates, and he told us not to tell him how to do his job."
A spokesperson for the New York City Police Department strongly refuted Carey's claims about the officers' response.
"After reviewing body camera video from the responding Police Officers, at no time did any of the officers mock the victim, tell him that he probably deserved it or laugh at him," the spokesperson said in a statement. "A complaint report was filed for leaving the scene of an accident with injury and is being investigated by the 9th Precinct Detective Squad."
In a statement shared with NBC News, Uber called the alleged incident "very concerning" and said while it investigates the incident, "the driver's access to the app has been removed." The driver's dismissal from Uber, however, does not disqualify him from driving from other ride-share apps like Lyft or Via.
"This is my biggest thing," Carey said. "Even if Uber has taken him off the app, he can still do this again, and he might do more harm in the future."
Wednesday's alleged assault is just one of several reported incidents this year of LGBTQ people being victimized by taxi or rideshare drivers.
Just before the new year, a gay couple in Houston said they were kicked out of an Uber ride after sharing a quick kiss. Then in May, a gay couple in Indianapolis claimed they were booted from a Lyft ride for sharing a "short kiss on the lips." In June, a gay man said a New York City taxi driver told him, "I don't drive gays," and that same month, a lesbian couple claimed they were thrown out of an Uber ride for sharing a "peck." In perhaps the most frightening incident, a gay man earlier this month claimed a Lyft driver in Miami pulled a gun on him after exclaiming, "I want to kill everyone that's gay."
A study published earlier this year claims some LGBTQ users of rideshare apps are discriminated against even before they step foot in a car. Researchers Jorge Mejia of Indiana University and Chris Parker of Pennsylvania State University found drivers are more likely to cancel trips of users who appear to be LGBTQ or LGBTQ allies based on their profile photos on the app.
New York City's Taxi and Limousine Commission, which regulates all for-hire vehicles in the city, including Uber, said it is looking into Wednesday's alleged incident and "takes such important matters very seriously."
"Such behavior will not be tolerated in the industries we regulate and it will be fully investigated," the commission said in a statement shared with NBC News.