CHARLESTON, W.Va. — Last April, police say, a Marshall University football player saw two men kissing on a West Virginia street, hopped out of the passenger seat of a car, shouted homophobic slurs and attacked the men, punching them in the face.
Those charges against Steward Butler may sound like a textbook hate crime case. But, a year later, the former running back no longer faces charges of violating the men's civil rights.
That's partly because West Virginia, like 19 other states, does not have a hate crime law that protects people targeted specifically because of their sexual orientation, according to the Human Rights Campaign. And while the U.S. Justice Department is still weighing its options in the case, some observers say it may not fit the federal definition of a hate crime, if only for technical reasons.
In a decision this month, Cabell County Circuit Court Judge Paul Farrell said West Virginia civil rights law protects people based on sex, but not sexual orientation, and ruled to drop the hate crime charges against Butler in 60 days, giving prosecutors time to appeal. Many other states specifically mention sexual orientation in listing the categories that elevate violence or threats of violence to a hate crime. West Virginia lawmakers had plenty of chances to follow suit but didn't, Farrell wrote.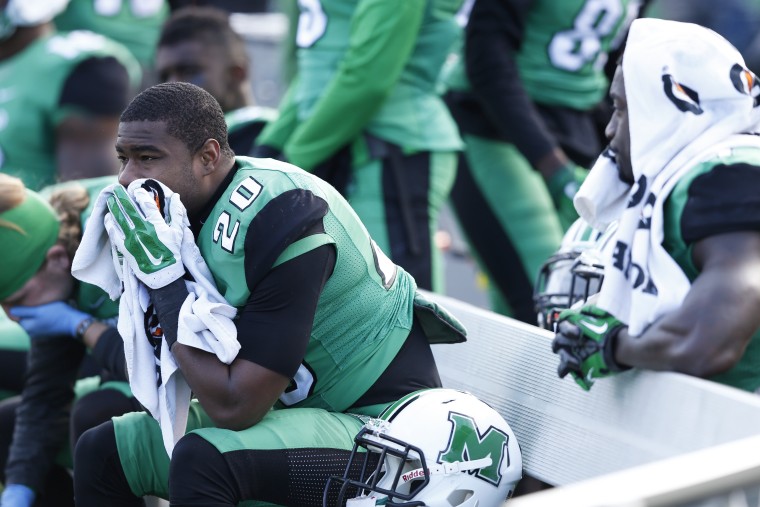 The ruling leaves two options for West Virginia prosecutors: hope for a favorable upcoming appeal with the state Supreme Court, or — if they lose — lobby for changes to state law with a Legislature that typically hasn't added LGBT protections.
"I don't know whether there's really been an incident to highlight it until now," said Cabell County Prosecutor Sean "Corky" Hammers. "We now have an incident where two men were battered and their rights were violated, and I think that even if we don't win at the Supreme Court, we definitely put the spotlight on the statute that says, 'hey, it should be interpreted to cover sexual orientation.'"
RELATED: 'It Was Just a Kiss': Gay Tourist Speaks About Attack in Miami Beach
Butler — who was kicked off the Marshall football team after the attack, and did not graduate, according to school spokeswoman Ginny Painter — pleaded not guilty to two counts of felony civil rights violations and two counts of misdemeanor battery in June 2015 over in the incident in Huntington, an industrial city along the Ohio River that's home to the university.
If convicted of violating the state's civil rights law, Butler would have faced up to 10 years in prison — but with those charges dropped, he faces a maximum of two years on the misdemeanor counts.
So far, no federal charges have been brought under the U.S. hate crime law.
"(Federal prosecutors) certainly have not come knocking on my door at all to say, 'Hey can we take a look at this case?'" Hammers said. The case remains open, according to an email from the office of U.S. Justice Department spokeswoman Dena Iverson, but officials there declined to comment further.
The applicable federal law — called the Matthew Shepard and James Byrd Jr. Hate Crimes Prevention Act — makes it illegal to physically harm someone based on race, religion, national origin, gender or sexual orientation, among other characteristics.
Butler's case could fall under that law, but establishing federal jurisdiction might be tricky, said Seth Marnin of the Anti-Defamation League, which advocates for a variety of civil rights.
The federal law requires that the crime "affected interstate or foreign commerce or occurred within federal special maritime and territorial jurisdiction." So, some connection often has to be drawn across state lines — for instance, in a shooting, if a gun was manufactured in another state.
That's more difficult when a crime is committed with someone's fists, as in the West Virginia case, Marnin said.
RELATED: Amos Beede, Transgender Man Assaulted at Homeless Encampment, Dies of Injuries
But Indiana University law professor Jeannine Bell said the federal law was crafted for this exactly type of case: "federal action for crimes that wouldn't be prosecutable at the state level."
Hammers has announced plans to appeal the decision to drop the state hate crime charges, giving justices another look at the case. The state Supreme Court declined to answer a previous question by Farrell about whether sexual orientation was covered under the category of "sex" in the state law.
Hammers has argued that sexual orientation should be covered under the category of sex, questioning, for instance: If one of the two men had been a woman, would the attack have happened?
In that vein, the federal Equal Employment Opportunity Commission has interpreted existing sex discrimination provisions to protect lesbian, gay, bisexual and transgender applicants and employees against employment bias.
But Butler's attorney, Raymond Nolan, said in an interview he's confident the law is as the circuit court judge ruled. "Had the Legislature intended to include sexual orientation in the 'hate crime' statute, they would have done so," he said.
The law, which passed in 1987 and hasn't been amended, protects residents against violence or the threat of violence base on their "race, color, religion, ancestry, national origin, political affiliation or sex." Attempts to add LGBT protections have had little success, whether under Democrats, or the more recently installed Republican legislative leadership.