It's a small home that hopes to make a big difference.
Courage House, which is expected to open its doors in November, will be Wisconsin's first group home and drop-in center specifically for lesbian, gay, bisexual, transgender and queer youth.
"I would love to say that it makes me feel amazing, but it makes me sad I have to do it at the same time," Brad Schlaikowski, co-founder of Courage House, told NBC News.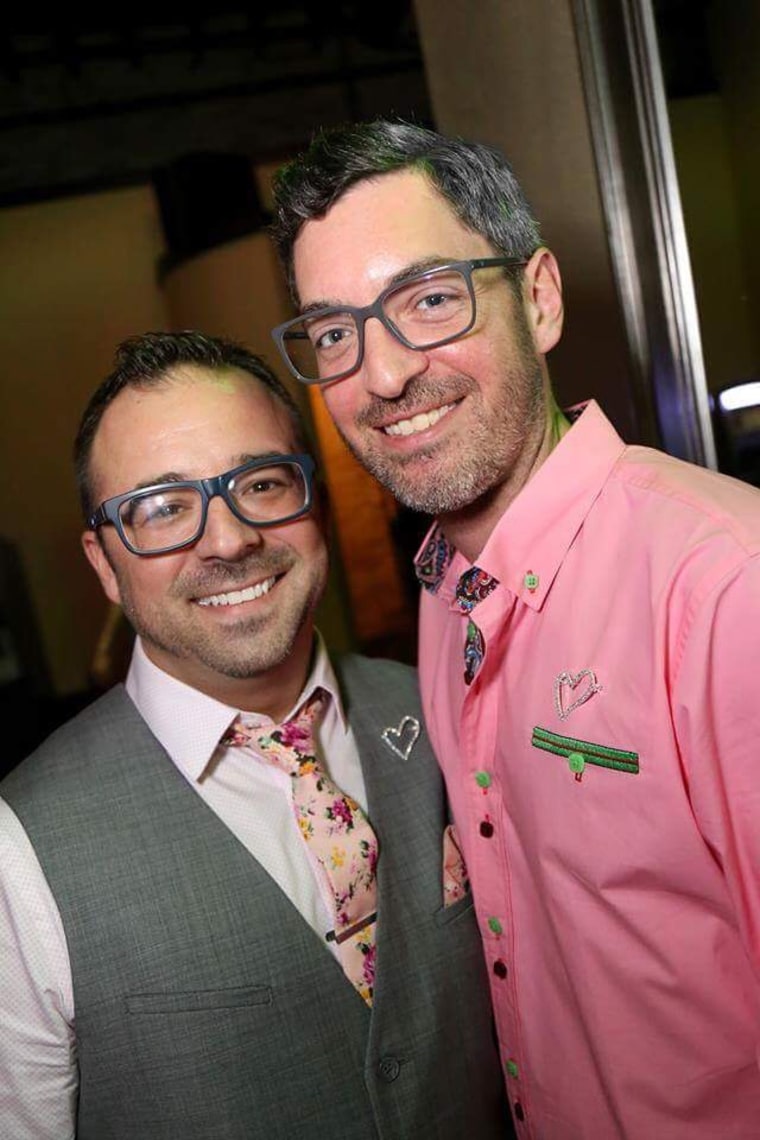 Together with his husband and co-founder, Nick, Brad has spent the last two years raising money to open the eight-bedroom home in Milwaukee. It will be the one place these teens can go without fear of rejection, he said, noting that LGBTQ foster and homeless youth are rejected more often than their straight peers.
"We have 500 kids on the street in Milwaukee, 40 percent identify as LGBT," Brad said.
He added that many of those LGBTQ youth are "perpetually on the street because their parents rejected them."
The Schlaikowskis have four children of their own: three boys, who are Brad's biological sons from a previous marriage, and a baby girl they adopted together.
Prior to starting Courage House, the couple fostered two LGBTQ teenagers. One, a 17-year-old girl, was thrown out of her parents' house after she came out as a lesbian, according to Brad. He said she was turned away from a homeless shelter for the same reason.
"She was basically on the streets," Brad said, "sleeping wherever she could."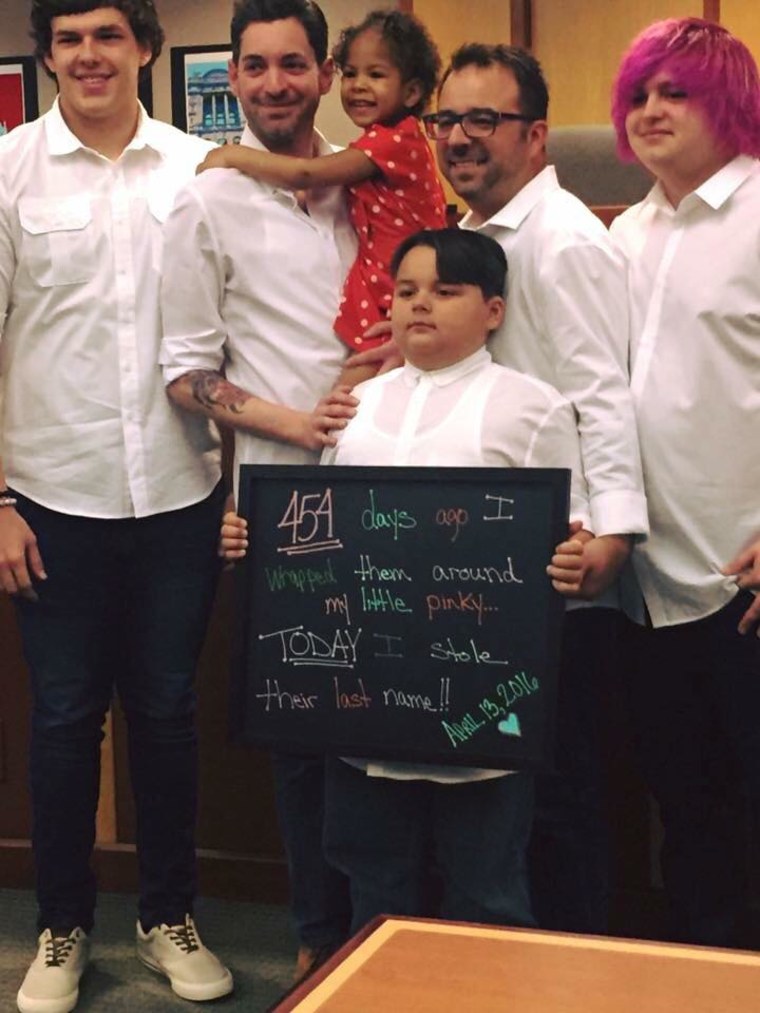 They later fostered a second teenage girl, who identified as bisexual. Both girls are adults now, he said, and are living on their own. The men still check on them regularly, he added.
Brad said fostering the girls showed him they have the power to make a difference.
"After our last one left, it was an August night, I just looked at Nick, and he looked at me, and he said 'Oh, God,'" Brad recalled. "Because I was like: 'We have to do more, we can do more, I can't just do this — help one at a time when I know there's so many out there.'"
In 2015, the couple launched Courage MKE, a nonprofit with a mission to uplift LGBTQ youth. Since it started, the grassroots organization has raised more than $110,000 in small donations for projects and initiatives that support LGBTQ youth. It used $50,000 of that money to purchase the property in Milwaukee that will be home to Courage House.
"Since we've announced that we're opening this house, my jaw has not been able to be picked up off the floor because of the generosity that we started to receive. And it's amazing and phenomenal, but it's still needed, and more is needed," said Brad.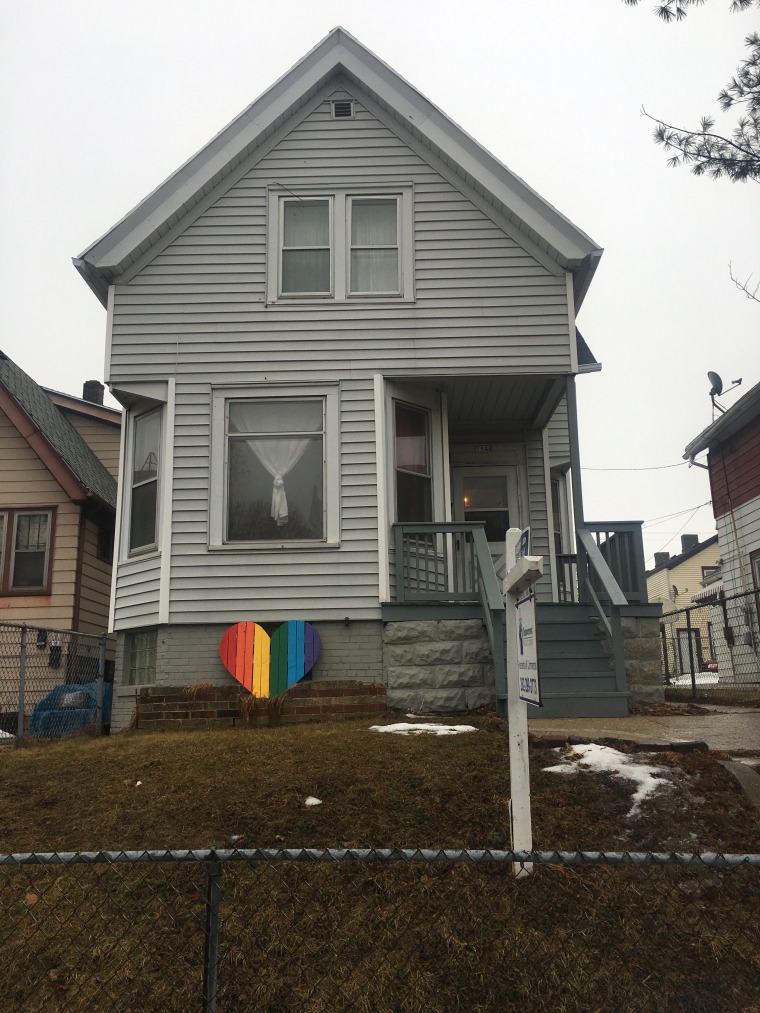 The percentage of LGBTQ youth in the foster care system is larger than that of the general population, and these teens face disparities of care within the system, according to the Human Rights Campaign (HRC).
"Research has shown that LGBTQ youth are overrepresented in the foster care system — many having faced family rejection around their sexual orientation, gender identity or expression. We also know that while in care, LGBTQ youth face higher rates of harassment, disruptive placements and trauma than their non-LGBTQ peers," HRC reported last year.
LGBTQ foster and adoptive parents are in a "unique position to provide that affirmation," HRC found, but they can face challenges. While no states explicitly prohibit same-sex couples from adopting or fostering kids, seven states permit state-licensed child welfare agencies to refuse to place children with LGBTQ families if doing so directly conflicts with their religious beliefs, according to LGBTQ think tank Movement Advancement Project. Similar legislation was introduced in Georgia in February.
While lawmakers argue these laws protect individual religious freedom, they make it more difficult for LGBTQ youth to find loving homes, according to Brad.
"If you eliminate the LGBT couples, you eliminate a portion of the adoptive parents," he said. "I have to believe in my heart of hearts that there are still so many adoptive parents out there that do not identify as LGBT that would still take in an LGBT child, but I think that you're taking away a lot of people who are willing to take [in] those children, too."
The Courage House is currently going through the process of getting licensing from the state. The Schlaikowskis expect to open its doors by November.
The home will offer therapy and counseling, and will partner with a local staffing firm that will provide employment training and job placement for the teen residents, according to Brad.
What's most important, he stressed, is it will be a place where LGBTQ youth feel confident they will be accepted. The longer they remain on the streets, he said, the greater the risk they'll be taken advantage of by sexual predators.
That's why Courage House will always have one bed available at all times, Brad said.
"I can't imagine being 15, knocking on a door and saying, 'I need a place to sleep,'" he said. "So we're going to keep that bed open so that child can come in, take a shower, do whatever it is they need to do, and just go to sleep. And then the next day we'll get things taken care of."
The couple hopes to eventually open more group homes in Wisconsin and other states across the country.
"It is the first home of its kind in Wisconsin that focuses specifically on LGBT homeless youth," Brad said, "but it's not going to be the last."