In 1971, two Minnesota men became America's first same-sex couple to get a marriage license. Forty-five years later, they are telling their story in a new book: "The Wedding Heard 'Round the World: America's First Gay Marriage." It all started when a young man named Jack Baker proposed to his boyfriend, Michael McConnell.
"I agreed [to marry Jack] on one condition," McConnell told NBC OUT. "And that was that he find a way for us to get legally married."
There was just one problem: Same-sex marriage wouldn't be recognized for decades to come. But that would not stop Baker from marrying the man he loved. Baker quit his engineering job to attend law school at the University of Minnesota. He spent hours in the library researching Minnesota's marriage statute word for word. He discovered a loophole: It did not state that two people of the same sex couldn't get married.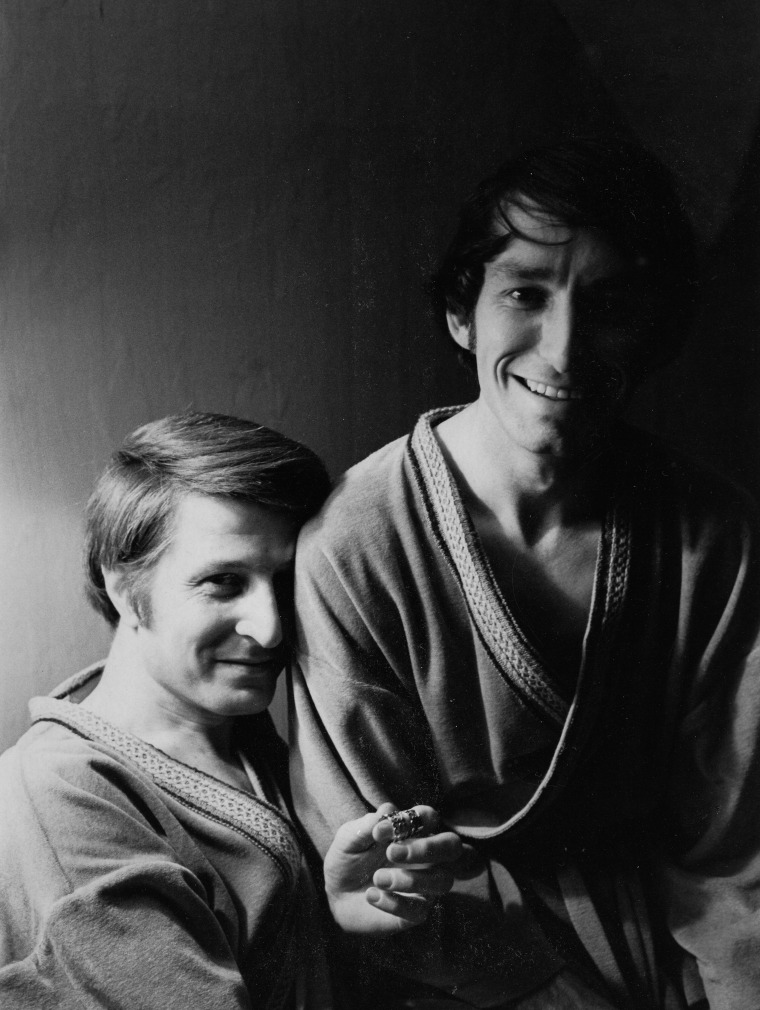 "One of the courses I had taken in law school … said that under the rule of law, what's not forbidden is permitted," Baker said. "I concluded that since the statute did not say that we could not get married, then we were entitled to get married, because we met all of the other requirements that were specified by the Minnesota statute."
The couple attempted to apply for a marriage license in Hennepin County, Minnesota, but the clerk, Gerald Nelson, refused to issue the license. So they brought their case all the way to the Minnesota Supreme Court.
"In the meantime, the best alternative to legal marriage would be to get some of the benefits of marriage, which would be adoption," Baker said.
Because Minnesota law did not forbid an adult to adopt another adult, McConnell was able to legally adopt Baker. That allowed Baker to change his last name to McConnell and his first name to one that was gender neutral: Pat Lynn.
"I could see that once we did the adoption and did the name change, that we could reapply for the marriage license and probably make it happen," Baker said.
The couple attempted to apply for a marriage license again, this time in Blue Earth County, using Baker's new name. McConnell went alone. When he handed the paperwork to the clerk, she noticed the name "Pat Lynn McConnell" on the application.
McConnell recalled what she said next: "You would be surprised how many couples come in who have the same last name."
The office issued the marriage license without a problem, according to McConnell. "They were very jovial and very friendly, and I was as well," he added.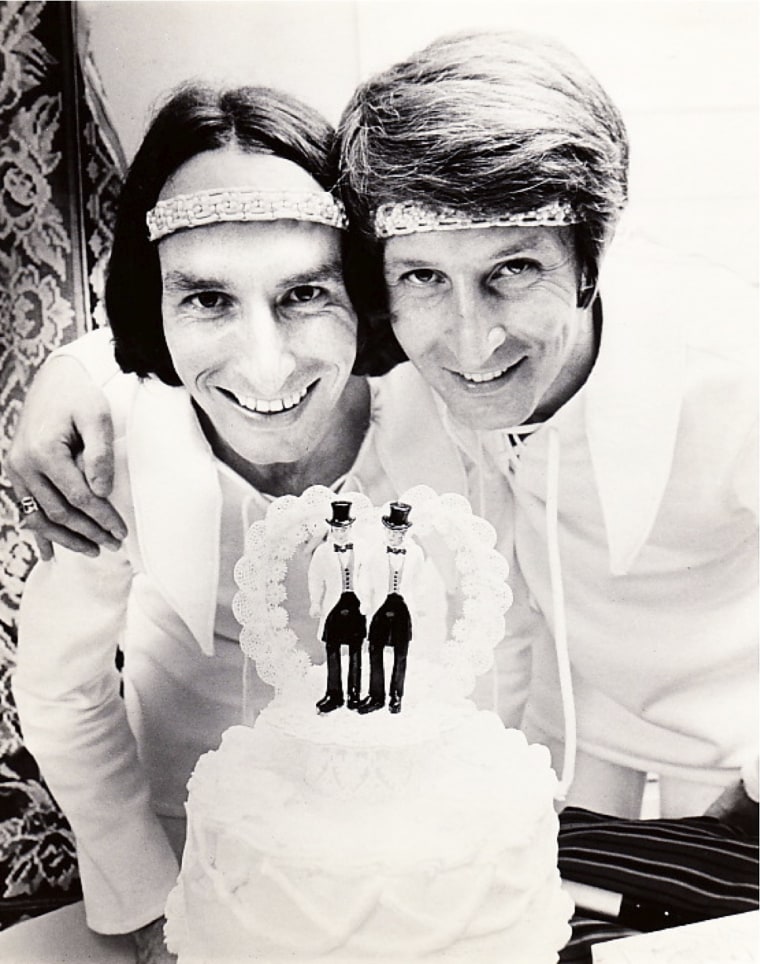 With their license approved, the couple quickly planned their wedding ceremony in September 1971. The grooms made their vows before a minister, wearing white bell bottoms and shirts with long, pointed collars. McConnell described the outfits as "truly 1970s." Their wedding rings were custom made by a goldsmith.
"It was kind of a whirlwind thing," McConnell said of the ceremony, which took place in a friend's home. "We had about 12 or 13 friends, the minister and our best men. And that was about it."
Later, the Minnesota Supreme Court upheld the Hennepin County clerk's decision not to issue the first marriage license the couple had applied for (the ruling became known as Baker v. Nelson). Determined to keep fighting, the couple appealed to the U.S. Supreme Court, but it dismissed the case.
"They didn't deny the appeal, they simply dismissed the case for 'want of a substantial federal question,' which basically means they [would decide] at some later date," Baker said. "I did not realize that later date would be some 45 years later."
But the second marriage license issued by the clerk in Blue Earth County was valid, as far as Baker and McConnell are concerned.
"Since the clerk of court took the time to do due diligence and sign the certificate under the seal of the clerk of the court, that [justified] our position that it was legally done and there was no trickery involved," Baker said.
But it would not be a perfect fairytale ending for the newlyweds. A publicity storm erupted around them after they applied for their first marriage license. McConnell, who had recently accepted a job offer at the University of Minnesota Library, was dismayed when the university revoked the position. He sued in federal court but lost the case.
"It was frankly devastating," McConnell said. "For a couple of years I had anxiety attacks, sleepless nights, and I really was very concerned if I would ever be able to practice my profession, something that I had spent a very long time and worked very hard to be successful in."
After two years of working part-time jobs, McConnell was offered a position at Hennepin County Library. He was promoted through the ranks over his 37-year career and eventually found himself overseeing a system of 41 different libraries before he retired.
"So, as Jack likes to say, I didn't get the job at the University of Minnesota, but it was a blessing in disguise, because I got to get an even more spectacular job," McConnell said.
He said the University of Minnesota has since publicly apologized for denying him the position. McConnell added that though he lost the case in 1972, some employers began to change their hiring policies as a result of the attention it received.
"We raised that visibility on the rights of [LGBTQ] people quite significantly," he said.
The couple may have navigated their way through all the legal loopholes to get married, but they wouldn't be happy until marriage equality was fully recognized throughout the country.
"The right to marry [was] inevitable," Baker said. "I always believed that. I just never thought it would take so long."
When Minnesota recognized same-sex marriage in 2013, Baker and McConnell were overjoyed. Two years later, the U.S. Supreme Court did the same. It was the happy ending they had waited decades for.
"The thing that was really wonderful was seeing [that] Baker v. Nelson [was] overruled. To see that … was so powerful for us. It was really wonderful," McConnell said.
The couple, now in their 70s, celebrated their 45th wedding anniversary in September. They noted that marriage equality, while important, is not an end-all in the fight for LGBTQ civil rights. There are 32 states that still lack non-discrimination protections for LGBTQ people "who risk being fired simply for getting married and wearing their wedding ring to the office the next day," according to the Human Rights Campaign.
It's an irony that isn't lost on McConnell, who knows all too well the pain of losing a job. He is hopeful LGBTQ Americans will eventually achieve full protections under the federal government. But as with marriage equality, he said there can be no compromises.
"Once you get legislatures that are all bargaining and compromising, will we get full and absolute equality?" McConnell asked. "As an American citizen, I expect to be treated the same as any other citizen. No exceptions, no excuses."
You can find out more about Michael McConnell and Jack Baker in their new book, "The Wedding Heard 'Round the World: America's First Gay Marriage," and by listening to their recent talk, which was taped by the U.S. National Archives on October 7. For more LGBTQ History stories, check out Discovering LGBTQ History: Records in the National Archives' Collection on Tumblr.